Description
Instagram offers such an incredible way to reach thousands or even millions of people with your message, your product or service!
We have all seen businesses grow incredibly fast building multi-million dollar brands in very little time on Instagram.
Come and join us for a fun and action packed day full of engaging workshops, fun photo sessions, entertaining keynotes, delicious food, amazing giveaways and power networking in one of Toronto's most instagramable venue! (Create your Insta content right there ;) )
We'll share the latest secrets on how to growing your online influence, build a raving fan base, share your message authentically and increase your revenue with social media marketing and collaborations!
Meet Toronto Influencers that have turned their social media into a consistent income stream: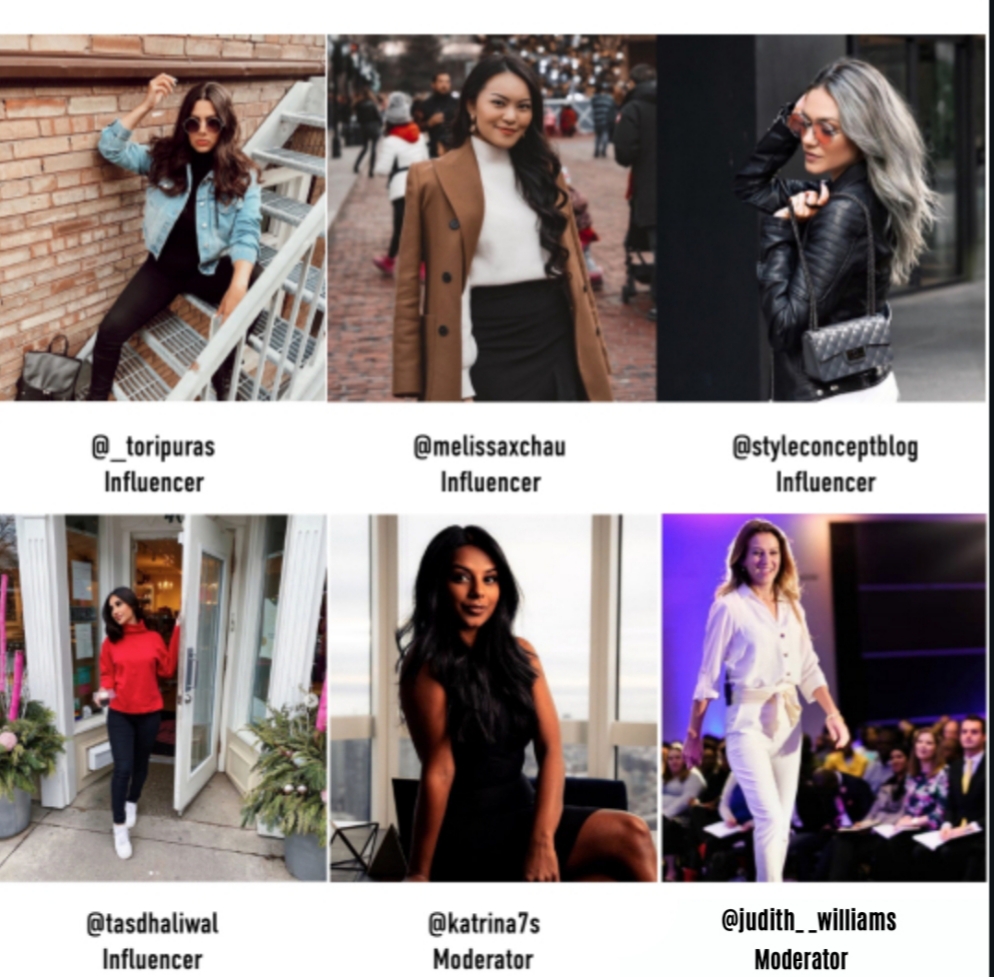 HERE IS WHAT YOU GET ACCESS TO:
Fun Business Branding Photo Session:
You deserve the spotlight! Join our fun photo session and receive 2 professional digital head shots and 3 full body shots. We even include posing guidance, live preview and photo editing! (Value: $597)
Photo Content for your Instagram:
Our photographer will snap some fun in-action pictures of you during the event and with our amazing backdrops that you can use for your social media! (Value: $279)
Done-For-You Email Templates + Brand and Media Contact List:
Walk away with email templates that are guaranteed to get influencers and businesses to collaborate with you! As a bonus you receive a list of Toronto brands and national media to contact for paid collaborations or getting your brand featured! (Value: $279)
'Make An Unforgettable First Impression (Online and Offline!)' Master Class:
Networking is key to building any business! Learn the secrets to making a lasting impression at a networking event, during a negotiation or when reaching out to brands for collaboration! Together we will craft your perfect elevator pitch that is going to give you the unfair advantage and get people hooked on your brand! (Value $149)
'Authentic Story Telling' Master Class:
Authentic and engaging stories sell! In this masterclass we'll redefine and perfect the story around your brand so you can easily attract your ideal client and even more amazing partnerships! You will get lots of tips on how to write your social media post captions to capture people with your story and make them love your brand even more! Value $149)
Your 2020 Action Blueprint Master Class:
Set your goals and gain complete clarity on how to achieve them in 2020 ! We' ll help you set an attainable vision and break your goals down into managable action steps you can easily achieve! As a bonus we will give you a social media content calender so you never run out of posts and continuously grow your following! (Value: $179)
'How To Monetize Your Instagram' Master Class:
Learn how to easily attract your ideal client on Instagram and how to partner up with influencers and brands to quickly grow your reach! We'll give you contract templates for influencer partnerships and lots of ideas for posts that convert in 2020! (Value: $149)
Instagram Influencer Panel and Meet and Greet:
Meet Torotno Influencers that turned their accounts into a profitable business and get all your questions answered and take your picture with them! (Value: $249)
Networking and Lunch With Amazing Like-Minded Women:
Enjoy FREE lunch and many exciting opportunities to network with amazing likeminded women! Start growing your network right there! (Value: Priceless)
Amazing giveaways, goodie bags and surprises!:
Receive our cute goodie bags and don't miss the opportunity to enter into fun contests and giveaways throughout our event to win incredible prizes! (Value: $1997)
Your Social Media Accellerator Workbook