7th Annual Central LHIN Oncology Day for Primary Care Providers

Friday, 19 October 2018 from 7:30 AM to 4:30 PM (EDT)
Event Details
As the Regional Cancer Centre for Central LHIN, the Stronach Regional Cancer Centre at Southlake invites our LHIN partners to participate in the 7th Annual Central LHIN Oncology Day for Primary Care Providers: Cancer Care – Paving the Way For Our Patients. This educational event is open to family physicians and nurse practitioners, internists, other specialists, nurses, and allied health professionals with an interest in the care of patients with a cancer diagnosis.
OVERALL OBJECTIVES FOR THE DAY:
Explore the impact of psychosocial interventions on the care of cancer patients

Increase awareness of new developments in the management of common cancers from medical, radiation and surgical perspectives

Discuss practical approaches to initial workup, symptom management, and home medication safety among cancer patients

Understand primary care follow-up and survivorship for women who have completed active treatment for breast cancer

Learn practical tools to enhance health care provider wellness and resilience
 AGENDA
| | |
| --- | --- |
|   | REGISTRATION AND WELCOME |
| 7:30–8:15 | Breakfast and registration |
| 8:15-8:25 | Opening Remarks and Agenda – Dr. Yasmin Rahim |
| 8:25-9:25 | Keynote Address – Cancer Survivorship: Lost in Transition. What primary care needs to know about identifying and treating psychosocial issues for cancer survivors – Dr. Linda Carlson |
|   | ONCOLOGY UPDATE |
| 9:25-10:00 | Screening Update – Ovarian Cancer Screening – Dr. Marcus Bernardini |
| 10:00-10:35 | Surgical Oncology Update – Dr. Sara Temple |
| 10:35-10:50 | Break |
| 10:50-11:25 | Radiation Oncology Update – Modern Management of Brain Metastases – Dr. Tatiana Conrad and Dr. Paul Kongkham |
| 11:25-12:00 | Medical Oncology Update – Dr. Daniel Robson |
| 12:00-12:35 | Primary Care and the Use of Radiological Interventions – Dr. Lisa Jong and Dr. Jonathan Mandel |
| 12:35-1:20 | Lunch |
| | BREAKOUT SESSIONS |
| 1:20-2:05 | Breakout Session #1 |
| 2:05-2:10 | Relocate to Breakout Session #2 |
| 2:10-2:55 | Breakout Session #2 (please refer to workshop descriptions below) |
| 2:55-3:05 | Break and relocate to main plenary |
| 3:05-4:10 | Self-Care and Health Care Provider Burnout – Dr. Mamta Gautam |
| 4:10-4:15 | Evaluation and Adjourn |



Participants will choose 2 breakout sessions:

 

 

BREAKOUT SESSION 1

Symptom Management Through Case Studies – Dr. Mark Katz and Dr. Adrianne Lebner

An interactive session with case studies on patients with anorexia/cachexia, fatigue, depression and fear of recurrence.

 




BREAKOUT SESSION 2

Patient Safety – Taking Cancer Medications at Home – Ms. Lily Spasic and Dr. Susan Kuzmyk

A session on drug/drug interactions, naturopathic remedies, medical marijuana, and pain medications.

 




BREAKOUT SESSION 3

Transitioning Patients from the Cancer Centre to the Primary Care Provider – Dr. Fahima Osman and NYGH team

A session on the transition of patients from the cancer centre to their primary care provider, with a focus on the NYGH program for women with breast cancer.

 




BREAKOUT SESSION 4

How to Approach a Patient With a Suspected Malignancy – Dr. Henry Solow

An interactive case based discussion on the work up of patients with solid tumours and hematologic malignancies.
PLANNING COMMITTEE
Marla Ash, MD, CCFP
Arnell Baguio, MD, CCFP
Catherine Cotton, BScPT, MHSc, CHE
Cynthia Heron BScN, RN, CON(C)
Jacqueline Hornick B.Sc (Hons), RD
Mark Katz, MD, FRCPC
Susan Kuzmyk, MD, CCFP
Cynthia Luk, MD, FRCPC
Milena Markovski, MD, CCFP
Yasmin Rahim, MD, FACP, FRCPC
Steve Rubenzahl, MD
Woody Wells, MD, FRCPC
FACULTY
Marcus Bernardini, MSc, MD, FRCPC
Surgical Oncologist, Princess Margaret Cancer Centre
Linda E. Carlson, PhD, CPhysch
Enbridge Research Chair in Psychosocial Oncology 
Alberta Innovates-Health Solutions Health Scholar
Professor Department of Oncology and Adjunct  Professor Department of Psychology, University of Calgary
Clinical Psychologist and Director of Research, Department of Psychosocial Resources, Tom Baker Cancer Centre
Tatiana Conrad, MD, FRCPC
Radiation Oncologist, Southlake Regional Health Centre
Mamta Gautam, MD, MBA, FRCPC, CCPE
President and CEO, PEAK MD
Assistant Professor, Faculty of Medicine, University Of Ottawa
Mark Katz, MD, FRCPC
Co-Medical Director, Psychosocial Oncology and Palliative Care Program, Stronach Regional Cancer Centre
Regional Psychosocial Lead, Central LHIN
Paul Kongkham, MD, PhD, FRCSC
Neurosurgeon, University Health Network
Adrianne Lebner, MHSc, MD, CCFP
Palliative Care Physician, Stronach Regional Cancer Centre
Jonathan Mandel, MD, FRCPC
Diagnostic Radiology, Nuclear Medicine; Humber River Hospital
Fahima Osman, MD, MPH, FRCSC
Breast Surgical Oncologist, North York General Hospital
Lisa Jong, MD, FRCPC 
Diagnostic Radiology, Humber River Hospital
Susan Kuzmyk, MD, CCFP
General Practitioner in Oncology, Stronach Regional Cancer Centre
Daniel Robson, MD, FRCPC
Medical Oncologist, North York General Hospital
Henry Solow, BSc, MSc, MD, FRCPC
Haematologist, Markham Stouffville Hospital
Lily Spasic  B.Pharm, R.Ph, M.Sc
Interim Pharmacy Coordinator, Stronach Regional Cancer Centre
Sara Temple, MD, FRCSC
Surgical Oncology and General Surgery, Southlake Regional Health Centre
ACCREDITATION
We are in the process of obtaining CME accreditation.
REFUND POLICY         
Attendees can receive refunds up to 7 days before the event start date.

ACKNOWLEDGEMENT
We gratefully acknowledge our supporters: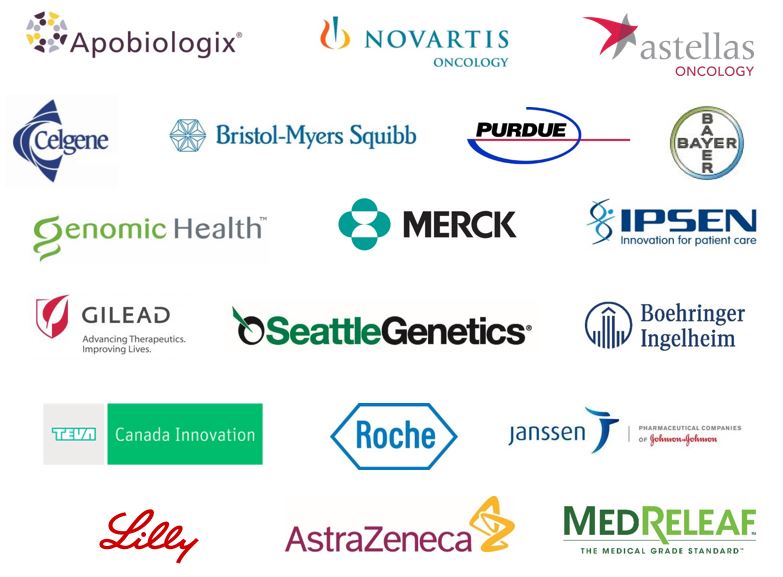 Save This Event
When & Where

Hilton Toronto/Markham Suites Conference Centre & Spa
8500 Warden Avenue
Markham, ON L6G 1A5
Canada

Friday, 19 October 2018 from 7:30 AM to 4:30 PM (EDT)
Add to my calendar