Come join us, for the 7th Annual Heraldic Studies Day: An day filled with learning all about heraldry!
About this event
This year's Royal Heraldry Society of Canada, Toronto Branch Heraldic Studies Day will once again be held virtually through Zoom video conference. This will allow us to continue to provide this amazing event to our members and guests while ensuring that we are not a vector for the spread of COVID-19. This also means that our members from around the world are able to tune in from the comfort of their homes to be with us for the day.
ABOUT THE EVENT:
On Saturday, November 20, 2021, the 7th Annual Heraldic Studies day will start promptly at 9:45 am EST. The meeting room will be opened for participants to join at 9:30 to ensure that sound and computers are set up to participate. We are pleased to announce that we have four lectures this year, coming to us from three different countries with a variety of heraldic subjects. We will have two lectures in the morning, break for one hour (12-1) for lunch and then return for two additional lectures in the early afternoon. The day will wrap up with some fellowship and online social time for those who wish to stay after 3:15 pm. You will not have to log off during the lunch break and can stay connected if you wish.
OUR PRESENTERS:
Our presenters this year will be:
Dr. Bernard Juby, Hon.FHS (France) - The Heraldry of Baddesley Clinton Moated Medieval Manor & Church.
Dr. Christopher McCreery, MVO (Canada), Private Secretary to the LG of Nova Scotia - Indigenous representation in Nova Scotia's Arms and Seal.
Mrs. Elizabeth Roads, LVO (Scotland), Secretary of the Order of the Thistle - Heraldry of the Thistle Chapel.
Mr. Bruce Patterson, FRHSC, (Canada), Deputy Chief Herald of Canada - A.L.C. Atkinson: Freelance heraldic designer in Western Canada.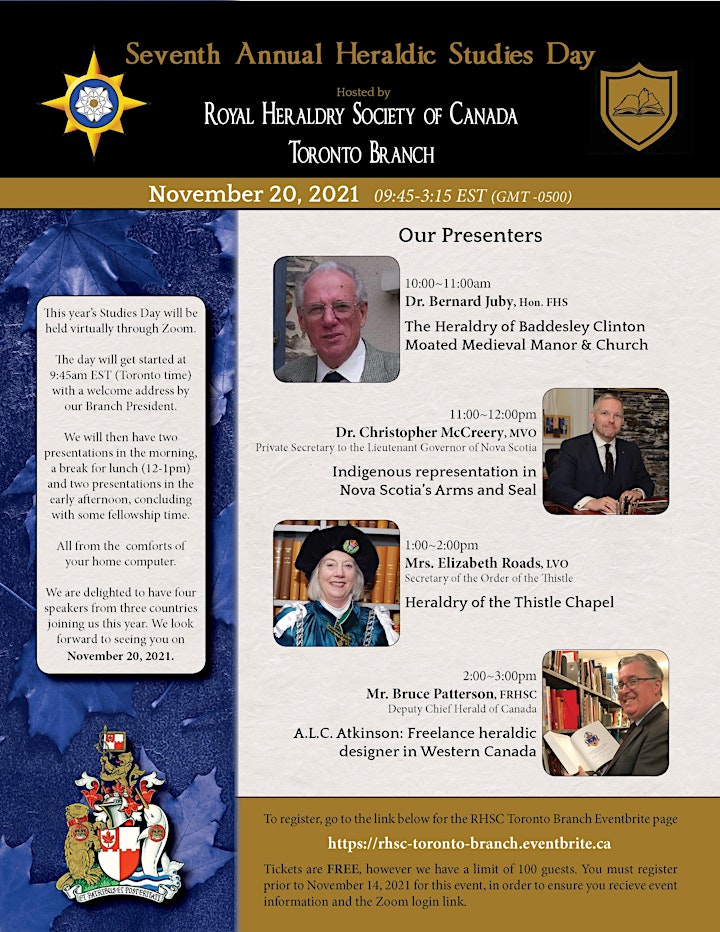 Additional Notes:
The Royal Heraldry Society of Canada, Toronto Branch will be recording this event for internal use only, and for members or public use. We ask that no participant will record any part of the presentation, as the material presented is the property of the guest lecturer.
Emailed joining instructions pertaining to this live Zoom event will be sent to all registered participants after the registration window has closed on the Sunday prior to the event (November 14, 2021). This will include a web link to access the live meeting, as well as other documents or details required to ensure we have a successful event.
Please only book 1 ticket per household for this event. There is no need to book multiple if more than one person will be viewing the event from the same computer. This will ensure that we can maximize the number of participants, as we are limited to 100 logged-on devices.
You do not have to have a Zoom account to participate!
Host: Royal Heraldry Society of Canada, Toronto Branch
Date / Time: November 20, 2021 at 9:45pm EST
Location: Zoom Web Conferencing (Virtual)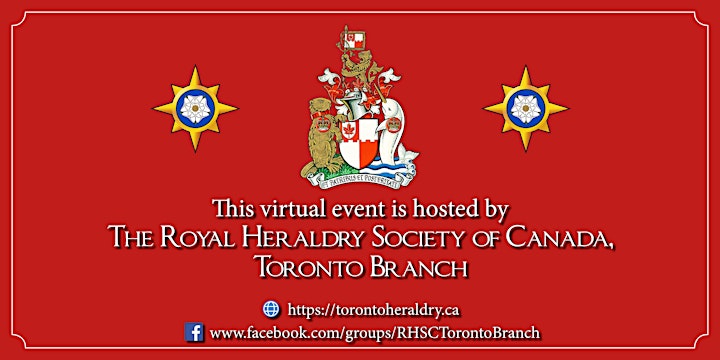 Organizer of 7th Annual Heraldic Studies Day