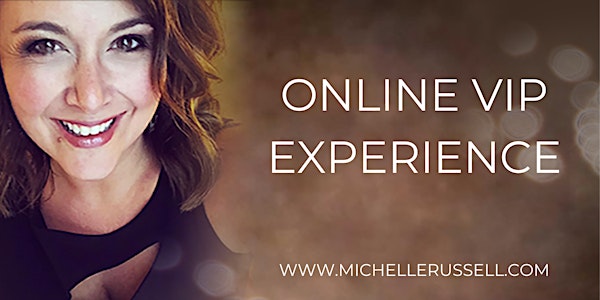 8 person VIP Reading Experience via ZOOM
A LIVE VIP Experience on Zoom with only 8 guests. 2 hours of messages. Every guest has the a chance to ask a personal question.
About this event
Small group - only 8 guests
More time for messages - 2 hours
Chance to ask Michelle a personal question
A total of only 8 tickets are available per event. You will be taking part in The VIP Experience with others who have also purchased individual tickets.
ONE TICKET IS VALID FOR ONE PERSON ONLY. To attend this event, each guest must purchase a ticket. If you and another person in your house want to experience the event. You MUST purchase two tickets. You must not be in the room with other people. You will be disconnected if someone else is present without purchasing a ticket.
PLEASE NOTE: Michelle reads your energy and aura and you must be in a quiet space where you can have your camera and microphone on. No children present.
We have partnered with ZOOM for this event! You MUST be familiar with Zoom and your device - your camera must be on and you need to know how to use the chat window. Michelle is focused on delivering messages and does not offer any technical support how to set up your camera or zoom. Failure to connect, know how to use zoom with camera or time zone error are the responsibility of each guest and refunds will not be given.
No refunds.
VIP Experiences are not recorded.
------------------------------------------------------
HOW TO JOIN:
When you purchase a ticket, you will receive a confirmation email. SCROLL DOWN in the confirmation email to find your link to join the VIP Experience. You will also receive confirmation emails in the days leading up to the event, so be sure to put in the correct email address when purchasing and check your junk folder just in case the emails land in there by mistake.