Description
The CIM Sudbury Branch is proud to present their annual Lobster Dinner & Dance on June 8, 2018 at the Caruso Club. Come out to enjoy our 80's theme, lobster, buffet dinner, silent auction and tunes from our DJ.
6:00 - Cocktails
7:00 - Dinner
then dance the night away
Get your tickets before they sell out.
For sponsorship opportunities, email gdarling@sandstormltd.com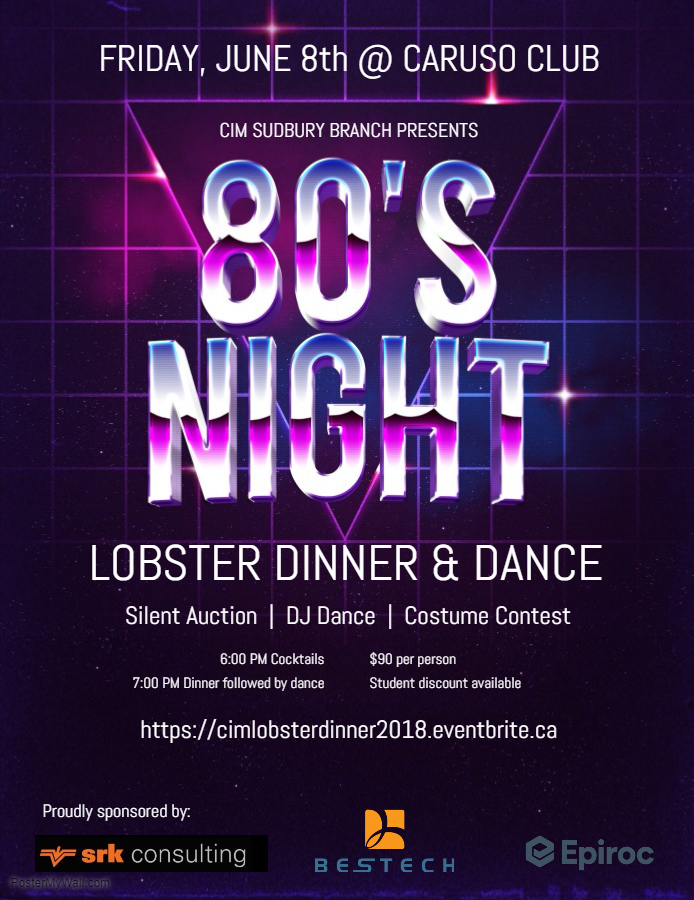 Ticket purchases are non refundable and are subject to 13% HST.
Note: Tables will seat 8 guests each.
Due to high lobster prices and to keep ticket prices in line with past years, there will be one 1.75 - 2 lb lobster per person. For lobster lovers, an upgraded ticket can be purchased to receive two lobsters. Our wholesale cost per lobster is currently estimated at $35. (see ticket options)
Photography Disclaimer: CIM Sudbury Branch reserves the right to photograph its events, and from time to time we use these photos in our publications. By registering for any of our events, you understand and acknowledge that your photograph may be taken and used, at CIM Sudbury Branch discretion.