8th Annual Consecon Soap Box Derby

Saturday, 4 August 2018 from 12:00 PM to 4:00 PM (EDT)
Event Details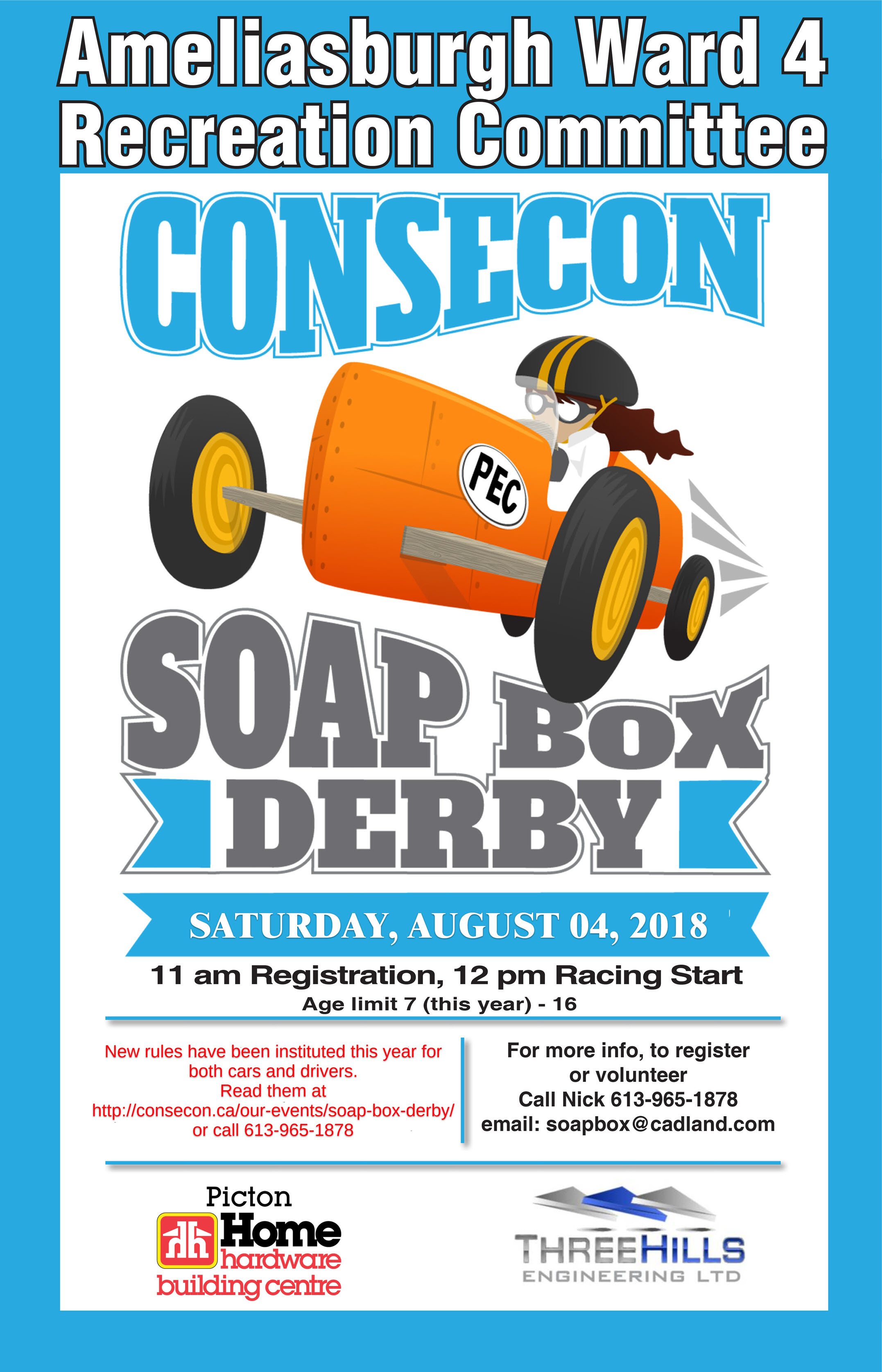 The Consecon Soap Box Derby is a FREE event that promotes fun summer activity for our children. Derby cars bulit by the famlies of participants are encouraged, but cars will be available for use by any child at least 7 years old (this year) that is in need of one.
For safety reasons we will be enforcing the rules below.

Participants will be classified into two groups, Local Class (7" wheels or smaller with Junior (7-10) and Senior (11+)) and Open Class (wheels larger than 7" and all ages)
Awards wiill be available for each car group.
Registration starts at 11:00am racing begins at 12:00pm.
See you there!
THE RULES
(subject to change without notice)
Participants
1.    .All participants must have a parent/guardian sign a waiver.
2.    Proper participant footwear, running shoes or equivalent, no flip flops or sandals.
3.    Protective head gear must be worn during each race. We strongly recommend a snowmobile, bicycle or    motorcycle helmet.
4.    Signing of the waiver does not exclude participants from being in photos and or videos of our event.
Cars
1.    Steering MUST be limited to 1' travel in each direction.
2.    If you don't have a car you MUST use one of the cars we provide, unless previous arrangements have been made.
3.    No metal skinned or framed cars.
4.    All cars MUST have 4 wheels supporting it down the course.
5.    Cars will be inspected for safety on race day following registration.
The Race
1. Parents are NOT allowed between the ramps and MUST help load the car their child is using.
1.    Each racer has one run to feel out the track
3.    Lane choice will be by random draw.
4.    The order of the first round racing shall be randomly determined. After the first round of racing, losers will race against losers and winners will race against winners in a double elimination fashion. Each driver will continue to race until he/she has lost twice.
5.    If you are not ready to run when called, we will NOT wait for you and you will forfeit your run and record a loss.

---
When & Where

The Hill @ Cnty. Rd. 29 & Stinson Block Rd.

Consecon, Ontario K0K 1T0
Canada

Saturday, 4 August 2018 from 12:00 PM to 4:00 PM (EDT)
Add to my calendar
Organizer
Ameliasburgh Ward 4 Recreation Committee is a County of Prince Edward committee that promotes recreation activities for our youth, organizes and participates in community events.