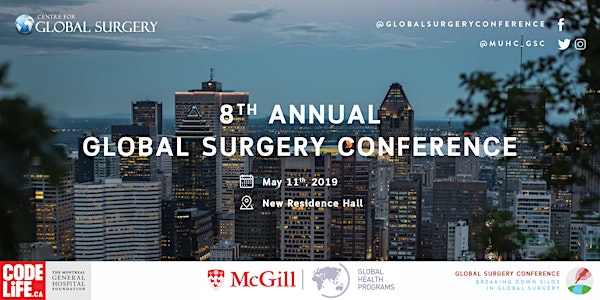 8th Annual MUHC Global Surgery Conference
When and where
Location
New Residence Hall 3625 Avenue du Parc Montréal, QC H2X 3P8 Canada
Description
[Version française ci-dessous]
》ABOUT
Through a collaborative effort between students and health professionals from the McGill University Health Centre, we aim to provide a forum for discussion regarding the different challenges and approaches within the field of global surgery. This year's theme is Breanking Down Silos in Global Surgery. We aim to highlight the contribution of different collaborators and the key role played by each one of them.
-----
》BACKGROUND
Injury and surgical disease are significant contributors to global morbidity and mortality. Surgically treatable conditions alone account for approximately 30% of the global burden of disease. The medical community is increasingly recognizing access to essential surgical care as a core component of all health systems, as demonstrated by the Lancet Commission on Global Surgery and WHO's Global Initiative for Emergency and Essential Surgical Care. Despite this boost in international attention and research, basic surgical care remains unavailable to the majority of the world's population.
This conference aims to bring together students and professionals from different science backgrounds across multiple Canadian universities, to stimulate research and promote global surgery.
-----
》OBJECTIVES
1. To highlight the value and importance of global surgery
2. To educate students and healthcare professionals on high impact approaches in global surgery
3. To provide opportunities to present research relevant to global surgery
4. To stimulate research and encourage networking to enhance collaboration on future global surgery projects
5. To expose students to opportunities in global surgery
------------------------------------
》Visit us on https://www.cglobalsurgery.com
Instagram: muhc_gsc
Twitter: @muhc_gsc
》Please feel free to contact us for any question
conference@cglobalsurgery.com
***************
》SUJET
Cette collaboration entre les étudiants et les professionnels de la santé duCentre Universitaire de Santé McGill (CUSM) offre un forum de discussion sur les différents défis présents en chirugie mondiale. La conférence de cette année aura comme thème: Déconstruire les Silos en Chirurgie Mondiale. L'accent sera mis sur la diversité des rôles et des contributions en chirurgie mondiale.
-----
》CONTEXTE
Les blessures ainsi que les autres conditions chirurgicales sont des contributeurs importants aux taux demorbidité et de mortalité à travers le monde. Les conditions traitées de manière chirurgicale représentent à elles seules environ 30% de la morbidité globale. La communauté médicale reconnaît de plus en plus l'importance de l'accès aux soins chirurgicaux essentiels dans tous les systèmes de santé tel que démontré dans The Lancet Commission on Global Surgery et l'initiative de l'OMS pour les soins urgents et essentiels. Malgré l'attention tournée vers le sujet et les recherches internationales entreprises, les soins chirurgicaux ne sont toujours pas disponibles pour une grande partie de la population mondiale.
Cette conférence a pour objectif de rassembler des étudiants et des professionnels issus de différentes disciplines des sciences de plusieurs universités canadiennes afin de stimuler la recherche ainsi que de promouvoir l'accès aux soins chirurgicaux dans le monde.
-----
》OBJECTIFS
1. Souligner la valeur et l'importance de la chirurgie mondiale
2. Éduquer les étudiants et les professionnels de la santé sur les approches en chirurgie mondiale
3. Offrir des opportunités de présenter des recherches pertinentes pour la chirurgie mondiale
4. Stimuler la recherche et encourager le réseautage afin de promouvoir les collaborations futures
5. Exposer les étudiants aux opportunités dans le domaine de la chirurgie mondiale
------------------------------------
》 Rendez-nous visite au https://www.cglobalsurgery.com/
Instagram: muhc_gsc
Twitter: @muhc_gsc
》 N'hésitez pas à nous contacter pour toute question conference@cglobalsurgery.com