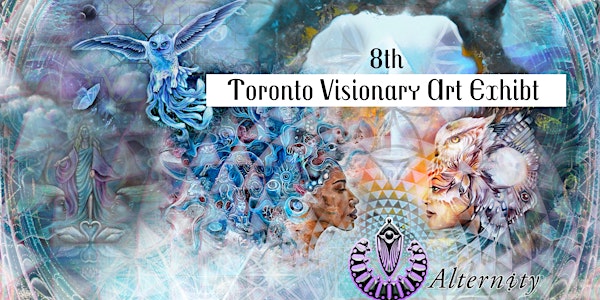 8th Toronto Visionary Art Exhibit - Gallery, Virtual Showcase & Marketplace
Over 75 artists in this year's TVAEx2022: Global Art Showcase and Visionary Marketplace!
When and where
Location
333 Bloor St W 333 Bloor Street West Toronto, ON M5S 1W7 Canada
Refund Policy
Contact the organizer to request a refund.
Eventbrite's fee is nonrefundable.
About this event
Dear Visionaries♥️
Toronto Visionary Arts and Culture in association with Alternity (333 Bloor St W) is pleased to present to you the 8th Toronto Visionary Art Exhibit featuring over 75 International, US and Canadian artists!
In both a virtual and physical space, TVAC aims to transform this year's exhibit with a multi-level venue, and continental visual journey through visionary art. Complete with physical art and projections of global virtual galleries into our Toronto Gallery Space, this experience will also feature a holiday market with artists merchandise and visionary crafts. Hosted at Alternity and in collaboration with the Vision Train, we are uniting with members of the community to create an exhibition that highlights the contributions of local artists and international visionaries. Both virtual and physical showcases will explore the intersection of art and spirituality with the theme this year being "Imaginal Worlds".
⭐ 𝐀𝐑𝐓𝐈𝐒𝐓𝐒 ⭐
𝐶𝐴𝑁𝐴𝐷𝐼𝐴𝑁 𝐴𝑅𝑇𝐼𝑆𝑇𝑆
Amrita Virdi
Andrew V
Anthony Symmetry
Arianne Saffron
BStar Love
Carly Dalton
Cesar Ar
Cornelia Dudli
Cortney Crewe
Cynthia undyantara
Dana McCool
Dottie Locks
Enzo Mazzotta
Felicia Rodrigs
Gratian D'Souza
Janette Sarah Anne Wood
Jasmine Virginia
Julia Eldridge
Kathleen Gallagher
Marwa Reda
Melyssa Gorlicky
Mich Chiu
Michelle Muller
Moriah Froelich
Mya Edwards
Natasha Battison
Natasza Zurek
Nicole Tupechka
Ola Cichy
Paul Zulauf
Paula Alucema
Paula Dicu
Paulina Colours
Rahul Bader
Razvan Anton
Renee Edwards
Robbie Ritchie
Sabrina Kali
Sean Joseph Edmond Bourque
Simon Haiduk
Susan Taylor-Gol
Tyler Ball
Vanessa Paxton
Viviane Lacombe
𝑈𝑆 𝐴𝑅𝑇𝐼𝑆𝑇𝑆
Alecia Sacred Heart~ Colorado
Amy Senn ~ New York
Andrew Kerstin ~ Milwaukee
Angela Powers ~ Nebraska
Baruska Michalcikova~ North Carolina
Burgandy Viscosi ~ Las Vegas
Cameron Grayson ~ Austin
Carina Earl - North Carolina
Cori Caat ~ Cleveland
Eileen Rose ~ New York
Gregory Bart ~ New York
Jeff Pletnick ~ Denver
John Beck ~ California
Kathleen Schmieder ~ Seattle
Laura Borealis ~ Lake Washington
Lauren Blair ~ Seattle
Lisette Murphy ~ Iowa
Mark Henson ~ California
Meg Cocho ~ Pennsylvania
Molly Chopin ~ North Carolina
Nicole Palapoli ~ New York
Myztico Chango ~ New York
Raine Valentine ~ Pennsylvania
Rose Unfolding ~ Washington
Sarah Kushwara ~ Connecticut
Simona May ~ Hawaii
Ulhas Moses ~ Los Angeles
𝐼𝑁𝑇𝐸𝑅𝑁𝐴𝑇𝐼𝑂𝑁𝐴𝐿 𝐴𝑅𝑇𝐼𝑆𝑇𝑆
Alana Tashjian ~ Uruguay
Anderson Debernardi Mozombite ~ Amazon
Andrea Vigil Schenone ~ Peru
Christian Gonzales ~ Peru
Inti Garcia ~ Mexico
Kateryna Tsebro ~ Dubai
Lainey Star ~ Pembrokeshire UK
Liba WS ~ Paris
Lisa Winter ~ Australia
Miriam Miracles ~ Bratislava, Slovakia
Mónica Esgueva ~ Spain
Natalie Dixon ~ London
Olga Zhminko ~ Ukraine
Roos FL~ Belgium
Rupali Sharma ~ India
Curated by Rahul Raja Bader
Event Coordination Paul Zulauf
Hosted by Alternity
Featuring over 75 Visionary Artists from around the world, this will be our 8th annual exhibition to honour the contributions of these globally talented visual artists. With contributions from our global family of artists including the Vision Train, Vitra Academy and the Toronto Visionary Art Collective this will be a truly one of a kind experience. In addition to a physical gallery space, we will be creating a virtual showcase for contributions of artists from countries ranging from the US, India, Mexico, Peru, Ukraine, Canada and many more.
🚀 𝙎𝙘𝙝𝙚𝙙𝙪𝙡𝙚
𝑇𝑜𝑟𝑜𝑛𝑡𝑜 𝑂𝑝𝑒𝑛𝑖𝑛𝑔 𝑁𝑖𝑔ℎ𝑡 𝐺𝑎𝑙𝑎 :
✨𝐒𝐚𝐭 𝐃𝐞𝐜 𝟏𝟎𝐭𝐡 – 𝟕𝐩𝐦- 𝟏𝐚𝐦 @ 333 Bloor St W Toronto – Opening Night Party (Cover) Live Painting + World Fusion Bands + DJs
♫𝑀𝑢𝑠𝑖𝑐 𝑏𝑦 :
730pm - Realije/Efflotu/ Masta Inferno
8:00pm - SAHARASUN
9pm - Performance Piece - Dance/Song by Wolfbone
9:30pm - Raja Rhythmix
10:30pm - Darren Austin Hall
1130pm - Sarah Jane Reigler
12:45am - 'PanCymatica' Handpan + Cymatics closing audio/visual sound performance
Limited capacity. Advance tix til Dec 9th.
Featuring live painting, DJs, performances and live projections. Advance tix include free access to global virtual galleries!
Advance: $22
Door: $30
Tix: tvaex2022.eventbrite.com
✨𝐒𝐮𝐧𝐝𝐚𝐲 𝐃𝐞𝐜 𝟏𝟏𝐭𝐡 𝟏𝟐𝐩𝐦 -𝟖𝐩𝐦
Family-friendly Holiday Market @ Alternity 333 Bloor St W Toronto and Worldwide online via the Visionary Train on Zoom
12-8pm Xmas Visionary Market w/ open visionary paint jam (bring a canvas!)
1-3pm ET: Local Artist Talks w/ open paint jam.
3-5pm ET: Curated Talks and Interviews via the Vision Train streamed & projected into Alternity Toronto.
Interviews/Talks with
𝑨𝒍𝒆𝒙 𝑮𝒓𝒆𝒚 & 𝑨𝒍𝒍𝒚𝒔𝒐𝒏 𝑮𝒓𝒆𝒚
𝑪𝒉𝒓𝒊𝒔 𝑫𝒚𝒆𝒓
𝑨𝒎𝒂𝒏𝒅𝒂 𝑺𝒂𝒈𝒆
𝑨𝒍𝒆𝒄𝒊𝒂 𝑺𝒂𝒄𝒓𝒆𝒅𝒉𝒆𝒂𝒓𝒕 & 𝒎𝒐𝒓𝒆.
5-8pm ET: Curator Gallery Tour, Live Music, Paint Jam on the Vision Train (projected into gallery at Alternity) and Closing Sound Healing.
6-8pm - Music & Soundscapes by OROIS, DJ Kirtan and various artists (TBA)
8pm - Closing sound ceremony
By donation at door or online!
Tix: tvaex2022.eventbrite.com
✨𝐕𝐢𝐫𝐭𝐮𝐚𝐥 𝐆𝐚𝐥𝐥𝐞𝐫𝐲 (𝐃𝐞𝐜 𝟏𝟎𝐭𝐡 𝟐𝟎𝟐𝟐 - 𝐉𝐚𝐧 𝟕𝐭𝐡 𝟐𝟎𝟐𝟑)~ Online Globally via Kunstmatrix. Links live 10/12/2022
2022 Collection featuring over 100 works of art in digital space (Originals For Sale/NFS). Links to a massive array of International and Local Visionary Artists
International Gallery
US Gallery
Canadian Gallery
(by Donation)
Tix: virtualvisionaryex22.eventbrite.com
This exhibit '𝙄𝙢𝙖𝙜𝙞𝙣𝙖𝙡 𝙒𝙤𝙧𝙡𝙙𝙨 'dives into the world of mystical landscapes, medicine journeys and visionary realms, through mediums such as painting, illustration, installations, digital art, video and sculpture. Our opening party on Sat Dec 10th will feature a host of live painters, DJs and performers, complete with a full menu of delicious elixirs from venue hosts Alternity. TVAEx 2022 presents this multi-day exhibit with a host of specially curated talks, performers, food, drinks and DJs. We hope to journey with you!
Toronto Visionary Art Exhibit
@toronto.visionary.arts
Tickets:
tvaex2022.eventbrite.com