9th Annual E-Mental Health Conference - Caring in a Digital World: Introducing Disruptive Change to Mental Health Care
About this Event
This event is in collaboration with the the University of British Columbia (UBC), the Centre for Addiction and Mental Health (CAMH), University Health Network (UHN), and the Mental Health Commission of Canada (MHCC).

General Admission
Regular Registration 2-Day Pass: $249+ tax
Please note that all four workshops are now full.Registration includes a Keynote presentation on March 05th at 4pm and 4 sessions, a keynote presentation , breakfast and lunch on March 06th. Please refer to the program below for exact timing.
Call for Abstracts and Emerging Researcher Panel and Exhibitors
Please use this link to view the abstracts for poster presentations.
Please note that the call for abstracts for a poster or panel presentation and for exhibitors is now closed. We thank you for your interest.
People with Lived Experience
We would like to encourage people with lived experience to register and participate in the conference. At this time, all free spots have been filled and the waitlist is currently full. Thank you for your interest.
Program at a Glance
Please use this link to access the full program.
Thursday, March 5th
8:00-9:00 Registration
9:00-12:00 Concurrent Workshops
Workshop 1: Engaging Youth As Active Agents of Change For Mental Health Care
Objectives

Share recent developments in youth-engagement models/practices in mental health service design and research
Explore the impact of youth engagement and co-creation at the individual and organizational levels, with a focus on the achievement of "appropriate care"
Introduce processes that track, evaluate and mobilize what is learned, gained and disrupted through youth engagement
Workshop 2: Building Capacity for E-Mental Health: An Introductory Implementation Workshop
Objectives

Describe common challenges and opportunities in implementation efforts
Successfully identify strategies from the Toolkit to plan and initiate E-MH in clinical practice
Build personal and professional capacity with E-MH initiatives through practical exercises
12:00-12:45 Lunch and Networking
12:45-3:45 Concurrent Workshops
Workshop 3: If You Build It, Will They Change? Implementing Mobile Apps To Achieve Clinical Results
Objectives

Describe common strategies and methods for designing and developing mobile apps
Describe theories that will guide the development of these apps
Discuss barriers to and facilitators of implementing mobile apps in clinical care contexts
Learn about practical strategies to implement and integrate mobile apps in clinical care contexts
Identify evaluation criteria for assessing the effectiveness of apps in mental health contexts in promoting behavior change
Workshop 4: Will My E-Mental Health Interventions Be Effective? A Practical Guide to Evaluation, Rapid Assessment and Awesome Analytics
Objectives

Outline and critically assess traditional and emerging methodologies to evaluate digital mental health interventions
Describe the development of a novel research analytics platform to evaluate effective engagement with digital mental health interventions
Identify the challenges and opportunities related to evaluating engagement with digital mental health interventions, including key lessons learned and priorities for future research in the field
4:00-5:00 Welcome
5:00-6:00 Keynote 1
The Future of Virtual Mental Health: The North American Experience
John Torous, Beth Israel Deaconess Medical Center, Harvard University
Discussant: David Gratzer, CAMH
Friday, March 6th
7:30-8:30 Registration
8:35-8:40 Welcome Day 2
8:40-9:10 Session 1: Is Change Coming? Rapid fire presentations
9:10-10:10 Session 2: Evolving Learning and Practice for E-Mental Health
10:10-10:30 Health Break and Poster Session
10:30-11:30 Session 3: Changing the System One Disruptive Technology at a Time
11:30-12:30 Lunch and Networking (Poster Session)
12:30-1:30 Session 4: Addressing the Need for Disruptive Change
1:30-2:30 Who is Going to Change the World? A Panel of Emerging Researchers
2:30-2:50 Health Break and Poster Session
2:50-3:50 Keynote 2
The Future of Virtual Mental Health Care: The Australian Experience
Ian Hickie, Mind and Brain Institute, Sydney
Discussant: Gillian Strudwick, CAMH
3:50-4:00 Closing Remarks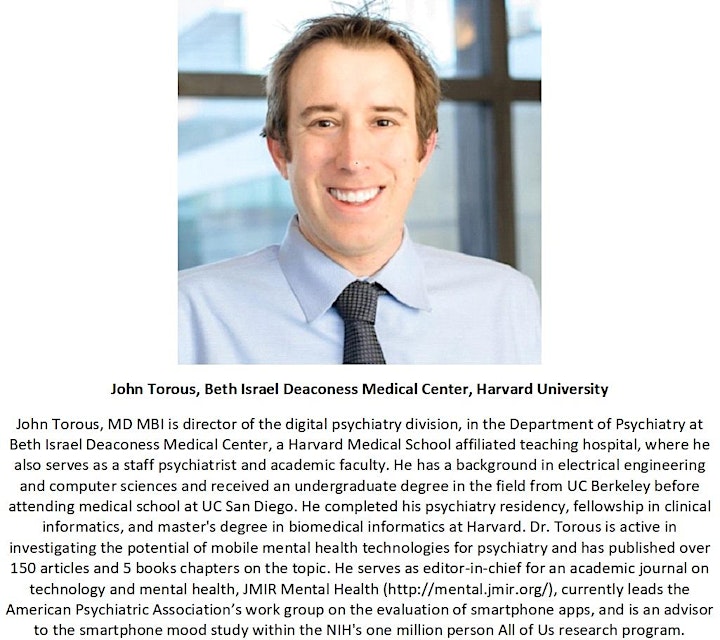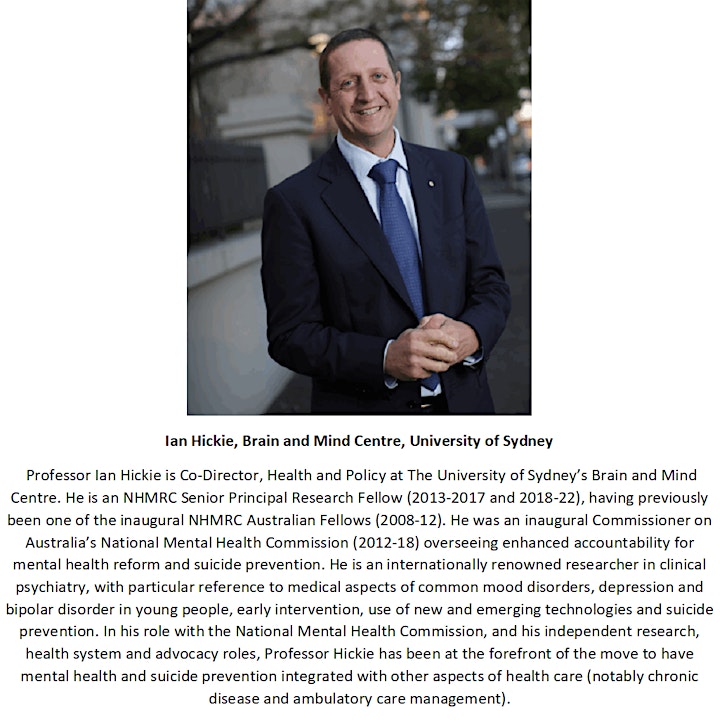 Please note that there are no travel funds available for participants.
The deadline to reserve a room in our courtesy block at Hotel X has now passed.
Have questions? Contact us at aingabire@mentalhealthcommission.ca