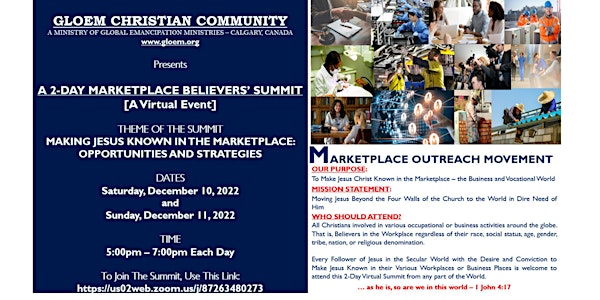 A 2-DAY MARKETPLACE BELIEVERS' SUMMIT - FOR BELIEVERS IN SECULAR WORKPLACES
A 2-DAY MARKETPLACE BELIEVERS' SUMMIT - FOR ALL BELIEVERS IN SECULAR WORKPLACES. Come, Let's Move Jesus Beyond the Four Walls of the Church
About this event
THE THEME OF THIS VIRTUAL SUMMIT -
MAKING JESUS KNOWN IN THE MARKETPLACE: OPPORTUNITIES AND STRATEGIES
Our "WHY" Statement:
GLOEM Christian Community (GCC) is a Global Marketplace Outreach Movement operating from Canada. We strongly believe that Jesus Christ is the Solution to all the problems facing humanity; and as such should not be confined to the four walls of the Church.
By Marketplace, we mean the everyday business and vocational world outside the Church – where people work, practice their careers, transact businesses, and relate with one another – professionally or recreationally.
Our passion is to see the people we work or do business with come to know and receive the love of God through Christ Jesus, regardless of their status, race, language, nationality, location or worldview.
Who Should Attend This Summit?
All Christians involved in various occupational or business activities around the globe. That is, Believers in the Workplace regardless of their race, social status, age, gender, tribe, nation, or religious denomination.
Every Follower of Jesus in the Secular World with the Desire and Conviction to Make Jesus Known in their Various Workplaces or Business Places is welcome to attend this 2-Day Virtual Summit from any part of the World.
DATES : Saturday, December 10, 2022 and Sunday, December 11, 2022
TIME : 5:00pm – 7:00pm Each Day
To Join The Summit, Use This Link: https://us02web.zoom.us/j/87263480273
… as he is, so are we in this world – 1 John 4:17