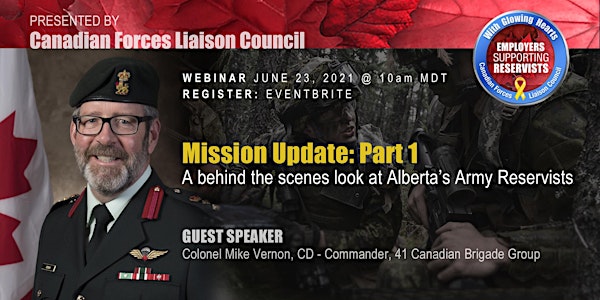 A Behind the Scenes Look at Alberta's Army Reservists
CFLC invites you to a "Mission Update" - A behind the scenes look at Alberta's Army reservists and operations home and abroad.
About this event
Numerous Alberta businesses employ individuals who are members of the Reserve Force. When Alberta faces a disaster – the Covid-19 Pandemic, fires, floods – reservists are asked to respond to the call and assist in the survival and support of our communities. Responding to these calls often pulls reservists away from their regular employment.
The Canadian Forces Liaison Council is passionate about helping organizations understand how the workforce benefits from military members' training and the values they bring to the workplace.
Our feature guest, Colonel Mike Vernon, CD/Commander of 41 Canadian Brigade Group will provide a behind the scenes look at who reservists are, what they do, and how the Alberta Reserve is preparing and training to support our communities and country when we need them most.
Reservist Major Julie Helferty (OC), Officer Commanding 14 Service Company, will provide insight on her recent deployment to Lebanon, and how she manages to balance her military commitments with her career as Calgary City Police Officer.
CFLC will share the With Glowing Hearts initiative - a reservist support program for employers highlighting a reserve-friendly work environment to attract and retain talented employees. "Reservists make your work better."
There will be an opportunity for Q&A at the end of the webinar.
With generous support from:
About The Canadian Forces Liaison Council
Since 1994, Canadian Forces Liaison Council (CFLC) has provided many reservists with employer support as they deploy or further their career training. The CFLC is comprised of more than 140 business executives, educators, and community leaders who work in partnership with the Defence Team to engage employers, educational institutions, and other organizations to emphasize how valuable the reserve service is to Canadian communities and to the defence of Canada. Helping organizations understand how the workforce benefits from military members' training and the values they bring to the workplace is central to CFLC's efforts.
Speaker Biography: Colonel Mike Vernon
Colonel Vernon joined the Regular Force in 1981 and after graduating from Royal Military College he completed a Master of Arts degree in English Literature at Dalhousie University. Commissioned in Princess Patricia's Canadian Light Infantry, he served with its Second Battalion in Baden-Soellingen, West Germany; as a squadron commander at Royal Roads Military College; and with the Third Battalion in Esquimalt before finishing his Regular Force career at the Infantry School in Gagetown. Col Vernon went to Croatia as a freelance journalist in 1994, then joined the CBC in Calgary as a television news producer and later video journalist. He reported from Afghanistan and France before leaving CBC in 2008. Col Vernon joined the Calgary Highlanders in 1999, participated in Operation PEREGRINE (BC wildfires) in 2003, completed the Combat Team Commander's Course in 2006, and commanded his regiment 2007-2010. In 2010 he returned to Afghanistan as an army reservist to produce the video documentary Desert Lions: Canadian Forces Mentors in Kandahar for Army Public Affairs. In 2011 he served as the Canadian Task Force Commander on Operation SCULPTURE in Freetown, Sierra Leone. IN 2017 he produced a second video documentary for the Canadian Army entitled Deployed: Canadian Army Reservists Overseas. He was promoted in 2019 to his present rank and appointed Commander, 41 Canadian Brigade Group. Since 2009, Col Vernon has taught Journalism at Mount Royal University in Calgary.