A Berlin Science Week Event on clean hydrogen technologies organised by the Government of Canada
About this Event
Date: Friday, November 6, 2020
Time: 9:30 a.m. to 11 a.m. EST // 3:30 p.m. – 5 p.m. CET
Please follow the link below for your Zoom coordinates:
https://bespokeav.zoom.us/webinar/register/WN_Y9XNWin5RrylEzeltw4fYQ
The Embassy of Canada in Berlin and the National Research Council of Canada, in collaboration with Natural Resources Canada, will be hosting a virtual event, "A Carbon Free Fuel: Hydrogen Can," at Berlin Science Week on November 6th, 2020.
Hydrogen is a versatile carbon-free chemical fuel that could serve as an energy vector in many industries.
This event will feature a panel of Canadian and German experts from industry, government, and academia who will speak on the promise of a hydrogen-powered low-carbon future. Following the panel discussion, a hydrogen Science Slam contest will feature early-career researchers and entrepreneurs showcasing their cutting-edge hydrogen technologies.
Tune-in to learn all about hydrogen, how it is produced, transported, and used, and why it could be the low-carbon replacement for fossil fuels as we transition to a renewable future.
Hydrogen Panel
Hear from our panel on the future of hydrogen technologies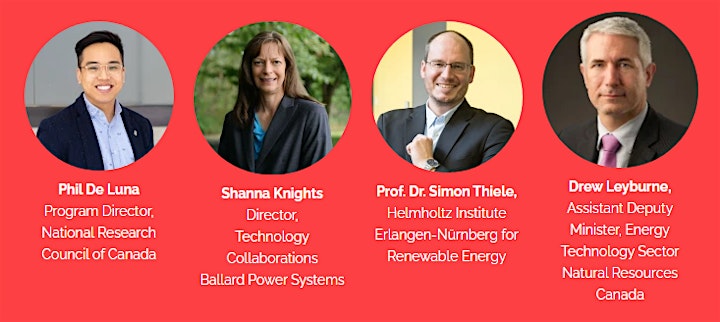 Science Slam
Are you an early-career researcher or cleantech entrepreneur working on hydrogen technologies? Submit a 1-minute YouTube pitch by October 17th for a chance to compete in our Science Slam – a 3 minute competition that will be judged live by our virtual audience!
Note: the event will take place in English and all video pitch submissions should be in English as well.
For questions about Science Slam or for more information please contact the National Research Council in Germany. (NRC.GermanyOffice-BureauAllemagne.CNRC@nrc-cnrc.gc.ca)
About Us
Berlin Science Week is a 10-day international festival held between 1-10 November bringing together the world's most innovative scientific organisations to celebrate science, to connect and to engage the local and international science community with the public.
The National Research Council of Canada (NRC) is the primary national research and technology organisation of the Government of Canada.
Natural Resources Canada (NRCan) develops policies and programs that enhance the contribution of the natural resources sector to the economy, improves the quality of life for all Canadians, and conducts innovative science in facilities across Canada to generate ideas and transfer technologies to the marketplace.