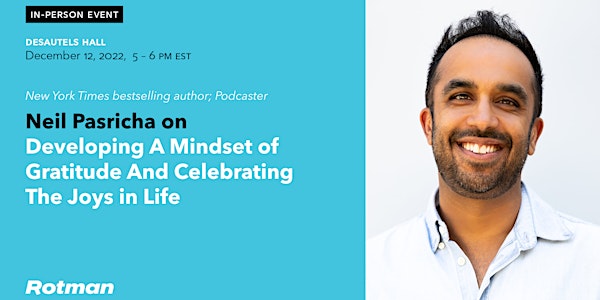 A Celebration of Small Joys - Neil Pasricha on "Our Book of Awesome"
Neil Pasricha discusses his new book 'Our Book of Awesome: A Celebration of the Small Joys That Bring Us Together' (Simon & Schuster)
When and where
Location
Rotman School of Management 105 St. George Street Toronto, ON M5S 3E6 Canada
Refund Policy
Refunds up to 1 day before event
About this event
Topic: Our Book of Awesome: A Celebration of the Small Joys That Bring Us Together (Simon & Schuster)
By: Neil Pasricha
Speaker:
Neil Pasricha, 7 time New York Times bestselling author; Podcaster
The New York Times million-copy best-selling author Neil Pasricha is on a mission to help people live happy lives. Join the conversation with the celebrated author to explore inspirational stories of self-reflection in pursuit of happiness as he presents his new book, Our Book of Awesome. Learn how you can develop a mindset of gratitude and appreciate the little things in life.
Book Synopsis:
Welcome to Our Book of Awesome, a celebration of the small joys that bring us together.
In a world that is often overwhelming, it's time to return to the simple things, the AWESOME things, all around us...if only we take a moment to see them:
-Carrying the ice cube tray from the sink to the freezer without spilling
-Finally unsubscribing from that annoying email you've been getting forever
-Seeing your parents dance
-Adding a gift note to yourself on your online order
-Sending a private message during the video conference and then seeing your coworker look down and silently smirk
-When your kids don't hear you opening a bag of potato chips
-When the hand sanitizer isn't that extra slippery kind that never dries
-Texting your husband to do something when he's upstairs and you're downstairs
-When the cake plops flawlessly out of the pan
These are just a few of the hundreds and hundreds of things you'll find in this new volume. You'll also find comments, letters, and submissions from the AWESOME community around the world, leading to a final cacophony of awesome, by all of us, for all of us.
Our Book of Awesome is an injection of joy, a heartfelt gift, and a smacking high five for humanity. Read it to be reminded of the endless AWESOME things that give laughter and happiness to our beautiful and brief lives.
Neil Pasricha thinks, writes, and speaks about intentional living. He is the New York Times bestselling author of seven books, including The Book of Awesome and The Happiness Equation, which together have spent over 200 weeks on bestseller lists and have sold over a million copies. He hosts the award-winning podcast 3 Books, where he's on a fifteen-year quest to uncover the 1000 most formative books in the world by interviewing people such as Malcolm Gladwell, Judy Blume, and the world's top-ranked Uber driver. He gives more than fifty speeches a year, appearing for audiences at places such as Harvard, SXSW, and Shopify. He has degrees from Queen's University and Harvard Business School, and lives in Toronto with his family. Connect with him on social media @NeilPasricha or get his latest writing for free at https://www.neil.blog/
Event Logistics:
This event is available to attend in-person only.
Rotman Events is committed to accessibility for all people. If you have any access needs or if there are any ways we can support your full participation in this session, please email Megan Murphy [events@rotman.utoronto.ca] no later than 2 weeks in advance of the event and we will be glad to work with you to make the appropriate arrangements.
General Admission: In-Person Ticket Details
The event will be hosted in Desautels Hall at the Rotman School of Management (105 St. George St., Toronto, ON M5S 3E6). Your registration fee includes a seat at the session and you will receive a hardcover copy of the book when you arrive.
Cancellation & Refund Policy
Refunds will only be issued for cancellations received in writing NO LATER than 24 hours prior to the event. Please email events@rotman.utoronto.ca for processing.
In-person registrants who do not pick up their book at the event will have 5 business days to request postal delivery by emailing us at events@rotman.utoronto.ca. All unclaimed books will be returned to the publisher after that time.
Questions: events@rotman.utoronto.ca, Megan Murphy