A Christmas Concert with Craig Ashton & Friends. Online from the Historic Gayety Theatre
About this Event
This event will be the Christmas Concert of the Season! Craig Ashton in conjunction with the Historic Gayety Theatre have chosen to stream Events for Life's Annunal Christmas Concert via Zoom this year. All proceeds from this evening will going to Events for Life Outdoor Program.
This program will benefit the Events for Life participants and give them the opportunity to learn outdoor skills from trained outdoor facilitators. Covid-19 has prevented the Centre from operating in-person. This program will bring the participants back to the Centre with their small pod groups and help us maintain our mission of providing recreation, social and life skills.
Help EFL meet their goal of raising $10,000. Money raised will go towards purchasing outdoor clothing for the participants so they can be warm and dry while learning outside and door to door transportation. EFL is partnering with Free Spirit Forest School to bring the small pod groups back to the EFL Centre. This cannot happen without your generosity and support!
Craig's professional operatic career started when he was twenty-four years of age. A finalist in the Canadian Opera Company's (COC) Young Mozart Singers' Competition he was accepted into the prestigious COC Ensemble Studio under the direction and guidance of Richard Bradshaw. Craig has performed leading roles in eminent productions by the COC, Toronto Opera in Concert, Toronto Operetta Theatre, The Banff Festival, Edmonton Opera and Vancouver Opera, to name a few. In musical theatre his greatest triumphs are The Gondoliers at the Stratford Festival, and Hal Prince's The Phantom of the Opera and Show Boat. He was also a member of the original Canadian Tenors. Locally, Craig has received acclaim for his production of From Opera to Broadway at the Historic Gayety Theatre and Meaford Hall, A Collingwood Christmas at The Historic Gayety Theatre and Opera Under The Stars at Blue Mountain Village's Peak to Shore Music Festival.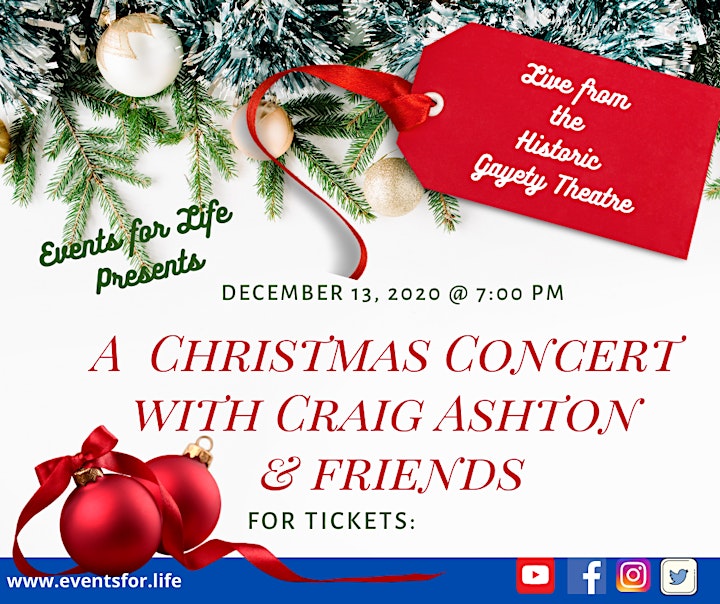 Date and Time
Location
Refund Policy