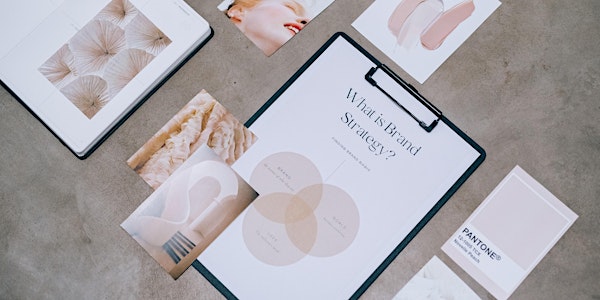 A Complete Guide to Small Business Marketing - Branding Your Business
Your brand identity is the backbone of your business. You need more than just a logo.
About this event
Whether your small business has existed for years, or just recently started up, effective marketing strategies are essential for success.
We live in the digital age and businesses need to be visible where their customers are found – online. This workshop series will cover how to create a strong brand identity, build an online presence, and develop marketing strategies specific to your business.
Join us for one, two or all three of the workshops, whatever fits your schedule!
Workshop Topic:
Branding Your Business
Learn how to create a brand specific to your business to help make it more recognizable to your customers and how that brand can be incorporated into your marketing.
Brand identity is more than an aesthetic. A strong brand makes a memorable impression on consumers. There are many components of branding, but as a bare minimum, a brand strategy should contain:
• A primary and secondary logo
• Color palette
• Consistent copywriting & messaging
• Brand values
• Target audience
Workshop Series:
Digital Media 101 (Tuesday, June 14)
Learn the basics of several social media platforms and the best practices for effective marketing.
• Social media platform basics
- Audience
- Analytics
• Digital marketing strategies
- Website platforms
- Podcasts
Grow Your Online Presence (Tuesday, June 21)
Learn how to post to specific platforms for marketing purposes as well as an overview of additional marketing tools.
Creating new content daily is time consuming and overwhelming. Learn how to batch your social media content to improve your workflow and online presence. Batch working your content will help you stay organized, improve brand awareness, and create online consistency.
• Content strategies
- Content creation
- Content pillars
- Scheduling tools
• Digital ads
- Sponsored posts
- Google ads
• E-mail marketing
Meet Your Presenters:
Chantelle Ball
Chantelle has a diploma in Digital Communication and Media specializing in Media Production and Advertising as well as a Bachelors of Arts in Professional Communication.
After graduating from college, Chantelle worked as a practicum student at the Lethbridge Alzheimer's Society which was a life changing experience for her. During her internship, Chantelle saw communications work in a new light. She got to experience the side of communications that brings people together and can be used to make a change in the community. This passion to be involved with organizations that support their communities is what drew Chantelle to the Women Entrepreneurs-in-STEM program.
Alyssa Borix
Alyssa brings two Communication Arts diplomas with her, one in Broadcast Journalism and the other in Advertising and Public Relations.
Alyssa has lived and worked in Lethbridge her entire life, which has given her the opportunity to create strong relationships with the community and her colleagues. She looks forward to maintaining and growing these partnerships with Women Entrepreneurs-in-STEM.
Alyssa graduated college and began seeking more opportunities with community-focused organizations. She has a strong background in sales, which sparked her drive to get to know new people and their stories. Her passion for learning and discovering new things is one of her favourite parts of engaging with new clients and business advisers.
IMPORTANT: Please note these are live events that will be delivered during the dates and times indicated.
Guidelines for Creating a Safe Space:
We welcome and respect everyone.
We respect others' physical and emotional boundaries.
We acknowledge that our actions and words may have unintended effects on other people and that their feelings are valid, regardless of your intentions.
We appreciate diversity and value everyone's voice.
We respect people's opinions, beliefs, differing states of being and differing points of view.
We respect others' identities and backgrounds, including pronouns and names.
We treat and care for everyone equally.
Whenever we are in doubt, we will start by being kind.
We value confidentiality.
We encourage everyone to care of their own safety. If you need to step out, feel free to do so. If you feel unsafe, let the facilitator know.
WESTEM programming is mandated to support rural/remote Southern Alberta women; does not include Calgary.