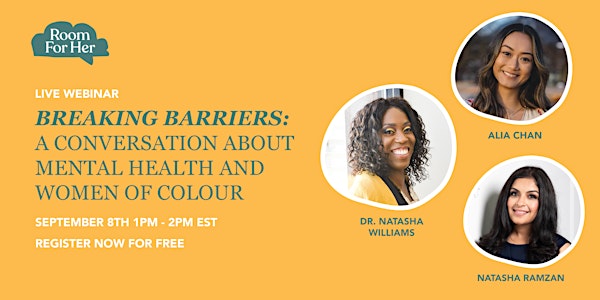 A Conversation About Mental Health and Women of Colour
A discussion on how to decrease stigma and increase access to quality mental health care for women of colour.
About this event
Two years into the COVID-19 pandemic, discussions on mental health have entered the mainstream and there has been a meteoric rise in the number of people interested in therapy. Increasingly, company executives and individuals are understanding how investing in quality psychological support builds resilience. However, there is still a long way to go before mental health becomes accessible to women of colour, who were disproportionately affected by the pandemic.
Women of colour face systemic, cultural and economic barriers in accessing mental health care. Therapy still remains relatively expensive and it is difficult to find women of colour therapists that are able to provide support that is culturally-aware. Also, mental health support remains steeped in stigma, where the negative consequences of stigma are magnified for women of colour.
Join us as we discuss how cultural stigma and the systemic barriers faced by women of colour limits their access to mental health care, and how we can begin to break down those barriers.
Room For Her is an ongoing initiative committed to supporting women's mental health by providing free access digital resources, ICBT, webinars and more from Inkblot Therapy and Greenshield Canada.
Speaker Bio:
Dr. Natasha Williams: Dr. Williams is a Registered Psychologist with the College of Psychologists of Ontario and the past Chair of the Board of Directors at Women's Health in Women's Hands, a Community Health Centre for black women and women of colour in Toronto. Dr. Williams is a member of the Ontario Psychological Association (OPA), Canadian Psychological Association (CPA) and she is the Chair of the inaugural Association of Black Psychologists – Toronto Chapter .
Alia Chan: Alia is a Burnaby-based Registered Clinical Counsellor. Through a trauma-informed lens, Alia works closely with individuals who may be experiencing various mental health challenges, and who are wanting a positive shift towards a more meaningful life. Alia is also the Founder of Human First Podcast, where she will talk to inspiring people about their mental health journey in an effort to help increase mental awareness, normalize struggle, and end stigma. With the help of her guests, Alia's intention is to embrace hope and celebrate all parts of the human experience.
Natasha Ramzan: Natasha is a Registered Clinical Social Worker and Psychotherapist. She is currently completing her Doctorate in Clinical Psychology in London (UK) specializing in Borderline Personality Disorder (BPD) and Neuropsychology. Natasha is passionate about spreading mental health awareness and improving access to mental health services, especially for people from different ethnic minority communities. She is well versed in providing therapy for clients with BPD, narcissistic traits, anxiety-related disorders, relationship/marital issues, and transitioning difficulties for new immigrants. She shares her struggles as a Pakistani-Canadian woman, with balancing dual cultural values, which sometimes resulted in experiencing anxiety and depressive episodes.
Moderator:
Harriet Ekperigin (Vice President Mental Health, Green Shield Canada): Harriet takes on the day-to-day leadership of Green Shield Health's Mental Health Strategy while supporting the growth of Inkblot Therapy and other mental health partners. Most recently, Ekperigin was the senior lead for Virtual Mental Health at the Ontario Telemedicine Network and Ontario Health where she was responsible for implementing innovative mental health interventions across the province. Harriet began her career as a mental health nurse in the UK and found a passion for improving health care by leveraging technology and disrupting the status quo.