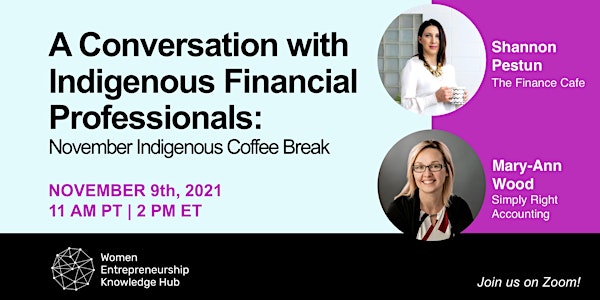 A Conversation with Indigenous Financial Professionals
Join us for a special monthly Indigenous Coffee Break! This session will feature a fireside chat with Indigenous financial professionals.
About this event
Did you know that November is Financial Literacy Month?
This November, join us for a special monthly Indigenous Coffee Break! This session will feature a fireside chat with two Indigenous women & financial professionals: Shannon Pestun, an experienced former banker turned entrepreneur and Co-Founder of The Finance Cafe, and; Mary-Ann Wood, Accountant at Simply Right Accounting.
Our guests will explore topics such as why financial literacy is important, the financial considerations of entrepreneurship, and mistakes to avoid in managing your business finances. Our #ASK is that you bring your curiosity and questions about financial literacy & entrepreneurship, because the fireside chat will be followed by a Q&A where you can ask your questions directly to our panelists! Attendees will also have a chance to learn about the WEKH/FWE Sharing Platform and how it can help support you and your business at any stage.
Shannon Pestun - The Finance Cafe
As the Co-founder of The Finance Cafe, Shannon is an experienced entrepreneur and courageous leader who is breaking barriers to advance an inclusive and sustainable economy.
Recognized for creating innovative funding models and solutions that challenge the status quo, Shannon is a trusted voice on women's entrepreneurship for educators, government, industry and the media. She was one of the first women in the country to lead a women's banking strategy and one of seven women appointed to serve on Canada's women entrepreneurship expert panel. Her commitment to advancing equality has been widely recognized. In 2018 she was named a SHEInnovator by SHEInnovates Alberta - a pilot chapter for UN Women and in 2019 was a finalist for the Diversity Ambassador of the Year award by Women in Finance - Canada. Shannon is a member of the Mount Royal University board of directors and is a member of the President's advisory committee on equity, diversity and inclusion.
A proud Cree Metis woman, Shannon recently created the Gifting circle for Indigenous women entrepreneurs, the first community-funded bursary that supports Indigenous women who pursue entrepreneurship.
Mary-Ann Wood - Simply Right Accounting Ltd.
My name is Mary-Ann Wood, I am a mother of three beautiful children from 8-15 years of age.
Since 2008, Simply Right Accounting Ltd has been providing professional bookkeeping services in Alberta. I originally started my career path in the Banking industry, which led me to the Insurance industry, I really enjoyed this field, but felt I was missing something. I knew when I was 20 years old I had a passion for numbers and enjoyed the challenge. At 21 years old I registered at Portage College to start my path in Accounting, with life's plans, I had to put my dream on hold. I had gotten married, moved and had my first child. This gave me the opportunity to step into the Bookkeeping field, which awoke the spark and my passion for numbers yet again. I knew I was on the right path, my new journey was about to begin. I registered with SAIT to start my education for Accounting, and this is where my new chapter in our journey truly opened up for me. Throughout all the obstacles, I kept my dream in my focus, and let the creator guide me along my journey.
I am proud to be Metis and have this opportunity to share some knowledge to help guide others on their journey's.
These coffee breaks are open to all Indigenous women entrepreneurs at any stage of their business (even if you just have an idea!). We strive to provide a safe and welcoming space where IWEs can come to network, learn about opportunities and resources, and simply just to chat during what has been an isolating time for many.
We look forward to seeing you there!