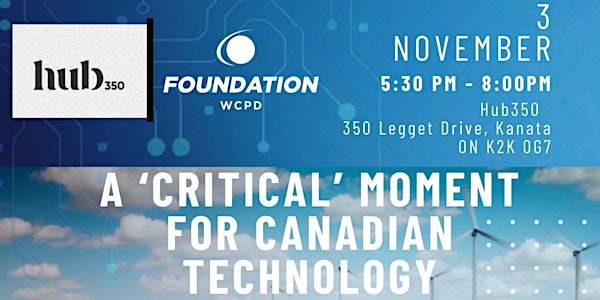 A 'Critical' Moment for Canadian Technology
A 'Critical' Moment for Canadian Technology. Join us to learn about Canada's new Critical Minerals Strategy & its importance to our future
When and where
Location
Hub350 350 Legget Drive Ottawa, ON K2K 0G7 Canada
About this event
From the moment you flip on the coffee maker in the morning, to the time we set our alarm at night, technology dominates our day-to-day lives.
But how often do we consider the critical minerals that make this technology possible?
On April 2022, Canada rang the alarm bell when it announced its first ever Critical Minerals Strategy – a new set of laws, regulations and tax incentives to help reduce climate change and boost the production of critical minerals.
Whether it is copper for circuit boards and computer chips, titanium for solar panels, or cobalt for electric car batteries, it is generally understood – without great quantities of these minerals, there is no path to a low-carbon future.
While China has traditionally dominated the rare earths market, Canada is well-poised to provide its own access to critical minerals.
In this engaging, timely panel, we will explore Canada's new Critical Minerals Strategy, why it is so important to the technology sector, and how a scarcity, or abundance, of these minerals could impact our future.
The PANELISTS:
------------------------------------------------------------------------------------------
Pierre Gratton was appointed President and CEO of the Mining Association of Canada (MAC) on June 1, 2011. Based in Ottawa, MAC is the national organization for the Canadian mining industry. Its members are engaged in mineral exploration, mining, smelting, refining and semi-fabrication.
Prior to his appointment to MAC, Pierre was President and CEO of the Mining Association of British Columbia (MABC). From 1999-2008, Mr. Gratton served as Vice President, Sustainable Development and Public Affairs for the Mining Association of Canada (MAC). In this capacity, he was instrumental in the development of Towards Sustainable Mining, MAC's flagship program that is gaining international recognition and adoption. In 2005-06, Mr. Gratton was honoured as a Distinguished Lecturer for the Canadian Institute of Mining, Metallurgy and Petroleum (CIM).
Mr. Gratton is First Vice-President of the Interamerican Mining Society (SIM – Sociedad Interamericana de Mineria), Chair of the Canadian Mining Hall of Fame, Co-chair of the Green Mining Initiative Advisory Committee and sits on the Board of Ottawa's Thirteen Strings Chamber Orchestra.
Mr. Gratton holds an M.A. degree in political science, a B.A. from McGill University, and a third-degree black belt.
Peter Nicholson is the President and Founder of WCPD Inc, an acronym for Wealth, Creation, Preservation & Donation. He started his financial services business in 1987 at the age of 22. Since 1995, Peter has been a recognized leader in Canadian tax assisted investments, with a specialized focus in charity flow-through shares with an immediate liquidity provider.
During this time, WCPD has had a profound impact on junior mining in Canada, resulting in more than $1 billion in flow-through share financings.
Meanwhile, through his work with donors, foundations, institutions, and boards, he has helped generate in excess of $300 million for client donations. Nicholson is also a generous philanthropist in his own right and a tireless supporter of community initiatives.
Over the years, Nicholson has served as a dedicated champion and board member for many foundations all across Canada, such as Winnipeg's Canadian Museum of Human Rights, Children's Hospital of Eastern Ontario, Ottawa Regional Cancer Foundation and founder of the Exuma Foundation of Canada. He is also a member of the Canadian Association of Gift Planners (CAGP), Association of Fundraising Professionals of Canada (AFP), the Clinton Global Initiative, and a ten-year veteran of the investment club Tiger 21.
He spends his time between Ottawa, Nova Scotia and Exuma, The Bahamas, with his partner Anabel and their six children, ranging in age from 23 to 5 years old.
Jeff Labonté joined Natural Resources Canada (NRCan) in 1993. Prior to being named Assistant Deputy Minister for Lands and Minerals Sector, Mr. Labonté served as Assistant Deputy Minister for the Major Projects Management Office. He was formerly Director General, Energy Safety and Security Branch and International Energy, and Director General, Petroleum Resources Branch in the Energy Sector, at NRCan. He has also held senior executive positions at the Geological Survey of Canada and the National Mapping Agency.
Jeff holds a Bachelor's Degree in Geography and Political Science, as well as a Master's Degree in Public Administration from Carleton University. He has also completed the Public Sector Leadership and Governance program at the University of Ottawa.
Our Moderator - Melanie Coulson
Melanie is the founder and Chief Content Officer of BigStride Media.
She spent the first 16 years of her career as an award-winning journalist, then pivoted to creating content with a purpose in the fundraising, academic, and corporate worlds.
She has led content teams in marketing and corporate communications, telling stories to drive engagement with a variety of audiences on multiple channels.
She lives in Kanata with her husband, two teen boys, and a yellow labrador retriever.