Location
The Union
51 Richmond Street
Glasgow
G1 1JH
United Kingdom
Join us for a Sneak Peek "a Cure for the Common Classroom" Documentary feature by 519 Films in association with Big Change
About this event
Join us for a sneak peek of a Cure for the Common Classroom and an exclusive Question and Answer session with director Andy Hourahine, executive producer Joann McPike, along with education experts Saku Tuominen and Dr. Ulcca Joshi Hansen.
At this most pivotal crossroads in human history, education is the most powerful tool to create a sustainable planet, to connect across boundaries, and to inspire better humans. However, for too long, conventional schooling has been stuck in an outdated model and the dominant narrative has been "things will never change" – but a positive shift is possible and is already happening. Join an exclusive preview of the film A CURE FOR THE COMMON CLASSROOM to witness how real innovation in the school system can reshape our planet one student and one community at a time.
ABOUT THE FILM
After failing to find their place in the status quo, a rogue adventurer, an aspiring artist, and a last-chance student abandon traditional high schools to join unique classrooms and receive an education reimagined. With insights from experts and world leaders, a Cure for the Common Classroom explores what is possible when schools evolve from antiquated process to modern purpose.
"School" as we know it is an amazing machine that has achieved unprecedented educational quantity with more global access than any other time in history. However, a population boom, enhanced connectivity, new innovations, and fast-evolving technologies have created both challenges and opportunities in ever-increasing amounts. The initial impetus for the prevalent system of education has faded away leaving an ingeniously designed, but now long antiquated, system that is creating more problems than solutions to modern issues.
The common narrative is that "education is too slow" or "will never evolve". However, positive change is achievable. Future success will rely not only on new technologies but also on entirely new ways of thinking. Many educational systems understand they are at a crossroads; they know they need to advance, but have no idea where or how to begin.
Despite the barriers, there are highly successful examples of organizations able to apply contemporary, student-driven, educational theory to the needs of today's youth – helping them to become the agile, global thinkers and leaders who can tackle challenges and seize opportunities with a view toward making the future sustainable for everyone: people who can readily create, collaborate, empathize, and connect across political, cultural, geographic, and socioeconomic boundaries.
a Cure for the Common Classroom explores what is possible when education again prioritizes purpose over pedagogy. Going beyond theory, this documentary will showcase real-world examples from innovative high schools to learn how these new educational paradigms are being put into practice to transform lives and communities.
The overriding message of a Cure for the Common Classroom is the potential of a grassroots revolution in education and the ability of positive, truly student-centric learning to redefine schooling in order to foster the much needed, interconnected mindset and develop a relevant, innovative skill set in our next generation while illuminating a path to show other organizations and educational systems a way forward.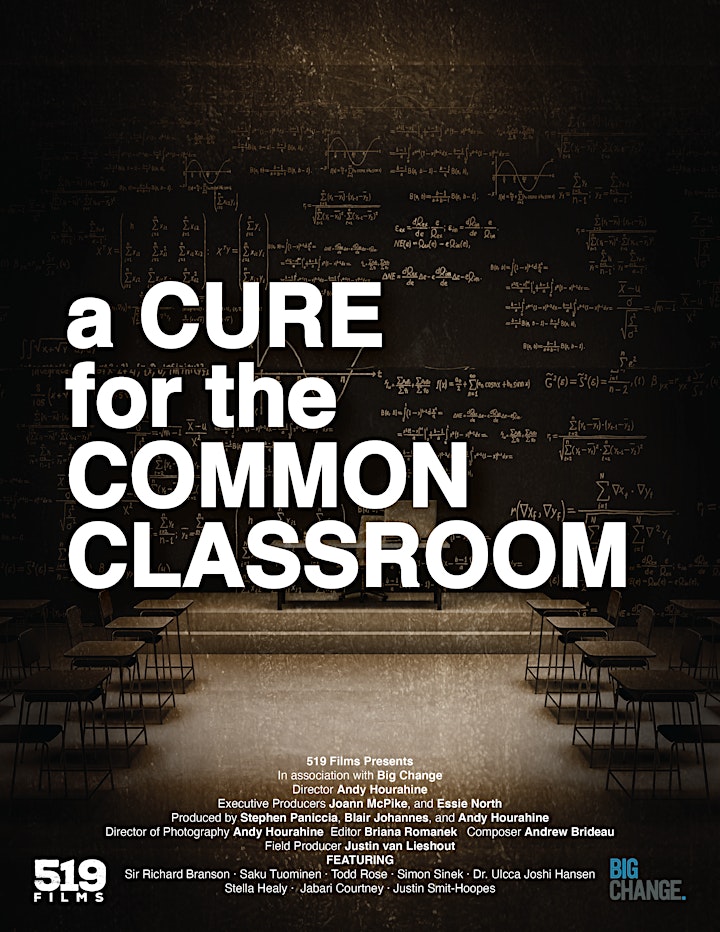 DIRECTOR'S STATEMENT
a Cure for the Common Classroom is, above all, a love story to education and an intimate look at the potential for change to a system that affects us all as told through three high school seniors taking the path less travelled.
The journey for this production began in 2016 when I began to explore alternatives to high school education in film – although it could be said that the impetus was sparked many years before that during my own high school experience. After what was then five years of "have tos", I graduated with honours in grades but failing to have a clear understanding of who I was, what I was good at, or what I hoped to contribute to the world. My passion for film and photography were considered distracting extras to the holy pursuit of standards.
After graduating university and homeschooling my own children, I began to connect to a network of free-thinkers in education reform. As it turned out, the notion of reshaping the classroom experience goes back over a century but has been turned down time and time again for standardization and outdated values. Today, we find ourselves at a tipping point where the world can no longer survive with the status quo. By growing beyond the why of educational reform and focusing on how, I believe we find proof positive that something different and better is possible.
Noticeably absent in this film is a single villain. Although it may cost the production notoriety, it was a conscious choice to avoid the crutch of dramatic exposé and finger pointing too often seen today in documentaries. We are collectively responsible for our systems and putting the blame on people who have spent a lifetime dedicated to students only divides us further. I hope this approach will connect, inform, and unite those who can make a difference.
The visual approach to the project reflects one of the key pillars in better education – student autonomy. By allowing Stella, Justin, and Jabari to tell their own stories in their own way has created an undeniable, authentic narrative that will resonate with viewers.
One of the main challenges of filming was the impact of the pandemic. Schools shut mid-year in 2020 and right in the heart of production. However, life and art reflect each other in that the documentary had to change course and audiences are provided with even greater evidence of the potential of schools who put student engagement first. It is my sincere hope that the push from here is to go forward and not try to return to the way things were.
I would like to offer my sincere thanks to the international crew, schools, teachers, students and families who took the chance to share a positive story that will help tip the balance in favour of a more effective and rich educational experience for tomorrow's stewards of the planet.
ANDY HOURAHINE
After the Q&A Dr. Ulcca Joshi Hansen will be signing her new book The Future of Smart. Please feel free to bring a copy for a personalized note in this influential book!