A Day for the Ages/Une vision vers l'avenir pour tous - Moncton

Saturday, 30 September 2017 from 10:00 AM to 4:00 PM (ADT)
Event Details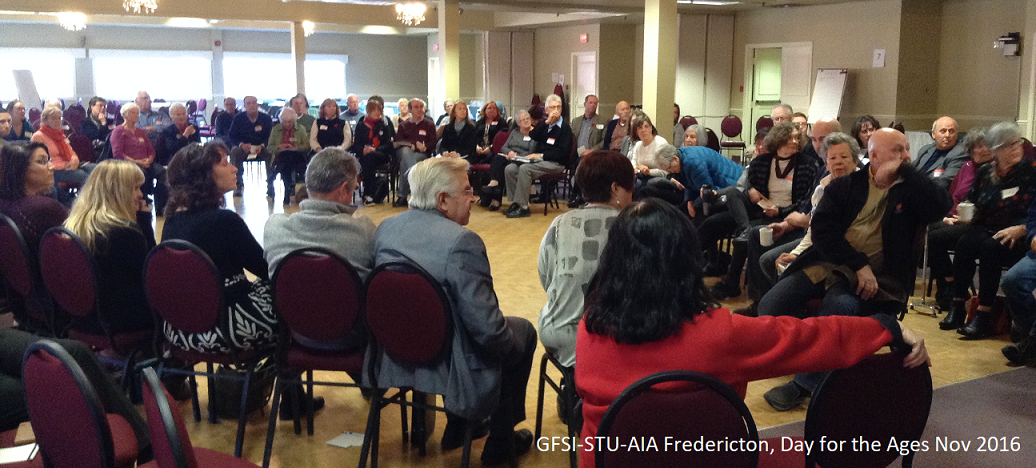 "A Day For the Ages" is a unique and highly interactive event in which we'll be exploring how we, in the Greater Moncton area, can work together to change the conversation on aging and focus instead on the positive potential of an aging population, on how, e.g., nearly 90% of people over 65, are not in hospitals or nursing homes but are contributing in incalculable ways to their families and communities.
Similar events called "A Day for the Ages" have been hosted in Fredericton in November 2016, and New Maryland in May 2017. Although the upcoming Moncton event will be similar in format to past gatherings, we are pleased to confirm that this will be a bilingual event. Collectively we seek to work towards answering the question of how we, as a community, can better work together towards providing the best possible quality of life for our senior residents.
We invite all to join us for a day to connect with your community, sharing life experiences, wisdom, advice, stories, and questions. We will engage in a large-scale consensus building conversation that is heartfelt and positive; we tap into the collective brainpower and heart power in the room, because between us we have the best solutions to our shared challenges.
There will be limited space so be sure to sign up early. Tickets can be purchased online at https://www.eventbrite.ca/e/a-day-for-the-ages-moncton-tickets-36480591431 or you can call 506-850-9653.The event will take place Saturday, September 30th from 10am-4pm with food and beverages provided free of charge throughout the day.

---
« Une vision vers l'avenir pour tous » est un événement unique et hautement interactif dans lequel nous explorerons comment nous, dans la région du Grand Moncton, pouvons travailler ensemble pour changer la conversation sur le vieillissement et nous concentrer sur le potentiel positif d'un vieillissement de la population, par exemple, près de 90% des personnes de plus de 65 ans, ne sont pas dans les hôpitaux ou les maisons de soins infirmiers, mais contribuent de manière incalculable à leurs familles et à leurs communautés.
Des événements similaires nommés « Une vision vers l'avenir pour tous » ont eu lieu dans les communautés de Fredericton en novembre 2016 et New Maryland en mai 2017. Bien que l'événement Moncton à venir soit semblable au format des rassemblements passés, nous sommes heureux de confirmer que ce sera un événement bilingue. Collectivement, nous cherchons à répondre à la question de savoir comment nous, en tant que communauté, pouvons mieux travailler ensemble afin d'offrir une meilleure qualité de vie pour nos résidents plus âgés.
Nous invitons tous à nous rejoindre pour une journée de liaison avec votre communauté, partager des expériences de vie, de la sagesse, des conseils, des histoires et des questions. Nous nous engagerons dans un dialogue de consensus à grande échelle qui sera à la fois sincère et positif; nous faisons appel à la capacité intellectuelle collective et du cœur dans la salle, car entre nous, nous aurons les meilleures solutions pour nos défis partagés.
L'inscription débutera sous peu, les places sont limitées donc inscrivezvous tôt. Les billets seront en vente pour 10 $ à https://www.eventbrite.ca/e/a-day-for-the-ages-moncton-tickets-36480591431 ou bien en téléphonant un des numéros suivants : Gil Steeves, responsable du comité 506 850-9653, Rhéa Gallant, Centre d'information des aînés 506 855-1121, et Linda Cormier ou Isabelle Arseneault de la Fédération des citoyen(ne)s aîné(e)s du Nouveau-Brunswick au 506 857-8242 L'évènement aura lieu le samedi 30 septembre de 10h00 à 16h00 avec des boissons et de la nourriture disponibles tout au cours de la journée.

Have questions about A Day for the Ages/Une vision vers l'avenir pour tous - Moncton?
Contact the organizer
When & Where

Moncton Lions Community Centre
473 Saint George Street
Moncton, NB E1C 6L2
Canada

Saturday, 30 September 2017 from 10:00 AM to 4:00 PM (ADT)
Add to my calendar