About this Event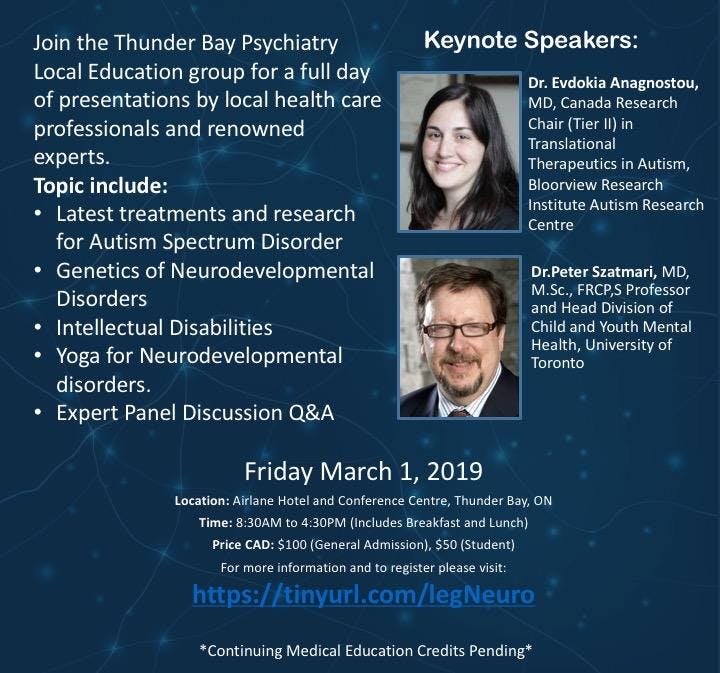 The mental health and medical providers in Thunder Bay are increasingly aware of the need to diagnose, treat, and contribute to improving the of lives of individuals, and families living with neurodevelopmental disorders.
As faculty with the Northern Ontario School of Medicine, the Thunder Bay Psychiatry Local Education Group (LEG) has opted to take an active role in promoting awareness of recent research and practices that can help inform appropriate interventions for individuals with neurodevelopmental disorders in our region by hosting a conference, "A Day In Neurodevelopmental Disorders." The conference will bring together clinicians, educators, academics, first responders, residents, and learners for a full day of knowledge building, skill development, and resource sharing.
The conference will include keynote addresses from Dr Peter Szatmari and Dr Evokia Anagnostou. Local speakers include Dr Daryle Vance, Dr Arianne St Jacques, and Melanie Morrow. Topics to covered include:
- Latest Treatments and research on Autism Spectrum Disorder
- Genertics of Neurodevelopmental Disorders
- Learning Disorders
- Yoga for Neurodevelopmental Disorders
- Expert Panel Discussion
The conference will be an all-day event (8:30AM to 4:45PM) and take place at the Airline Hotel and Conference Centre. The purchase of a General Admission Ticket includes access to all presentations, breakfast, lunch, and coffee breaks.