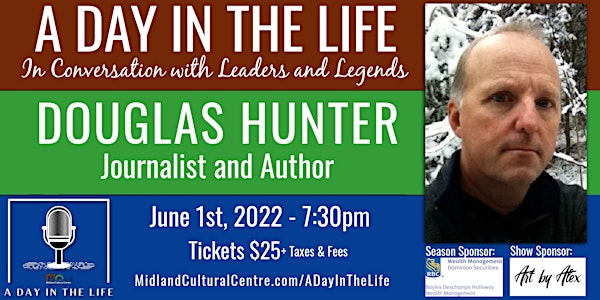 A Day in the Life with Douglas Hunter
Location
Midland Cultural Centre - Rotary Hall
333 King St.
Midland, ON L4R 3M7
Canada
Join host Fred Hacker in his conversations with prominent Canadian figures, live on stage at the fabulous Midland Cultural Centre.
About this event
A DAY IN THE LIFE OF DOUGLAS HUNTER
Douglas Hunter is a journalist and author who has written widely on an array of topics: history, business, the environment, and sport. He has authored 20 books of non-fiction, and numerous magazine articles. His subjects range from historical characters (John Cabot; Henry Hudson) to sports figures (Tim Horton; the Edmonton Oilers) to businesses (Molson; Nortel) to boating (yacht racing; yacht design). While most people would be content to be a successful published author, Doug also had a career as an illustrator and graphic designer. He also has been a ghost writer, a landscape artist, and maintains a website on issues of interest to people who appreciate the wilder parts of the Great Lakes. Doug returned to higher education after a 30-year absence, received his PhD in 2015 and then held a two-year postdoctoral fellowship. His latest book, Jackson's Wars is scheduled for release shortly before our program. The book follows A.Y. Jackson's education and progress as a painter before he became famous and examines his time on the battlefield in Europe during WWI.  
Season Sponsor: Bayles Deschamps & Holloway Wealth Management
Show Sponsor: Art By Alex