Description
Whether you are a person with a disability, a family member, a student or a scholar, a church leader, or simply interested in the intersection of disability and faith, we hope that you will join us May 4, 2019 at Emmanuel College in Toronto as we seek a deeper communion with families of all abilities. An engaging lineup of speakers, practitioners, and authors will guide our conversation theologically. Workshops led by key ministry leaders and notable organizations will equip us with practical resources to be leaders in models of accessible ministry and education. Students and academics will have the opportunity to share their work and research in a constructive and encouraging environment.
To inspire theological reflection and reimagine communities with people with disabilities

To meet passionate and innovative ministry leaders and foster partnerships and relationships

To offer emerging scholars the opportunity to present and discuss their research
Schedule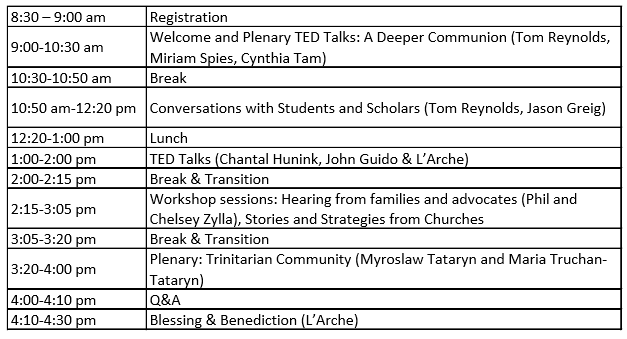 Accessibility Information
Emmanuel college is physically accessible for people who use wheelchairs. Please make sure to register early if you have specific accessibility needs so that we can do our best to provide adequate accommodation.

Personal care attendants can will be provided a promo code to register at no additional cost. Please ask them to contact Keith at kdow@christian-horizons.org to obtain the relevant code.

All sessions will be held on the main floor of Emmanuel to minimize the need for the elevator. Accessible washrooms are available and are large enough to accommodate the assistance of a personal care attendant.
If you have specific accessibility needs, please register early to ensure we are able to provide a fully inclusive environment! Please note that the spaces we will be using are fully wheelchair accessible with access to accessible washrooms.
For more information please contact Keith Dow kdow@christian-horizons.org
Organizer of A Deeper Communion 2019: Church with people with disabilities
Christian Horizons is a non-profit, faith-based organization that serves nearly 2000 people who experience disabilities and their families in Ontario and Saskatchewan. Not only do we offer programs and services that can be tailored to meet a wide variety of needs for those we serve in Canada, but we are also serving in over 60 communities in six developing countries (Haiti, Guatemala, Nicaragua, Ethiopia, Uganda and Kenya), making a positive impact in the lives of over 300,000 people.