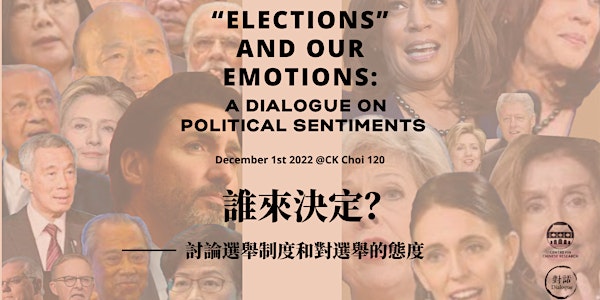 選舉:誰來決定?討論選舉制度和對選舉的態度 | A Dialogue on Political Sentiments
Full English title: "Elections" and our Emotions: A Dialogue on Political Sentiments
When and where
Location
C.K. Choi Building 1855 West Mall Vancouver, BC V6T 1Z2 Canada
About this event
[English version available below]
近幾個月來,我們恐怕都或多或少地體驗到了各種跟「選舉」有關話題的泛濫。從AMS校選到溫哥華市選,林林總總的政治海報遍地都是。掏出手機,翻開電腦,各類有關領導人連任或請辭的新聞更是躲不掉。無論是英國的第一位印度裔首相 Rishi Sunak, 意大利極右翼 Giorgia Meloni, 還是自2011年卸任後再度成功當選的巴西左翼 Luiz Inácio Lula da Silva,我們對「選舉」的信息攝取早已超越了自己的所在地和家鄉。
與此同時。大眾對領導人更替或否,以及其後果的反應也令我們格外關註。對政策的不公的抗爭,對合法權益被剝奪的創傷似乎成為了「選舉」的搭檔。 十一月五號,千人積聚於倫敦街頭要求全民選舉。在前一天,數千安大略省教職工對省長Doug Ford對罷工行動的非法化開始了無限期抗議... 與此同時,意大利首位女首相的極右翼政策也引發了諸多不安。在她民粹主義所導致的爭議之外,她於本月初所頒布的「反狂歡」法案被認為是實際上的「反抗議」法案...
自然而然,我們所有人對以上的事件都會有很多想要表達和分享的。在這類時刻,作為親歷者,或者旁觀者,你的感受是什麽?我們該如何認識這些或遠或近的選舉給我們個人所帶來的影響?
或是說,你想講的話題我們還沒提到?
沒關係,十二月一日六點半 C.K Choi 120,在本學期第二次對話中,歡迎大家暢所欲言!
【活動形式】
➤時間/地点:溫哥華時間12月1日,週四晚間6:30-9:00pm @CK Choi 120
**活動將以小組討論+大組討論的形式進行。你不需要準備任何發言,我們鼓勵你在相互尊重的基礎上與大家交流想法。你可以使用你最熟悉的語言(國/普、粵、英)進行分享,我們將提供翻譯。
__________________________________
It is safe to say that in recent months, all of us are "bombarded" by an overwhelming amount of information on various elections. From the AMS Election to the Vancouver Municipal Election, we see campaign posters all across our campus and our city. When we take out our phones and laptops, it is almost unavoidable to see outcomes of leadership (non)transitions pop out from our newsfeeds. Be it Rishi Sunak from the UK, Giorgia Meloni from Italy, or Luiz Inácio Lula da Silva from Brazil, popular discourse and our media reception surrounding elections go far beyond Vancouver or even Canada.
Just as well, the popular responses to leadership (non)change, and its consequences equally grasp our attention. Activism, protests, and at times, trauma, often seem to accompany these uncertain moments. On the 5th of November, thousands marched on the streets of London in demand of a general election. The very day prior, thousands of Ontario education workers launched an indefinite walkout in response to Doug Ford's legislation which illegalized any and all strike action…Meanwhile, the first woman Italian prime minister's extreme right-wing policies are causing considerable anxiety and uncertainties. Aside from the controversies arising from her radial populist stance, many fear that her recent "anti-rave" law may be weaponized for future protests.
Naturally, we would all have a lot to share, whether it is our experiences, stories, or emotions for any of the above concerns. Or there is an issue that you wish to share to which we have yet alluded? How do we navigate ourselves in and among our communities during these times? How do we express ourselves? And how are we as individuals affected by these moments, whether it'd be leadership changes on our campus or beyond our borders? Please join us on December 1st, 6:30 pm at C.K Choi 120, where we host our 2nd Dialogue event of the semester.
【Event Details】
➤Time: December, 1st, 6:30-9:00pm @ CK Choi 120
**We encourage you to use the language you are most comfortable with. We will provide translation in the event.