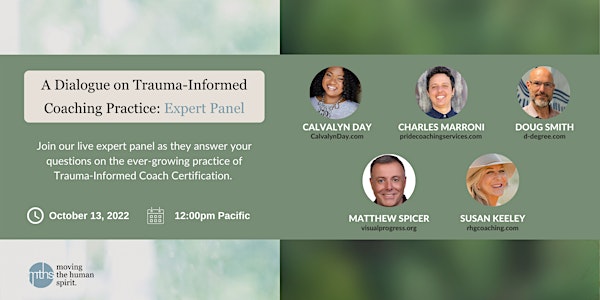 A Dialogue on Trauma-Informed Coaching Practice: Expert Panel
Join us on Oct 13, 12pm (PDT), as we open up an expert panel to help answer questions on the practice of Trauma-Informed Coaching.
About this event
Dates & Times
This online webinar is happening Thursday, October 13, 2022 from 12:00pm-1:00pm PDT.
Event Overview
Take this opportunity to have your questions answered by Trauma-Informed Certified Coaches who currently work in this new and advancing coaching field.
Join us on October 13, 12:00 pm (PDT), as we open up an expert panel to help answer questions on the ever-growing practice of Trauma-Informed Coach Certification.
We'll be tackling questions such as:
Where can Trauma-Informed coach training be used?
Why is Moving the Human Spirit's Trauma-Informed training different than others?
What does the training cover?
What is the importance of ICF certification as a Trauma-Informed Coach? How many CCEU's does MTHS training have?
Our Panelists
Calvalyn Day, www.CalvalynDay.com⁠
Charles Marroni, www.pridecoachingservices.com⁠
Doug Smith, www.d-degree.com⁠
Matthew Spicer, www.visualprogress.org⁠
Susan Keeley, www.rhgcoaching.com
Register for the Facebook event here: https://fb.me/e/1P4CYZVFX
Ready to begin your trauma-informed coach training? Click here or call 604-866-7963 to register.