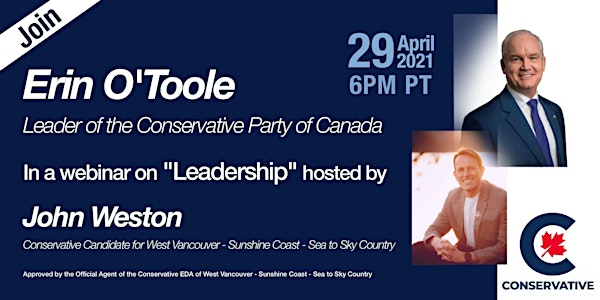 A Focus On Leadership: A Webinar Featuring Conservative Leader Erin O'Toole
Erin O'Toole, Conservative Party Leader, Unfolds his Vision of 21st Century Leadership for Canada in a Webinar Hosted by John Weston
About this event
At 6pm PT on Thursday, April 29th, we are honoured to showcase the next Prime Minister of Canada, the Honourable Erin O'Toole in a "Things That Matter" episode on "Leadership".
John Weston, our Conservative Candidate for Member of Parliament, has focused on "Things That Matter" all his life, bringing the theme to bear in a widely accessible webinar series. The "Things That Matter" series embraces 6 priorities that reflect local concerns and the national agenda. The Webinars have assembled some of the country's leading experts, persons who are there to provide insights now, and to equip John to be a highly effective Member of Parliament upon his electoral success.
The "Leadership" topic is ultimately what will define Canada's destiny as we confront the most challenging times our country has ever seen. Erin has devoted his life to public service. Meet him with your questions on Zoom, and participate with us in defining the "Things That Matter".
-------------------------------------------------------------------------------
Background on Erin
The Honourable Erin O'Toole has led a life of service. Born in Montreal, QC, he grew up as a middle-class kid in Bowmanville, ON. He enrolled in the Royal Canadian Air Force when he was 18 and attended the Royal Military College. His time in the RCAF took him across Canada, completing basic training in Chilliwack, BC; earning his wings in Winnipeg, MB; and serving out of Halifax, NS as a tactical navigator. During that time, Erin participated in search and rescue missions on Sea King helicopters and learned French.
After 12 years of service, Erin retired from the military and spent the next decade working in the private sector as a corporate lawyer. He is a founding member of the Board of Directors for the True Patriot Love Foundation, a charity that serves veterans and military families across Canada.
He has been elected to represent Durham three times, first in a 2012 by-election, then in 2015, and 2019. He served as Parliamentary Secretary to the Minister of International Trade before becoming Minister of Veterans Affairs, a beleaguered file he successfully turned around within 10 months at the end of the Harper government.
After serving as the Conservative Shadow Minister of Foreign Affairs for two years, Erin is now the Leader of Canada's Conservatives.
Erin is married to Rebecca and they have two children, Mollie and Jack.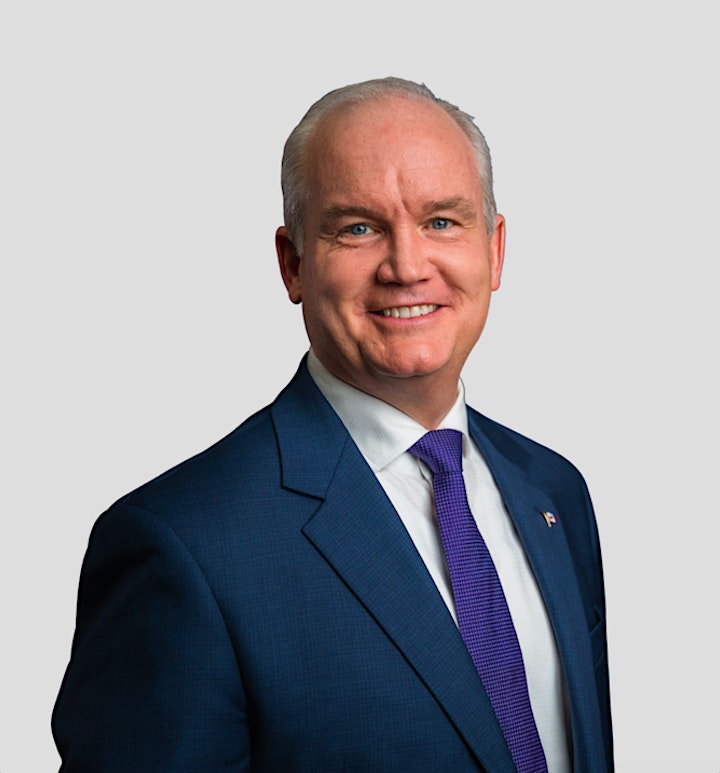 The Honourable Erin O'Toole, Conservative Party Leader since 2020; Veteran; Founding Member of the True Patriot Love Foundation; Lawyer
-------------------------------------------------------------------------------
Background on John
John Weston is the Conservative Candidate for Member of Parliament in the next Federal Election. His riding is one of the world's most spectacular - West Vancouver - Sunshine Coast - Sea to Sky Country. He comes to the contest with plenty of experience, having represented the riding as M.P. from 2008 through 2015. In the private sector, he is currently active as an international lawyer, businessman and government relations specialist.
John has spent much of his life in relevant nation-building exercises, launching the Canadian Constitution Foundation in 2003; serving as MP; and founding the Canadian Health and Fitness Institute in 2018, whose goal is to "Make Canada the Fittest Nation on Earth by 2030."
In his previous term as MP, John successfully passed one private member's bill, C-475, Tackling Crystal Meth, and launched another which was eventually passed as S-211, National Health and Fitness Day, with the partnership of Senator Nancy Greene Raine. Others of his initiatives found their way into legislation and policy, such as a campaign to deal with abandoned vessels; work to improve the Registered Retirement Savings Fund for seniors; support for the Pacific Salmon Foundation and Department of Fisheries Research Laboratory in West Vancouver; and support for people in recovery from addictions.
John speaks Mandarin and French. He studied International Relations at Harvard and Law at Osgoode Hall. He's published a wide variety of articles on matters of government, law, human rights, and constitutional affairs. His book On! Achieving Excellence in Leadership was in 2020 translated into Chinese.
John and his wife, Donna, and children, Shane, Jake, and Meimei, enjoy a wide range of sports. His advocacy for national health and fitness comes naturally!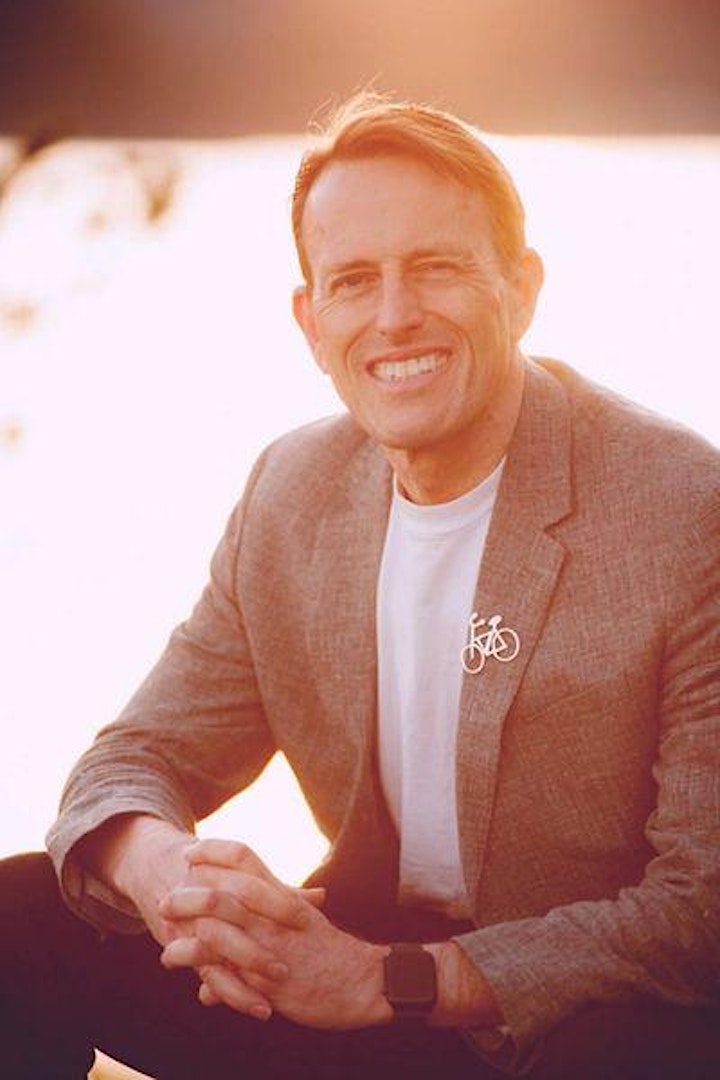 John Weston, Conservative MP from 2008-2015 for West Vancouver - Sunshine Coast - Sea to Sky Country; International Lawyer; Human Rights Advocate; Founder, Canadian Constitution Foundation and Canadian Health & Fitness Institute
-------------------------------------------------------------------------------
Approved by the Official Agent for the Conservative EDA of West Vancouver - Sunshine Coast - Sea to Sky Country