A FUND RAISING EVENT FOR THE SOUTH SHORE APPEAL FUND

Sunday, 4 September 2016 from 2:00 PM to 5:00 PM (EDT)
Event Details
RIVERWALK is your opportunity to greet other friends and supporters of PECFN and APPEC and make a donation to the South Shore Appeal Fund.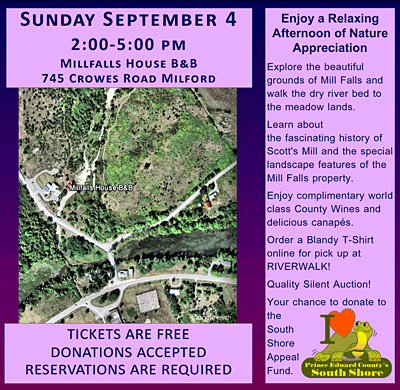 _____________________________________________________________________________________
Admission tickets are required for entry to RIVERWALK.
Previous RIVERWALK events have sold out. Order your admission tickets to avoid disappointment. Tickets will be e-mailed to you immediately.
Please bring footwear appropriate for walking the mainly flat trails through the meadow and along the riverbank. Interpretive guides will lead groups of people throughout the afternoon.
An e-mail will go out 48 hours prior to the event providing up to date information regarding water levels along the riverbed.
Monday September 5 will be the alternate event day in case inclement weather is forecast for Sunday September 4. An e-mail would be sent out 24 hours prior to the event, if a one day postponement is necessary. 
_____________________________________________________________________________________
FAQs
What if I forget to bring my reservation ticket to the event?
We will have a list of all registrants at the entrance table.
Can I make a donation at RIVERWALK rather than making one online?
Yes. Donations will be accepted at the event.
Can I make a donation if I cannot attend RIVERWALK?
Yes. Enter a donation amount in the Ticket Information area at the top of this page and complete by pressing 'Order Now'. All donations are important and appreciated.
Where can I contact the organizer with any questions?
You can e-mail Borys directly at this e-mail address:  b.holowacz@sympatico.ca
Or you can e-mail me by pressing on the "Contact the Organizer" command button located on the right side of of your screen beneath the "Organizer" section.  _______________________________________________________________________________________________
3 Night Stay at Merland Park Resort valued up to $850.00
Valid Sunday to Thursday for up to 6 people, till June 29, 2017
Kayaks and canoes provided
Cottages available at Merland Park click here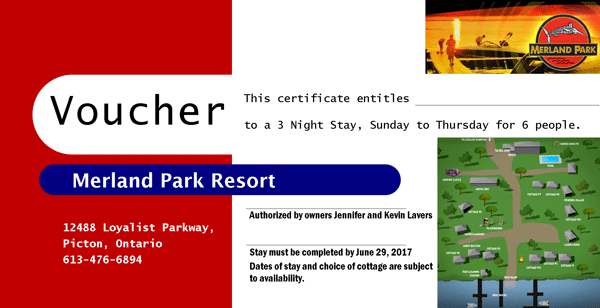 $100.00 dinner voucher at the Portabella Restaurant in Picton
TripAdvisor awarded Portabella with its prized Certificate of Excellence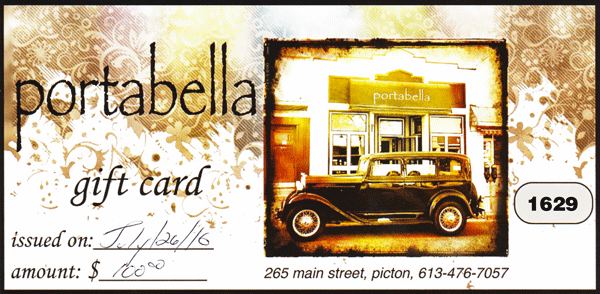 Hollow Vessel by Bloomfield's Paul Ross
Retail value $200.00 
To view other inspired pieces of master craftwork visit www.paulrosswoodturning.com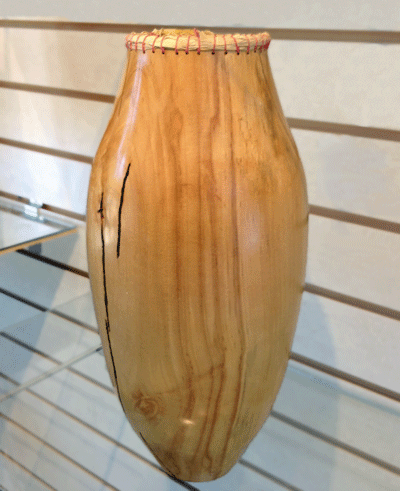 This wall hanging is designed and handcrafted by master quilter                Lyne Lusk
It is called "Dancing Balls" is 39"x 34" with a value of $550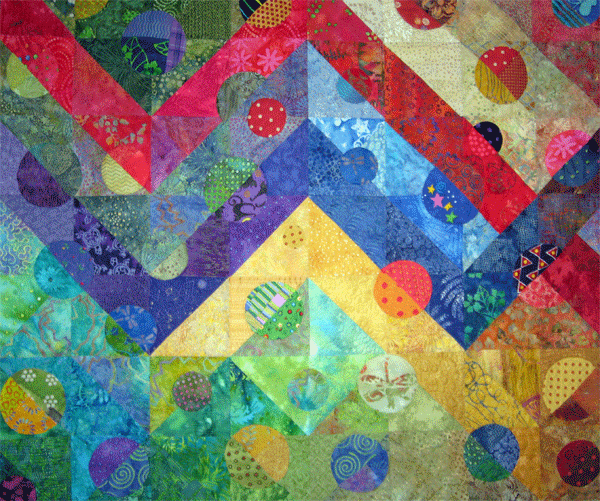 Karlo Estates welcomes you to a wine tasting for 11 people
Retail Value $250.00 — Voucher expires January 1, 2017
For more information about Karlo Estates visit their website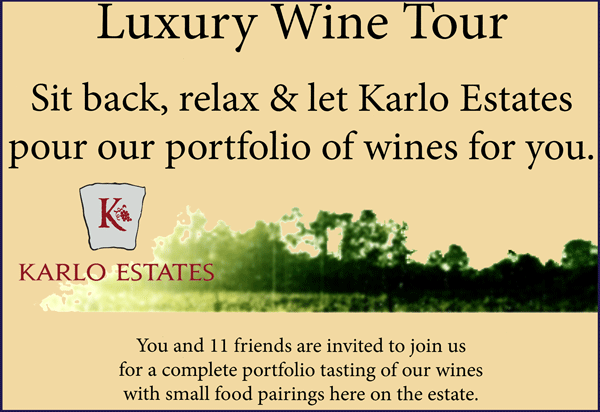 Interested in beekeeping or just love honey?
Receive 4 jars of pure wild honey from the most remote and untamed peninsula of Prince Edward County
4 people are invited to spend a morning with beekeeper and owner Julie White, learning the ins and outs of organic beekeeping 

Retail Value $80.00 — Long Point Honey Co. — www.longpointhoney.ca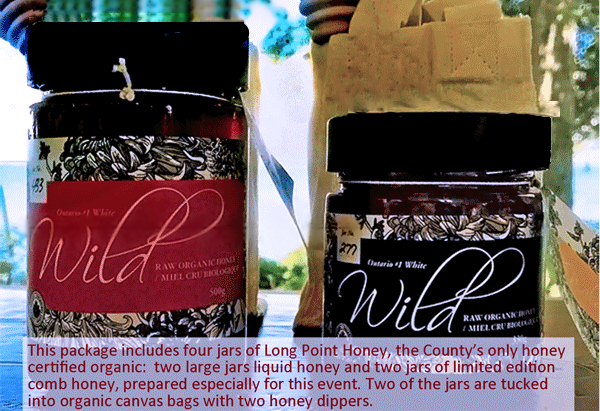 $100.00 gift certificate from FAT FROG YOGA
Your gift certificate can then be used for private classes, scheduled classes and merchandise
Go to the FAT FROG YOGA website for more information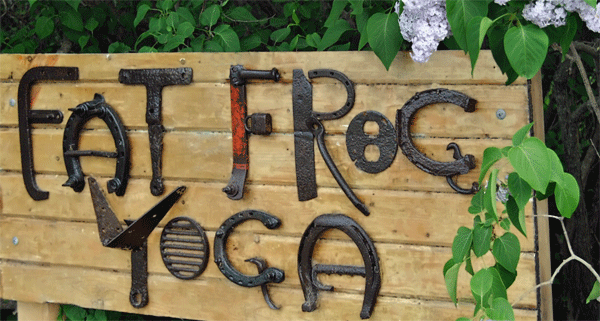 Quilted Table Topper and Lazy Susan  — Valued at $100.00
Dress up your Thanksgiving table with this fall themed quilted table topper by Ellen McFaul and lazy susan filled with seasonal decorations
Remove the decorations and you are left with an attractive and useful serving piece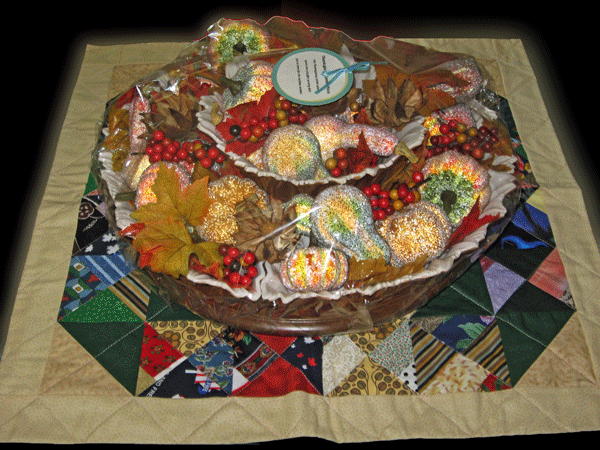 This bracelet is designed for the RIVERWALK  by Catherine Jean Tobais
Valued at $75.00  
For more information visit Catherine's Facebook Page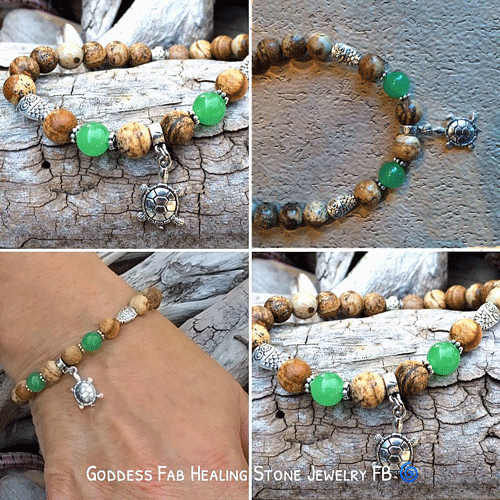 ____________________________________________________________________________________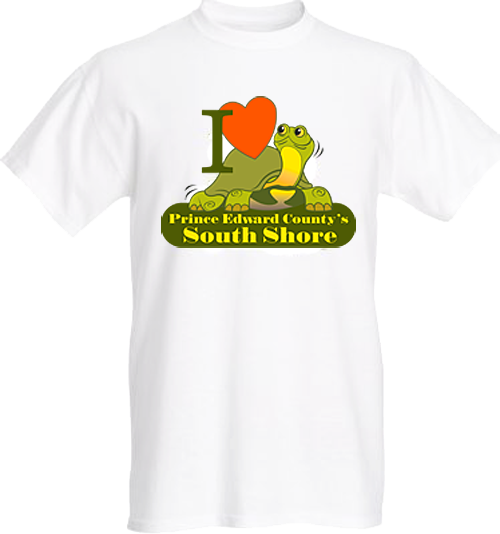 Millfalls B&B owner, Sacha Warunkiw designed a beautiful T-Shirt featuring a Blanding's Turtle.  
Order your very own "I Love Prince Edward County's South Shore" T-Shirt at RIVERWALK. Your shirt will be mailed directly to your home.
Only $22.00, including applicable taxes and shipping.
Makes a great gift!
 ______________________________________________________________________________________________
Our Sponsors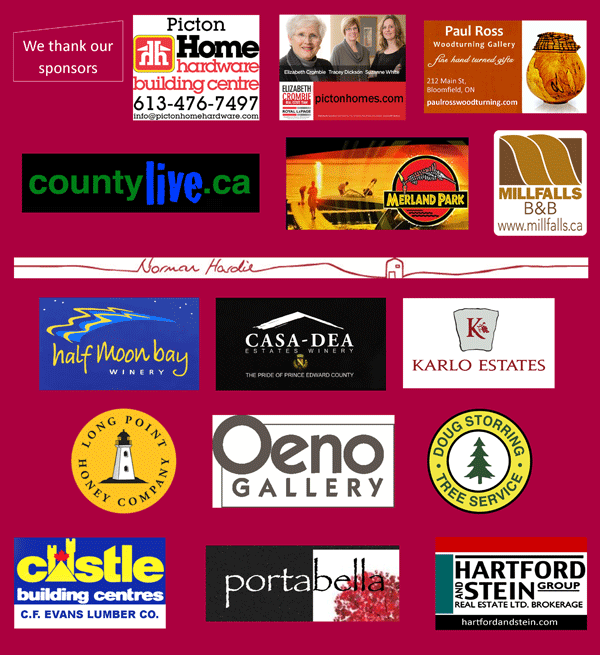 ______________________________________________________________________________________
A brief History of Mill Falls House area
In the year 1800, Richard Cartwright purchased the land where Milford is currently situated from Lt. Archibald McDonnell who received it in a grant from George III for service to the Crown. In 1808 Cartright leased a small parcel of this land along the Black Creek to Joseph Clapp who with his wife and 7 children settled there moving from their property at Hay Bay near Adolphustown. Joseph came to Upper Canada from Dutchess County near Milford NY, United States at the end of the eighteen century with his two sisters and brother-in-law settling near his brother Ben, an Empire Loyalist and married Nancy Miller nice of John Roblin also from Dutchess County NY.
In 1810, Joseph Clapp built a second mill by damming the headwaters of the Black River and forcing the upper pond water through a wooden sluice which drove an up- and- down saw used to cut logs into lumber.  In 1812 Joseph Clapp was called to the militia in Kingston and ultimately died there in the cholera epidemic.  His oldest son, Philip took over running the mills with help from his younger siblings.  Ultimately a younger son James built a third grist mill in 1845 producing flower while lumber continued to be cut by the original 6 post mill near by. The lumber came from the forest which stretched from Sandbanks to Long Point.  The Milford area became a ship building centre on the high land near the existing Murray Head farm. Once built the ships were moved on sledges during the winter down to Port Milford where they were launched on the melting ice of the spring thaw. Later several  schooners and a steamer were build at Chapman's Landing on Black River just outside Milford and towed by oxen or horse down to the mouth of the Black River where an ingenius roll away bridge was opened or closed by a horse team letting them pass into the bay. Over the next 50 years the entire forest of the south shore was destroyed.  The current Scott's Mill was built in the nineteen twenties using lumber from the original James Clapp Mill which after moving through generations of Clapps was eventually sold to William Byron Scott in 1888.
On the RIVERWALK you will see the places where dams were built out of huge timbers held together with steel plates and bolts.  The dams were secured to the river bed with iron stakes driven into the limestone.  You will also visit one of the ponds created by an earthen berm with huge rocks for the foundation.  Here you can see the grate which allowed water to flow through and into the pipe to the mill.
The meadow and forest around the river has been carefully allowed to revert to a natural state.  Wild flowers abound and there are a wide variety of creatures using the land. 
Birds you might be able to identify:  Lesser Yellow legs in the creek, Belted Kingfisher resting from a fishing excursion in the Mill Pond, American Goldfinches, Chipping Sparrows, Cedar Waxwings and many other small perching birds.  Listen for a Black Billed Cuckoo or a Northern Cardinal.
Some of the wild flowers:  wild mint, swamp milkweed, chicory, vipers bugloss, Queen Anne's lace, cardinal flower, common milkweed, goldenrod, wild strawberry (leaves).
Watch for the leopard frogs, garter and milk snakes. See if you can spot any other reptiles or amphibians.
When & Where

Millfalls House B&B
745 Crowes Road
Milford, ON K0K 2P0
Canada

Sunday, 4 September 2016 from 2:00 PM to 5:00 PM (EDT)
Add to my calendar
Organizer
Eventbrite listed events are only some of the events offered this year by PEPtBO and others.
PEPtBO publishes Nature Matters! Calendar of Events booklet yearly.
Nature Matters! presents a whole season of outdoor events.
You can find the online version of the Nature Matters! at http://peptbo.ca/nature-matters.php. 
We invite the community to appreciate, celebrate and protect the natural world in Prince Edward County and in particular our South Shore area.