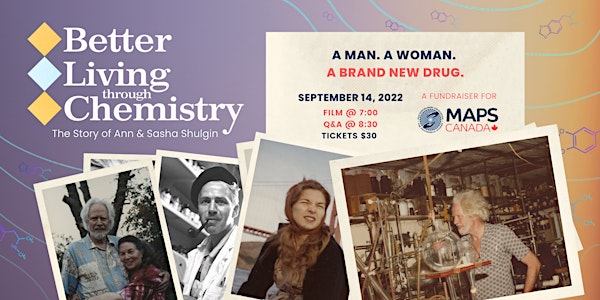 A Fundraiser for MAPS Canada: Better Living Through Chemistry Screening
Meet your psychedelic godparents! Join us for a screening for Better Living Through Chemistry followed by a Q&A and panel discussion.
When and where
Location
Revue Cinema 400 Roncesvalles Avenue Toronto, ON M6R 2M9 Canada
Refund Policy
Contact the organizer to request a refund.
Eventbrite's fee is nonrefundable.
About this event
You are invited to attend a fundraising screening of Better Living Through Chemistry, followed by a panel discussion supporting MAPS Canada! Ann and Alexander (Sasha) Shulgin are two psychedelic godparents who have dedicated their lives to researching psychedelics. They are the authors of TiHKAL: The Continuation and PIKHAL: A Chemical Love Story.
This event will be held at the Revue Cinema in Toronto on the 14th of September, 2022, at 6 PM EST (screening starts at 7 PM EST), and will be an opportunity to learn more about their work and how it has impacted the field of psychedelics. We hope to see you there!
Our guest speakers:
Connie Littlefield - director
Connie Littlefield is a Canadian filmmaker. She wrote and directed "Hofmann's Potion: The Early Years of LSD" which came out in 2002. This film has been credited with changing the way many people think about psychedelic drugs. Since then, she has focussed on making films that expose the hypocrisy of drug prohibition while exploring human consciousness, such as "Hofmann's Potion." In 2006, she made a film about L.E.A.P.: Law Enforcement Against Prohibition, called "Damage Done: The Drug War Odyssey." The Vancouver Sun said it was "the smartest documentary yet on a divisive subject." This film played to a large television audience and a copy was sent to every police academy in North America. 2015's "The Sunshine Makers," which she wrote and produced, currently plays on iTunes, Youtube and Sundance Now. "...there's no question that hanging out with Tom Sawyer and Huck Finn on acid has its appeal," said Manohla Dargis, in The New York Times.
Dr. Ishrat Husain MBBS, MD (Res.), MRCPsych
Lead, Mood Disorders Service, General Adult Psychiatry and Health Systems Division, Centre for Addiction and Mental Health (CAMH);
Dr. Ishrat Husain is Head of the Clinical Trials Unit and Lead of the Mood Disorders Service at CAMH and an Associate Professor in the Department of Psychiatry at the University of Toronto. He holds a Tier 2 Canada Research Chair in Treatment Innovation in Mood Disorders. Dr. Husain's research program focuses on treatment innovation in mood disorders across populations through biomarker-driven clinical trials of emerging pharmacological and psychosocial interventions, including psilocybin-assisted psychotherapy.
Sabina Pillai, MA.
Senior Lead Psychotherapist at Field Trip Health
Sabina Pillai is a Registered Psychotherapist with a master's in Clinical and Counselling Psychology from the University of Toronto. She has extensive experience working in various settings as a psychotherapist, facilitator, and consultant. She has published research on addictions and mindfulness and completed studies on spiritual emergencies and non-ordinary experiences in meditation. By bringing a soft front and strong back into her work as a therapist, Sabina cultivates an open and non-judgemental space where clients can feel seen, supported, and inspired to heal and grow. She is currently the Senior Lead Psychotherapist at Field Trip Health and Wellness and provides ketamine-assisted psychotherapy at Field Trip's Toronto clinic.
Emma Hapke, MD, FRCPC
Co-founder of the Nikean Psychedelic Psychotherapy Research Centre
Dr. Emma Hapke, MD, FRCPC, is a psychiatrist, psychotherapist and psychedelic researcher. She started her career as an attending psychiatrist at CAMH in Toronto. Her specialty is women's mental health and the treatment of developmental trauma, sexual trauma and complex PTSD. Dr. Hapke is also a lecturer at the University of Toronto. She has extensive training in multiple types of psychotherapy and has worked clinically with ketamine-assisted psychotherapy. She also has a growing interest in psychosocial oncology. Dr. Hapke works with MAPS as the principal investigator for the Montreal site of a phase III study examining MDMA-assisted psychotherapy for PTSD and is MAPS-trained to deliver MDMA-assisted psychotherapy. In the spring of 2021, Dr. Hapke joined UHN as an attending psychiatrist and is the co-founder of the Nikean Psychedelic Psychotherapy Research Centre.
Raad Seraj - moderator
Raad is Bangladeshi-Canadian entrepreneur building at the trifecta of consciousness, capital, and community. He is the founder of Mission Club, an investor education platform that is democratizing access and mobilizing a global community into the psychedelic ecosystem. Raad is also the founder and host of Minority Trip Report (MTR), a podcast for underrepresented scientists, artists, and founders to talk about mental health and psychedelics. By day, Raad leads strategic growth at Affinity, a San Francisco-based startup building AI tools for some of the best investors in the world. Raad is a scientist-artist at heart. He has a background in cancer research and has traveled coast to coast as a host for MuchMusic ( Canada's MTV).