Description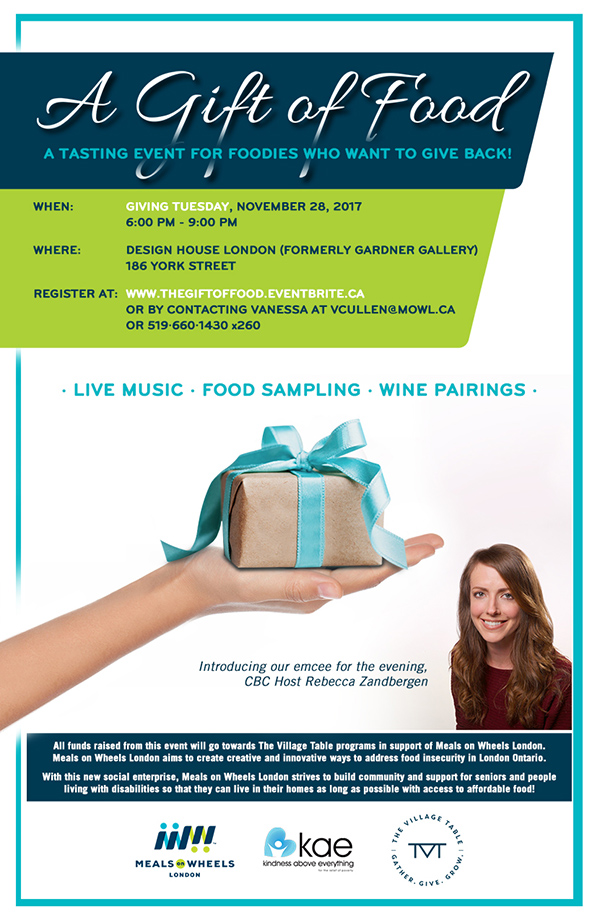 Join us for...
An evening of gift giving to ensure that nutritious food is available to everyone in our community.
Join us on Giving Tuesday – November 28th to indulge in delicious local food, wine, entertainment and gifts to share with all!
Tickets include nine appetizers with a drink pairing chosen from Sommelier, Shannon Kendall & Brewmaster, Mahir Stambolic. Group of 10 rate also available which includes 10 drink tickets. Additional drinks available at the bar for $5 or $8 for the signature drink!
Fund-a-Need Auction:
Guests are invited to bid on supporting Meals on Wheels London on a monthly basis. Each level of donation will offer the chance of winning amazing prizes including a large screen T.V., an overnight stay at the Idelwyld Inn, kitchen appliances, tickets to the theatre, spa packages and jewelry!
Join in the fun, bid on supporting Meals on Wheels London and have an evening filled with gift-giving for you and many others in the community who need our help.
All funds go towards Meals on Wheels London newest initiative – The Village Table!
This new initiative is a community gathering space that will offer programs to support Meals on Wheels London, including offering meal delivery to EVERYONE! Whether you're a new mother, just had surgery, are grieving over a loss in your life or are just looking to put a smile on someone's face, The Village Table will be there to help!
The Village Table partners with Growing Chefs Ontario! to offer free cooking sessions and other opportunities to engage the community in food prosperity, skill-building and connection through collaborative creation.
Featuring Guest Caterers:
Edgar and Joes, Growing Chefs, Petite Paris and Youth Opportunities Unlimited
Sponsorship:
Supporting Meals on Wheels London through a sponsorship helps us in providing solutions for food insecurity, poverty, social isolation and alienation for seniors and adults living with disabilities right here in London. Meals on Wheels London aims to create innovative ways to address food insecurity in London, Ontario. With this new social enterprise, Meals on Wheels London strives to be an innovative leader in making healthy food available to all. Through our partnerships with others – for-profit, not-for-profit and volunteers, we believe we will be a key solution to ensuring good food is available for everyone. Join us at this event, support Meals on Wheels London and give the GIFT OF FOOD to so many who need it!
For more information about this event or to learn about sponsorship opportunties, please contact Vanessa Cullen at vcullen@mowl.ca or by calling 519-660-1430 Ext. 260.