ADYE Presents: A Guide To A Successful Education lead by Gord Gallimore
About this event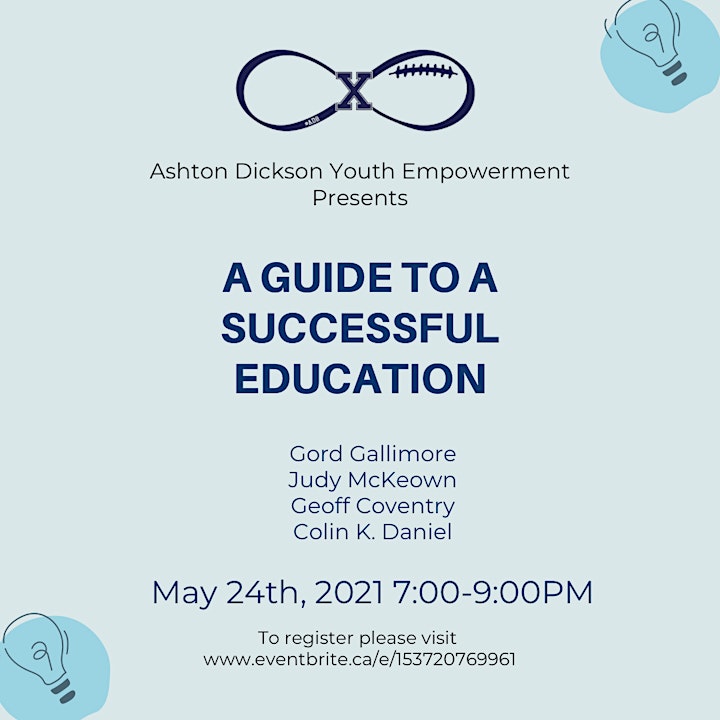 Gord Gallimore is a math teacher in the Peel District School Board for the past 5 years, 3 years in Nova Scotia. His current role is with the OSSTF Peel District Union as a Racism Reporting Officer, with the intention s of disrupting Anti-Black racism in the union and in the board. He has 15 years of minor football league coaching: Mississauga Warriors, Halton Cowboys, Durham Dolphins, including 2 years as president of the Antigonish Minor Football program. He also has 6 years of coaching USports football for the institutions of StFX University and U of Toronto. Gord also is a Masters of Education candidate via StFX University. As a player, he played 4 years as a Mississauga Warrior before attending playing and graduating from Acadia University in Nova Scotia.
Judy McKeown is currently the Dismantling Anti-Black Racism Training Officer for OSSTF D19's Teacher Bargaining Unit. Prior to that, she was a secondary school teacher and Curriculum Head of English with the Peel District School Board. She holds a Master of Arts in English from York University, with a focus on diasporic and post-colonial Caribbean-Canadian literature. Within her classroom, Judy strives to teach through an anti-racist lens, promoting equity and intersectional justice through the resources and strategies she uses. Besides teaching, Judy is passionate about travel, health, and wellness.
Born in Ottawa and raised in Orleans, Mr. Coventry comes from an extensive background of teaching and athletics. Both parents we're teaching in both respect english public and catholic boards & his father Ashley, originally a Zulu man from South Africa was most recently department head of arts at St. Peter before retirement. Geoffrey, grew up playing various sports in Orleans which culminated in a football scholarship, all-conference all-star and degree holder at Bishop's University. He was also fortunate enough to spend time with the Montreal Alouettes upon graduating in 2014. Since returning to Ottawa in 2015, Geoff has been teaching for 6 years and at Immaculata for 5, where he teaches grade 7/8 various subjects. He is passionate about coaching football and sport, and donates his time coaching to help young student-athletes reach their full potential on and off the field or court. He intends on continuing to be a positive influence in our downtown BIPOC community and hopes to affect positive change within Immaculata and the inner-city of Ottawa.
As a graduate and now employee of the Dufferin-Peel CDSB, Colin Daniel has been fortunate to see education from many perspectives throughout his life. After graduating from the University of Windsor with a BA and a BEd, Colin pursued a career in teaching that provided an opportunity to learn from and with students over various grades in the elementary and secondary panels. Colin's most recent role in education provides him an opportunity to build community with families and set direction for student and teacher learning as an elementary school principal with the Dufferin-Peel CDSB. The support Colin seeks to provide for his community and colleagues would not be possible without the unwavering support of his wife Monique, an educator for 16 years and his 9 and 6 year old sons. Family at home and at work has allowed Colin to grow and understand that the "holiness" of a family does not always mean perfection or the absence of difficulty and struggle. It simply means that we are called to reach out into our communities with all that has shaped us regardless of pain or success and strive to be a part of God's family.