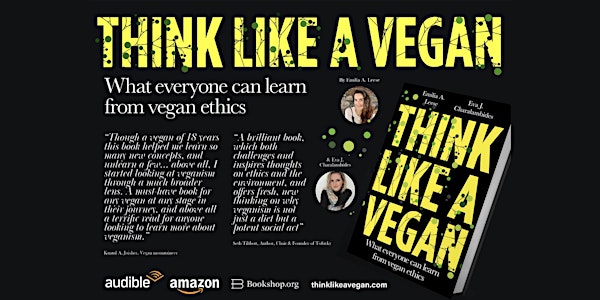 A Guide to Vegan Ethics
Do you have a vegan relative or friend or are you thinking of becoming vegan?
About this event
According to the latest figures, the number of vegans in the UK has more than quadrupled since 2014, now representing over 1 per cent of the total population.
With the rise in plant-based foods showing no sign of stopping, co-author Emilia A. Leese will talk about the book, 'Think Like a Vegan: What everyone can learn from vegan ethics'.
The book explores how vegan ethics can be applied to every area of our daily lives and what non-vegans can learn from its practice. It also examines a variety of contemporary topics related to animal use: from the basics of vegan logic to politics, economics, love, environment and other aspects of being human. Emilia will draw you into a thought-provoking - and possibly controversial - conversation about daily ethical decisions.
Emilia A. Leese writes essays on life, travel, and veganism for a variety of online publications. She is closely involved in a long-term forest rewilding project in the Scottish Highlands was a corporate finance lawyer for over twenty years. Follow her work on Emisgoodeating.com and BirchfieldHighlands.org
You will be emailed a link to join this event 24 hours and 1 hour before the session begins. The link to join the session can also be found at the bottom of your Eventbrite confirmation email. If you don't receive the Eventbrite emails, please check your spam folder or contact nlsevents@nls.uk for assistance.
When you book this event, your personal information will be held and used by the National Library of Scotland and Zoom for the purposes of allowing you to join the event. We also use some of the information for audience research purposes. We expect attendees to behave respectfully towards presenters, guests and other audience members. For full information about how the Library will hold and use your personal information, see our privacy pages, in particular our event booking privacy notice (https://www.nls.uk/privacy/events-notice/).'