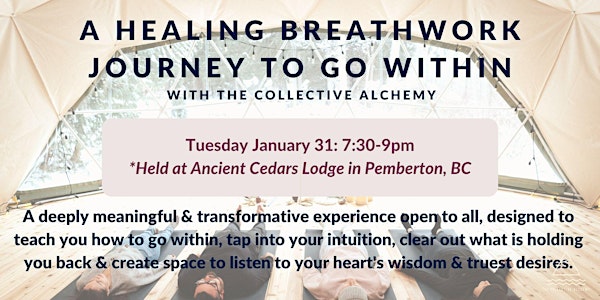 A Healing Breathwork Journey to Go Within
Slow down, pause and take time to connect with yourself. The answers lie within.
When and where
Location
Ancient Cedars Lodge 1710 British Columbia 99 #B 493 Pemberton, BC V0N 2L0 Canada
Refund Policy
Contact the organizer to request a refund.
Eventbrite's fee is nonrefundable.
About this event
This workshop is for you:
If you are ready to take some time for yourself and focus on what YOU need. Inviting more joy and happiness into your life.
In this busy, go go go world, it can be hard to slow down, pause and check-in with ourselves to see what we might need in order to keep going. But taking a pause, and taking some time for ourselves can be just what we need to reset so we feel calmer, focused, energized, motivated and more grounded.
As we move into a new year we want to offer you the opportunity to come together as a group with other like-minded people where you can connect and support one another. We will reflect on where we have come from and spend time thinking about what we want to invite into 2023.
We will be using our breath - a powerful tool inside of each of us - to tap into our intuition and to connect with our heart. So often we get stuck in our head - a million thoughts going at one moment - many of which are not always positive. These thoughts can sometimes drag us down and hold us back, preventing us from stepping forward to pursue what our heart's truest desire might be.
By using our breath to quiet the thinking mind, you can move more into your body and give yourself permission to let go of these things that might be holding you back, causing you stress and anxiety and preventing you from reaching your goals.
You will leave feeling calm, peaceful, energized, focused and happier overall so you can show up for yourself and others in your life and the things that matter most to you.
This workshop is open to anyone. First-timers are encouraged and we will provide all the necessary information to make sure everyone feels welcome, safe and supported through this journey.
Structure of the evening:
We will start with an opening meditation to help us ground into the space and to anchor into our hearts and into our body (setting our intention if you will). Maybe some dancing as well :).
A guided self inquiry journalling session to start bringing things to the surface so we can then let the breath do it's work to help release and let go.
Breathwork 101: full description of what breathwork is and the technique being used for the session.
Guided breathwork experience (full support for the duration).
We will close with an integration where the breath comes together and participants relax in a Savasana like position as the breath does its magic.
A safe place to reintegrate into the space, post breathwork care and time for questions and comments.
What is breathwork?
Breathwork is a beautiful practice where you get to slow things down and really connect with what is going on inside you, simply by bringing some consciousness to your breathing. It is a way to connect deeply with yourself. To give yourself the freedom and ability to come home to yourself - no matter what is going on around you. To feel safe and supported, no matter what. Every breath you take can bring you closer and closer to a place of peace, to a place of groundedness and to a place of calmness. With every inhale you can invite more of what you desire in and with every exhale let go of what has been holding you back, preventing you from reaching what you truly desire.
The type of breathwork you will be doing in this workshop is an active breathing meditation that helps you open your heart, get out of your mind and into your body to connect deeply with your body and soul. Your breath is your biggest ally to get out of the daily thoughts in your mind, the stories you tell yourself that may hold you back, and drop into the body, the place where you can do the real work to lift the sources of stress, anxiety, pain and trauma out - allowing yourself to have space for healing and transformation.
Benefits of healing breathwork include:
Reduced stress and anxiety (from the source - not on the surface level)
Increased connection with your intuition
Increased energy and motivation
More focus and clarity = more efficient and productive
Increased sense of feeling calm, grounded and at peace
Improved sleep
Stronger immunity by releasing toxins
Helping you release and let go deep from within
Happiness - so you can show up for yourself and others in your life
Where we will be coming together:
We will be coming together as a group at the Ancient Cedars Lodge in Pemberton, BC. This is a beautiful property nestled amongst cedar trees, next to the river. You will be surrounded by nature and other like-minded souls. We will be in a heated Geodome. You can learn more about the property here.
What others have said about previous workshops:
"The Collective Alchemy's breathwork session was absolutely incredible. It was my first time ever doing breathwork and she was so welcoming and created the safest container possible. Immediately I felt safe, calm and at peace to surrender into the session wherever it was going to lead me knowing I was in good hands with her guidance. She kept checking in to make sure I was feeling comfortable throughout and her guided breathwork was something I'll never forget. One of the greatest emotional releases of my life. Her incorporation of meditation and journaling to set the stage for the breathwork was fabulous also. I am now obsessed with breathwork and will be taking her classes regularly and recommending them to everyone!"~ Jamie
"I attended one of The Collective Alchemy's breathwork sessions as a first timer so I didn't know what to expect, but I was pleasantly surprised by how calming, and centering the class was for me. For the first time in a long time I felt my mind switch off as I was focused on the rhythm of my own breath, and the sensations in my body." ~ Serena
"As someone who has trouble sleeping, Shannon's breathwork session created space for me to have the best nights sleep I have had in a long time. It allowed me to calm down and quiet my mind, and subsequently allowed me to feel totally restored the days following." ~ Kate
About Shannon Frame (from The Collective Alchemy)
Shannon combines her lived experiences to help others toward their journey of health and healing. Through tools like breathwork and Yoga Nidra, she loves helping you restore balance to your nervous system by empowering you to release stress and anxiety from within. Her goal is to help you live a calmer more peaceful life, have more focus and energy, better sleep and more productivity. Her hope is that this will allow you to live a life aligned with your purpose, and give you the ability to show up for the things that matter most in your life. She believes in holding a safe space for those looking to go deeper under the surface to release, let go, create space and seek answers from within. She is the founder of The Collective Alchemy which aims at building a community with those that share her same vision for life. @thecollectivealchemy
________________________________________________________________________________________________
DISCLAIMER OF LIABILITY
Shannon Frame and The Collective Alchemy do not assume any liability from joining an online healing breathwork session. Doing breathwork has its own potential results, which need to be evaluated for each person based on that person's circumstances. If you are uncertain if breathwork is right for you from a medical standpoint please reach out to your medical practitioner such as your doctor. By joining 'A Healing Breathwork Journey to Go Within with The Collective Alchemy' you recognize the foregoing and you agree to hold us harmless from any liability resulting from the session. You agree that you are responsible for keeping yourself safe at all times.