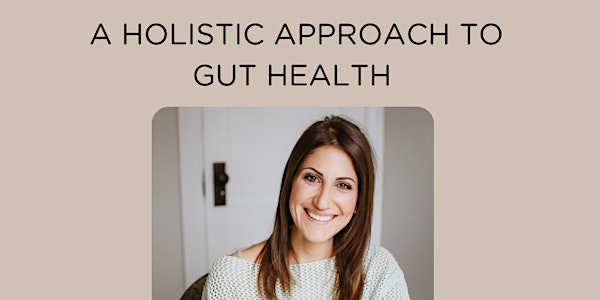 A Holistic Approach to Gut Health
Join Holistic Nutritionist, Melissa Cosentino, for a FREE WEBINAR all about Gut Health!
About this event
Are you suffering daily with digestive issues? Do you always feel bloated, gassy, and constantly going between constipation and diarrhea? Have you been told time and time again you just have IBS and there's nothing you can do.
You don't want to miss out on this FREE WEBINAR with Holistic Nutritionist, Melissa Cosentino. There is SO much information out there on gut health, it is overwhelming and tough to know where to start. She will help break it down for you and help guide you on where to start and to begin getting some GUT RELIEF!
Topics in this WEBINAR include:
• Digestive System – Overview
• Common Symptoms
• Gut Supports (Herbs & Foods)
• Probiotics & Prebiotics
• The 5 Rs to Gut Healing
• Lifestyle Factors & STRESS
By registering you will also receive a Gut-Friendly Recipe Book - full of tasty recipes (electronic)
About Melissa Cosentino, CNP:
Melissa Cosentino is a Certified Nutritional Practitioner that received her Diploma from the Institute of Holistic Nutrition. She is the founder of MellyFit Nutrition where her mission is helping individuals to carve out their unique and individual path to a FIT body, mind and soul. Through her Toronto-based & Virtual Clinical Practice she offers Nutritional Counselling and works with clients one-on-one and in group settings, helping them along their wellness journey to achieve their health goals.
Learn more about Melissa click here.