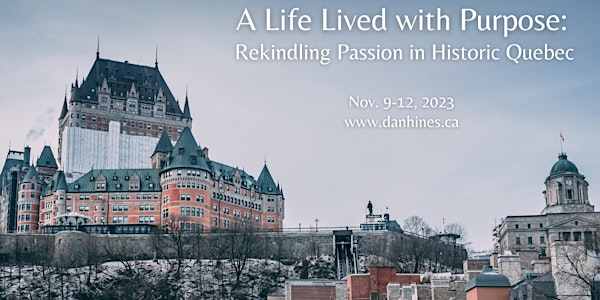 A Life Lived with Purpose: Rekindling Passion in Historic Quebec
Ready for a recharge & self-care? Renew your zest and clarity! A soulful encounter & yoga experience at magical Le Monastère in Old Québec
Date and time
Thu, Nov 9, 2023 7:00 PM - Sun, Nov 12, 2023 11:00 AM EST
Location
Le Monastère des Augustines 77 Rue des Remparts Québec, QC G1R 0C3 Canada
Refund Policy
Refunds up to 30 days before event
About this event
2 days 16 hours

Mobile eTicket
If you're on a journey of growth and yet struggling with a lack of clarity or direction, then join us for this soulful retreat, where you'll access trustworthy inner guidance, gain a renewed passion and realize you have all you need, when your purpose is alive within you.
Surrounded by the flicker of candles in the silent stone vault of an ancient restored monastery, a wave of peaceful joy settles your heart. You lay peacefully on your yoga mat among caring companions who you know are sensing the same.
You know you are surrounded by centuries of the loving prayers in a sacred place.
You remember the warm reception from the caring staff here, the sophisticated warmth of your historic room, the meaningful beauty of the art collection in the halls around the monastery, and your tender and rich encounters with your fellow companions in the circle. You delight as you recall the taste of the delicious, healthy meals prepared by the team of chefs, the insights and revelations, the tear and laughter in the wisdom of stories exchanged.
But most of all, you delight in some inner transformation. Somehow in the midst of slowing down in this place of service and devotion, you notice much has changed in just a few hours. You've been able to find a new perspective and a creative framing of your life narrative. There is a freedom and lightness that you can sense.
The healing intentions of the sister, who devoted their lives to this holy work, is alive in you.
And what is now possible for you?
How life-giving would it feel to…
-Embrace the truth of who you truly are and what service you can offer.
-Overcome feeling stuck and take creative action, even when difficulties arise.
-Have a renewed vigor and confidence to move ahead.
-Release feeling anxious or overwhelmed by the constant demands of life.
-Settle fully into an awareness of your own heart and inner knowing.
You are invited to join us!
It may be that you need to breathe and find a calm moment to rest and renew.
Or you are stuck, confused or dissatisfied with life?
Is this a time of transition, in love, work or health?
Are you needing a sacred pause?
If so, join us!
We will come together to cherish the quiet sacred beauty of inspiring Le Monastère des Augustines.
You will love so much about these days together!
-tasting the beautiful, local, artistic gourmet healthy food,
-savoring a healing traditional tea, whose recipes were created centuries ago by the apothecary Augustinians,
-sleeping in the warm, comfy beds in this beautifully restored architecture,
-experiencing a wonderful massage by one of the gifted bodyworkers at Le Monastère,
-exploring on a crispy morning the many surprises hidden in the Old City as you walk the ramparts high above the river with a hot coffee in hand,
-and gaining a new focus on your life in the listening and speaking among a caring community of friends.
​Welcome! We know this retreat is for you!
It is easy to lose our zest for life.
We often have times when we find ourselves confused and tired of the day-to-day. We sense that something is missing: it might be clarity and a renewed sense of direction.
We want more from our lives.
This four day experience, nestled in the Old City of Québec, is an opportunity to explore, rest, play and reorient.
You will not be over-scheduled! Everything we offer is by invitation. We believe that the most important breakthroughs happen from rest, silence and solitude. We bring these transformations back into community.
It is for anyone who:
-desires a guided process for self-discovery;
-is in the process of making a life decision and seeking inner wisdom;
-enjoys integrating soulful self learning with yoga, meditation and body awareness;
-values the soulful teaching of Parker Palmer and the Circle of Trust lineage;
-yearns for living with a whole heart and in greater alignment with their true self.
Guided by us, Dan and Robyn!
We have facilitated retreats for thousands of participants in many different countries. We love guiding retreats at sacred Le Monastère over the past years since it was fully restored. It is one of our favorite places we host experiences. The staff are truly lovely and the atmosphere has a hushed healing energy. We always find that we sleep incredible well there!
We offer a proven and generous way of being together. In these wise spaces, based on centuries of community wisdom, some principles and practices create a trustworthy, brave space of attention, imagination, and confidential conversations.
Hi Dan here!
I was mentored by well-known Quaker activist and writer Parker Palmer. I guide soulful encounters that help others to be more of who they really are.
Hi Robyn here!
I love to move and embody my truth. I cherish the art of breathwork and meditation. I am a 500 RYT Yoga Instructor. I own and teach at a yoga studio in BC, Canada and love to guide others into a practice that is true for them.
For the summer months, we are sailors! We offer life changing voyages on our 46' sailboat 'Anam Cara'.
So, what will a day look like at Le Monastère?
Each morning, you may begin with an early morning meditation in the stone vault, followed by monastic silent breakfast in the dining hall of hearty healthy food (a centuries old practice of the sisters that is still maintained).
During the day, Robyn guides you in embodied practices of yoga, breathwork and meditation to help integrate the fullness of our individual and collective learning. Dan offers you evocative new insights into life and love, with imagery, poetry, stories and wisdom teachings. There are invitations in smaller groups and the full circle to 'hear each other into deeper speech'.
You share an amazing lunch together, prepared by our chefs. There is space for you to walk, read or rest. In the afternoon, you explore more of the gentle weaving of soulful learning with movement.
You notice as the afternoon session ends that darkness descends. The evening before you is an open invitation for exploring the Old City at night. You will love to be with us to find an interesting place to share food, conversation, friendship, laughter and connection.
As a key learning, with Dan's facilitation, you will experience the profound practice of Clearness Committees, a disciplined two hour discernment process: arising from the early Quakers.
There will be ample time for solitude, reflection, journal writing and also for exploring the Old City.
Our venue:
Le Monastères des Augustines is an amazing historic hotel/museum and lies in a perfect location for adventure. Completely restored and refurbished, Le Monastère offers visitors a unique experience in overall health as well as a living contact with the heritage of the Augustines. They welcome all of us from whatever culture or religion we come from.
Our retreat will be facilitated in English.
Register soon!
Be in touch!
We'd love to have a conversation with you if you have questions.
We would love to welcome you to this amazing experience and venue!
-Dan and Robyn
Further registration information:
Please note: we are gathering in the stone vault in the basement of the monastery. It is a clean warm and beautiful space for yoga and soulful conversation, yet it requires stairs to access the space. Please contact us if you question your mobility to easily access this space.
There are four options for registration.
One for those who do not need accommodations (lunches are still included for Fri. and Sat.).
Three options for rooms, based on single or double occupancy. The room costs include three breakfasts and two lunches.
For all registrations, the cost also includes two lunches (Fri. and Sat.) and traditional teas in our retreat space, as well as yoga mats and props.
$200.00 deposit is required at registration.
The deposit is non-refundable but it may be transferred to another participant (subject to our approval).
Once you register, we will send you more information, some forms to complete, and organize our group.
The registration deadline is Sept. 30, 2023.
After Sept. 1, 2023, you will receive an invoice for the balance owed: balance payable by Sept. 30, 2023.
Here are the total costs for the four options per person:
Program Only, Lunches included, No Accommodations Needed Cost: $575.00 CAD
Double Occupancy Contemporary Room (King or Twins) Cost: $975.00 CAD
Single Occupancy Authentic Room Cost: $1,075.00 CAD
Single Occupancy Contemporary Room (King or Queen) Cost: $1,250.00 CAD
Not included: Travel to Quebec City or to the venue.
We highly recommend travel cancellation insurance.
We also highly recommend travel health insurance for those coming from outside of Canada.
Cancellation Policy:
The deposit is non-refundable.
After September 30, 2023, the amount paid is non-refundable, should you need to cancel.
Please know, if you depart early during the program, full fees still apply.
Please check with your airline about its cancellation policy. Dan and Robyn are not responsible for travel reservations booked to attend the program if cancelled.Please contact us if you require more information.
Email: djhines2012@gmail.com www.danhines.ca
"Wholeness does not mean perfection: it means embracing brokenness as an integral part of life." –Parker J. Palmer
Frequently asked questions
Can I see the difference between the authentic and contemporary rooms?
What if I have never done yoga before?
Will the group explore the Old City together on Friday and Saturday nights?