A Life on the Front Lines of Public and Private Organizations - An Evening...
Description
The CIC National Capital Branch presents our final speaker event of the season
A LIFE ON THE FRONT LINES OF PUBLIC AND PRIVATE ORGANIZATIONS - AN EVENING WITH MARIE-LUCIE MORIN
Marie-Lucie Morin is an exceptional leader with front-rank experience covering an unusually broad number of fields. She was the executive director for Canada at the World Bank in Washington from 2010-2013, national security advisor to the Prime Minister, associate secretary to the Cabinet, deputy minister of international trade, and associate deputy minister of foreign affairs. As a career diplomat, she served around the world including as ambassador to Norway and Iceland and earlier postings in San Francisco, Jakarta, London, and Moscow. She currently works or has served with a number of not-for-profit organizations including the Security and Intelligence Review Committee, the Asia Pacific Foundation, Genome Québec, and the Trudeau Foundation. She is the recipient of numerous awards including the Order of Canada and the Chevalier de la Légion d'Honneur. She is also a wife and mother of four.
Her experience offers many insights into the requirements of leadership and achievement. Sharing her views on some of the key global challenges and opportunities facing Canada today, she will assess the prospects for Canada to play a greater role on the world stage. Are we prepared? What more could be done to make this vision a reality? What advice does she have for students and young professionals embarking on their careers in today's increasingly complex and volatile world, including with regard to balancing a public and private life?
This event will be moderated by Margaret Huber, a former diplomat who is active on various boards, including as President of the CIC National Capital Branch.
DATE AND TIME:
Thursday, June 29, 2017
5:00 pm: Registration, reception and cash bar
6:00 pm: Presentation, discussion
7:30 pm: Dinner (optional)
Please notify us in advance of any special dietary requirements.
Deadline for registration and cancellation is 5pm on Tuesday, June 27, 2017.
TICKET PRICES: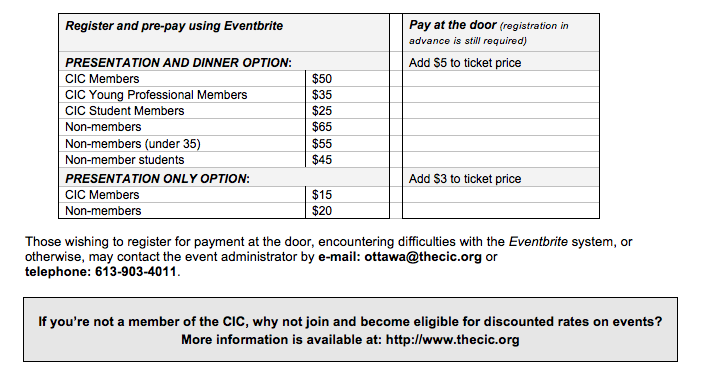 ---
Le chapitre de la capitale nationale du CIC présente son dernier événement de la saison
UNE VIE EN PREMIÈRE LIGNE DES ORGANISATIONS PUBLIQUES ET PRIVÉES - UNE SOIRÉE AVEC MARIE-LUCIE MORIN
Marie-Lucie Morin est une leader exceptionnelle qui a une expérience de premier ordre dans un nombre inhabituellement large de domaines. Elle a été directrice exécutive pour le Canada à la Banque mondiale à Washington de 2010 à 2013, conseillère en sécurité nationale du premier ministre, secrétaire adjointe au Cabinet, sous-ministre du Commerce international et sous-ministre déléguée des Affaires étrangères. En tant que diplomate de carrière, elle a servi dans le monde entier, y compris comme ambassadrice en Norvège et en Islande et a été nommée en poste à San Francisco, Jakarta, Londres et Moscou. Elle travaille actuellement ou a travaillé avec un certain nombre d'organismes à but non lucratif, y compris le Comité de surveillance des activités de renseignement de sécurité, la Fondation Asie Pacifique, Génome Québec et la Fondation Trudeau. Elle est récipiendaire de nombreux prix, dont l'Ordre du Canada et chevalier de la Légion d'Honneur. Elle est mariée et mère de quatre enfants.
Son expérience donne un aperçu des exigences du leadership et de la réussite. En offrant son opinion sur certains des principaux défis et opportunités planétaires auxquels le Canada est confronté aujourd'hui, elle évaluera les perspectives quant à un rôle accru du Canada sur la scène mondiale. Sommes-nous prêts ? Que pourrait-on faire de plus pour que cette vision devienne une réalité ? Quels conseils a-t-elle pour les étudiants et les jeunes professionnels qui entament leur carrière dans le monde de plus en plus complexe et instable d'aujourd'hui, y compris en ce qui concerne l'équilibre entre une vie publique et privée?
Cet événement sera animé par Margaret Huber, ancienne diplomate, qui siège à divers conseils d'administration, notamment en tant que présidente du chapitre de la Capitale nationale du CIC.
DATE ET HEURE:
Jeudi 29 juin 2017
17 h 00: Inscription, réception et bar payant
18 h 00: Présentation et discussion
19 h 30: Repas (facultatif)

Veuillez nous avertir à l'avance de tout régime alimentaire particulier.
La date limite d'inscription est le mardii 27 juin, 2017 à 17 h 00.
PRIX DES BILLETS: