Event Information
Refund Policy
Refunds up to 1 day before event
Eventbrite's fee is nonrefundable.
Online Meditation & Yoga Retreat: Abiding Mindfully in the Body with Daryl Lynn Ross & David Schouela
About this Event
Online Retreat: Abiding Mindfully in the Body with Daryl Lynn Ross and David Schouela
The Buddha said, "There is one thing that, when cultivated and regularly practiced, leads to deep spiritual intention, to peace, to mindfulness and clear comprehension, to vision and knowledge, to a happy life here and now, and to the culmination of wisdom and awakening. And what is that one thing? It is mindfulness centered on the body." The first mindfulness practices that the Buddha taught were awareness in and of the body. The retreat will support continuity of mindfulness in the body throughout all activities, developing a wholesome sense of being calm, grounded, embodied and present. Yoga will be an integral part of this online meditation retreat as a form of meditation in motion - there will be two sessions of yoga each day, with an additional optional pre-recorded early morning yoga.
This retreat is taught in English.
Retraite en ligne : Pleine conscience du corps - méditation et yoga avec Daryl Lynn Ross et David Schouela
Le Bouddha a dit : « Il y a une chose qui, lorsqu'elle est régulièrement pratiquée et cultivée, conduit à l'intention spirituelle profonde, à la paix, à la pleine conscience et à la compréhension claire, à la vision et à la connaissance, à une vie heureuse ici et maintenant, et au point culminant de la sagesse et l'éveil. Et qu'est-ce c'est ? C'est l'attention centrée sur le corps ». Les premières pratiques de pleine conscience que le Bouddha a enseignées mettaient l'attention sur le corps — sur le fait de revenir à nos sens. La pleine conscience du corps est une invitation à s'ouvrir à l'éveil déjà existant dans le corps.
Toutes les activités de la retraite, toutes les pratiques et tous les enseignements aideront à maintenir la constance de la pleine conscience. Un sentiment sain de calme et l'impression d'être connecté, incarné et présent seront nourris. La pratique du yoga, une forme de méditation en mouvement, sera une partie intégrante de cette retraite de méditation silencieuse — il y aura deux séances chaque jour, ainsi qu'un cours très tôt le matin pré-enregistré.
Cette retraite est enseignée en anglais.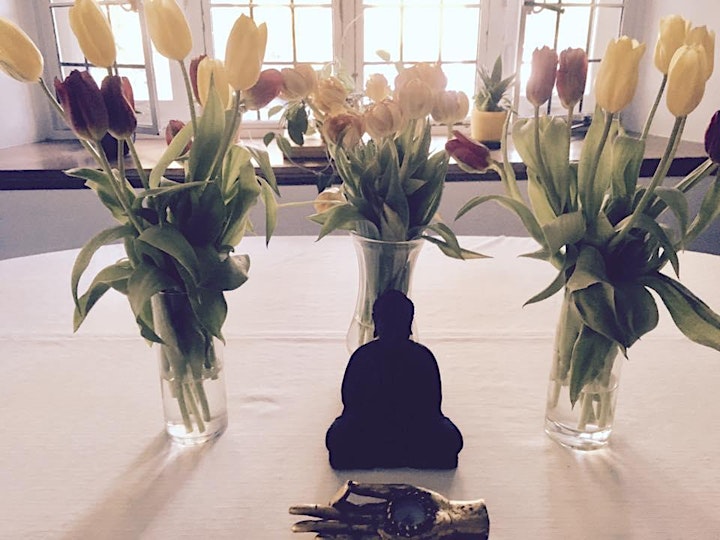 Practical Information
Saturday, November 13, from 9 am to 5 pm ( Eastern Standard Time Canada)
Sunday, November 14, from 9 am to 4:30 pm (Eastern Standard Time Canada)
Schedule: The daily schedule is below. Also, it is completely ok if you can't attend all of the retreat.
Where: On Zoom - the link will be sent 24 hours before the retreat begins.
How to prepare: Find a calm and comfortable place in your home. You will need a chair or a meditation cushion or bench. Scroll down to find more information!
Cost: Fees are on a sliding scale basis that allows participants to pay according to individual means. TNI is dedicated to offering affordable rates to all. Scholarships are also available. Please contact info@truenorthinsight.org. Everyone is welcome. Thank you for supporting TNI's longevity!
Teacher Dana: Our teachers are being hit hard by the cancellations of residential retreats across Canada and the US. Please note that the cost of the retreat covers only the administrative side of the retreat, not any payment to the teachers. Please consider giving a gift of Dana to the teachers. Following the 2,600-year-old Buddhist tradition, the teachings are considered priceless and are offered freely. At the end of the retreat you will be invited to offer dana, or donations, to the teachers.
Cancellation fees: Please let us know as soon as possible if you have to cancel. Refunds are available if you cancel more than 24 hours before the retreat begins.
We request that you arrive before the retreat begins. The Zoom space will open 15 minutes before the retreat starts.
Information: retreats@truenorthinsight.org
The teachers
Daryl Lynn Ross is a TNI Guiding teacher. She has deeply engaged in contemplative practices for over 40 years with teachers and mentors from several Buddhist traditions, and practiced Christian spirituality as well. She served for 22 years as University Chaplain at Concordia University in Montreal. Co-founder of TNI and President of the Board, Daryl teaches local groups and intensive courses, mentors and counsels in personal meetings and offers a wide range of retreats. She lives and transmits the Buddhist teachings from the heart with a sensitivity to the unique path of each person.
David Schouela has been practicing meditation and yoga since 1996 and has been teaching yoga since 2001. David brings to his teaching the integration of Buddhist mindfulness and insight meditation with classical yoga practice.
How to Prepare for Your Retreat
Meditation retreats are an invitation to create a space where you can take care of yourself and take time off from your daily life. With the goal of deepening inner calm, silence is an essential tool for this noble exploration of ourselves and allows us to listen deeply in this space of discovery.
For an online retreat at home, it's important to prepare a supportive environment in advance:
Find a clean, quiet place where you can be alone, in silence, without being disturbed.
Plan in advance your meals, so you don't need to do grocery shopping.
Let other people at home know about the retreat, and ask for their support during this time.
Limit the use of electronic devices to just what you will need for the retreat (phone, laptop, or tablet). If possible, close all apps except for Zoom, deactivate different notifications, and put your device on airplane mode.
We are aware that the current situation may require that you give attention to those you share your home with, and that you may need to be available for them. Do the best you can to offer yourself a supportive environment for your retreat. Your intention and your commitment are your best supports.
Meditation Supports
A chair, cushion or meditation bench for sitting meditation.
A blanket or shawl in case you get cold.
Water to stay hydrated during the day.
Daily Schedule
Schedule for Meditation and Yoga online retreat
Saturday, November 13 (Eastern Standard Time)
9:00 Opening and sitting
10:00 Yoga
11:00 Sitting
11:40 Q&A
12:00 Lunch
2:00 Sitting
2:30 Yoga or walking
3:15 Dharma talk
4:00 Pause
4:10 Guided Heart Practice
4:30 End
Sunday, November 14 (Eastern Standard Time)
9:00 Sitting
10:00 Yoga
11:00 Sitting
11:40 Q&A
12:00 Lunch
2:00 Sitting
2:30 Yoga or walking
3:15 Dharma talk
4:00 Pause
4:10 Guided practice
4:30 Closing
Date and Time
Location
Refund Policy
Refunds up to 1 day before event
Eventbrite's fee is nonrefundable.