About this Event
Earlier this week, the Calgary-based charity Skipping Stone Foundation announced it was ceasing their client intake until further notice due to government cuts to grants and funding previously available to Alberta-based charities.
On December 19, please join us at Oak Tree Tavern for an evening of fantastic live music in support of Skipping Stone.
Doors at 7PM, music begins at 8PM.
Musicians JJ Shiplett, Mariya Stokes, Amy Hef, Julianna Laine, Michela Sheedy, Kate Stevens, Devin Cooper, Robert Adam and Hayden McHugh will share the stage throughout the night, performing a mix of holiday and original songs.
Tickets are $30 and all proceeds will go towards Skipping Stone.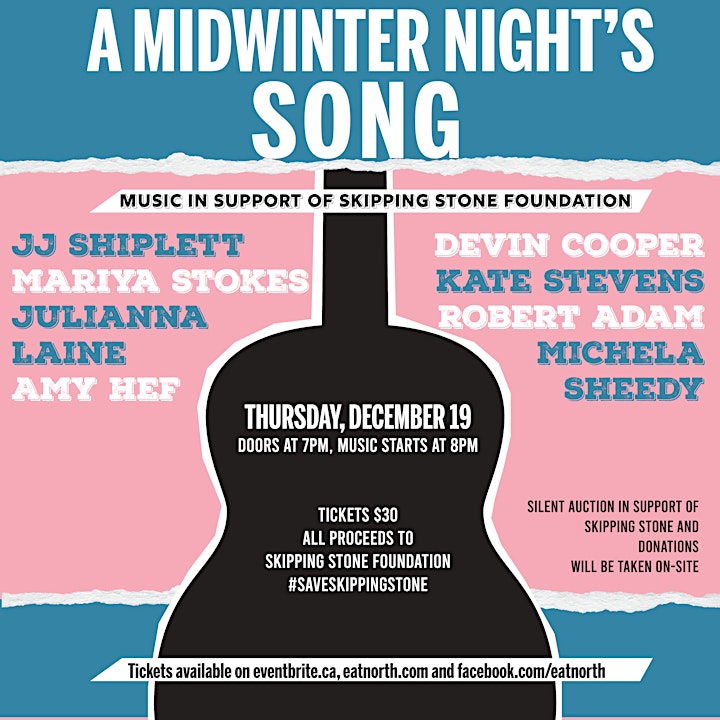 In addition to an evening of live music, people will be able to order some fun holiday eats and drinks including homemade Irish cream liqueur, mulled wine and more.
Help the cause by ordering select drinks as Oak Tree Tavern will also be donating partial drink sales to Skipping Stone.
A silent auction will also be set-up with unique items and experiences to raise further proceeds for the cause.
For more information about Skipping Stone, please head to skippingstone.ca or look up the hashtag #SaveSkippingStone.
All participating musicians, sound tech, graphic designer and Eat North have donated their time for this fundraiser to allow for all proceeds to go towards the non-profit.