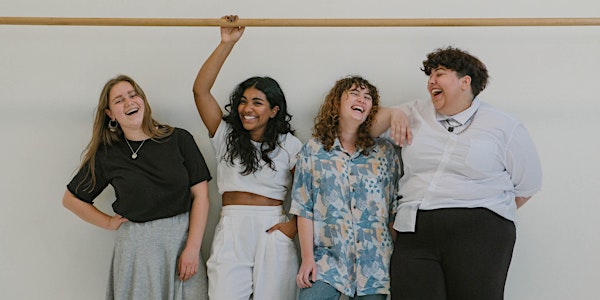 A More Equitable London through Political Participation and Leadership
Empowering young women in London, Ontario with the skills and knowledge to engage meaningfully in their communities.
About this event
Women, two-spirited and gender diverse people are underrepresented in leadership positions in London, which is compounded for BIPOC, disabled, low-income, single mothers, and newcomers. They are often discouraged from engaging from local decision-making due to systemic barriers, such as access to resources, language, media bias, discrimination, family responsibilities, and social isolation. Many, particularly from diverse backgrounds, do not see the issues they care about reflected in political and civic life, and therefore they don't participate.
Creating entry points for folks into civic participation addresses this disconnect and ensures women's voices are heard. Involvement and leadership in community organizations and local politics is a key entry point for those interested as many women do not have the opportunities to build influential networks and to access social and financial capital as men do. They also feel less prepared to run for political office, despite often having strong skills and experience. By increasing opportunities for women to network, learn about political systems, and build their leadership abilities, we increase the likelihood of more women participating in civic and political life in London.
Through this project, we will enable diverse young women, two-spirited and gender diverse people ages 15-30 to develop a strong awareness of political and civic engagement, to strengthen their leadership skills, and to create plans of action that they can take forward, in whatever it is they decide to do. We will accomplish this through two series of workshops; one on civic engagement, and the other on political engagement. We will also host a campaign school for those interested in running as a candidate or wanting to join a campaign team, as well as a networking opportunity to meet other similarly passionate people.
In the earlier phases of the project, we gathered some feedback from the London community to identify key topics and skills for the workshops, which will be delivered through the winter and into the spring of 2022.
Political Engagement Series covers:
- Module 1: Politics 101 - What does it mean to be politically engaged, the opportunities available and how to find them
- Module 2: Leadership (Joint session with the Civic Engagement Series) - Leadership skills, diversity training, teamwork and resolving conflict, confidence and self-care
- Module 3: Creating Change - Hear from active leaders about their experiences, and ask your questions too!
- Campaign School: For those interested in volunteering on a campaign or running as a political candidate. We will cover essential skills such as campaigning, creating a pitch, canvassing, etc.
- Networking Event: Meet other leaders in the community in a casual and conversational setting.
The series dates are as follows. We recommend that you attend all three workshops in a series, but feel free to register for the dates that work best for you.
- Series one on Tuesdays in January: 11th, 18th, 25th (Virtual)
- Campaign School in January: 29th and 30th (Virtual)
- Series two on Thursdays in February: 3rd, 10th, 17th (In-Person*)
- Networking event in February: 26th (In-Person*)
- Series three on Mondays: February 28th, March 7th and 14th (Virtual)
Register here.
If you would be interested in collaborating on this project or have any questions, please contact Project Coordinator, Kayley MacGregor at kmacgre5@uwo.ca.
________________________________________________________________
The Fund for Gender Equality is supported by a collaboration between Community Foundations of Canada and the Equality Fund, with support from the Government of Canada.
Le Fonds pour l'égalité des genres est soutenu par une collaboration entre Fondations communautaires du Canada et le Fonds Égalité, avec l'appui du gouvernement du Canada.