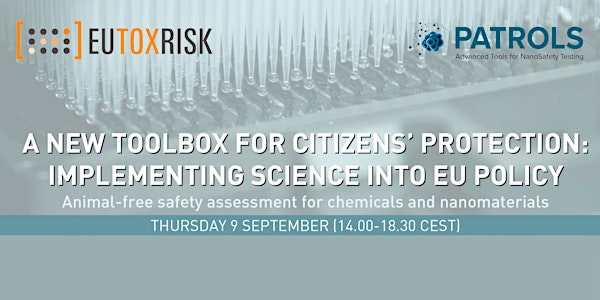 A new toolbox for citizens protection: implementing science into EU policy
A new toolbox for citizens protection: implementing science into EU policy
About this event
The European Commission's Green Deal sets out highly ambitious targets for zero pollution leading to a toxic free environment. As part of this, a new Chemical's Strategy for Sustainability has been adopted. Its implementation will require close collaboration between policymakers, scientists, industry and European citizens to help ensure that Europe remains both at the forefront of materials innovation and safe and sustainable chemicals production and use. To achieve its ambitious Green Deal and to help build back the post-COVID economy in a more sustainable manner, EU policymakers will need to understand what has been already achieved scientifically and what tools and methods still need to be developed.
To help deliver the policy and regulatory challenges set out in the Chemical's Strategy, new tools and methods will be needed to help industry implement them and to ensure that European citizens will benefit of more sustainable chemicals and the economic benefits of an innovative chemicals sector in the EU. This event will provide an opportunity for PATROLS and EU-ToxRisk, two running Horizon 2020 projects, to highlight how the tools and methods they have developed can be used to deliver the EU's chemicals policies. It will also provide an opportunity for dialogue between scientists working on next generation tools and policymakers.
The EU's Chemicals Strategy will require tools and methods in several areas including:
New methods to help in the reduction of animal use for safety testing
Tools to help industry in delivering new chemicals that are safe and sustainable by design
New tools and methods that can be used by regulators to harmonise responses and to help industry in remaining globally competitive and incentivised for producing sustainable chemicals
The workshop's objectives are:
To offer an overview of the current EU strategies for citizens' health protection and their main aims;
Provide feedback and dialogue with two of the most relevant toxicological programs in the EU on how their results can help deliver EU strategies;
Identify further key steps for further implementation of the Chemical's Strategy into future efforts from industry, scientists, regulators and policy makers.
The workshop will be divided into two events. The first event will be a technical meeting with representatives from EC DG RTD (Jana Drbohlavova), DG ENV (Kathrin Schutte) DG JRC (Elisabeth Berggren), OECD (Anne Gourmelon) and PARC (Christophe Rousselle, ANSES) and will take place between 14:00 and 17:15 CEST. It is an invitation-only event. The agenda and the log-in details will be shared with the chosen delegates by email.
The second event is open to all and you can find the agenda below:
17:30 – 17:40 Introduction , Moderated by MEP Tilly Metz and (TBC)
17:40 – 17:50 Report from the technical meeting (Part I), Bob van de Water (EU-ToxRisk)
17:50 – 18:00 Report from the technical meeting (Part II), Shareen Doak (PATROLS)
18:00 – 18:20 Q&A
18:20 – 18:30 Conclusion