A Night at Studio 54 Fintech Consensus Dance presented by Blockchain Impact
Description
A Night at Studio 54 - Fintech Consensus Dance presented by Blockchain Impact
7:00 p.m. to 12:00 a.m.

$288 USD per person


A Night at Studio 54 presented by Blockchain Impact features legendary Studio 54 DJ Robbie Leslie! A popular and influential DJ in New York city since the 70s. He currently produces a weekly show on Sirius/SM Studio 54 Radio and performs around the country and internationally. We're so excited to have him perform on May 15th, 2019 in New York City during the annual Blockchain Week NYC (May 10-17, 2019) and Consensus 2019 Blockchain Technology Summit (May 13-15).
This cocktail and consensus dance event brings together LPs, GPs, family offices, corporate investment offices and high net worth individuals to engage in networking opportunities and open doors to blockchain investments on a global scale.
This event is co-organized by Digital One Asset and Digital Futures B.U.I.L.D. and hosted by Miller Thomson LLP.
Dress Code: Disco (optional)

Online Registration www.consensusdance.io

Date: May 15th, 2019
Location: New York, USA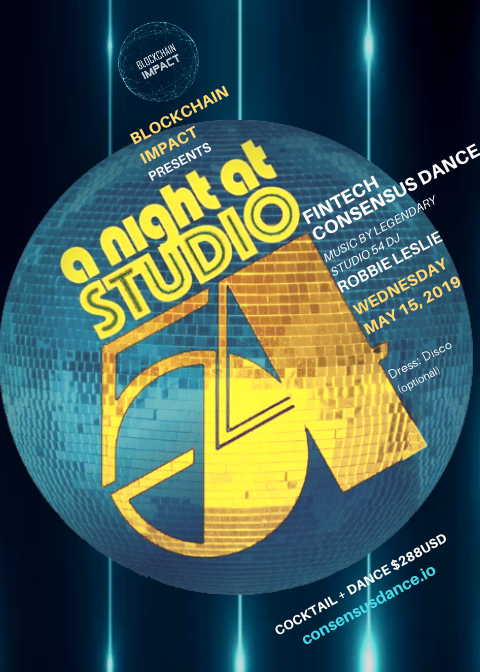 If you are interested in the Blockchain Impact Institute Appreciation Reception in Vancouver, BC (April 4th, 2019), join here: https://bireception.eventbrite.ca
If you are interested in the Blockchain Impact LP-GP Investor Gala 2019 in Vancouver, BC (June 6th, 2019), join here: https://bilpgp2019.eventbrite.ca
If you are interested in the Blockchain Impact's "A Night on Blockchain Impact" in Toronto, ON (November 25th, 2019), join here: https://nightonbi3.eventbrite.ca