About this Event
Come experience the sounds of worship through Reggae, soca and African beats with Brian Clark and Friends, Mel C, Damola Oridante Ministries, Joshua Ali , Nichole Sinclair, Beyond Praise Durham Carifest is proud to present a night of Afro Caribbean Praise and Worship on June 23, 2019 at Whitby Christian Assembly.
Durham Carifest is Durham largest celebration of Caribbean arts and culture in Durham Ontario. The Durham Region has a strong history of celebrating the success and achievements of the people and culture of the Caribbean and this year promises to be better than ever. We have designated the month of June Carifest month and are excited for two family friendly festivals planned in celebration of Carifest month. On June 9th we celebrate our premiere Caribbean festival extravaganza at Ajax Downs, Durham Carifest 2019 - please see our website for more details www.durhamcarifest.com.
In harmony with Carifest festival extravaganza we welcome family and friends, those of the Christian faith or not to join us in fellowship on June 23, 2019 for a powerful night of praise, prayer and anointing. We are blessed to be featuring Brian Clarke 'n Friendz, Damola Oridante, Joshua Ali Nichole Sinclair Mel C and Beyond Praise.
Please come and join us with a heart open to worship and humbled in prayer and believing in the power of praise to transform lives, families and communities.
Check the month of June off on your calendar as Carifest month, you don't want to miss.
Psalm 40:3 He put a new song in my mouth, a hymn of praise to our God. Many will see and fear the Lord and put their trust in him.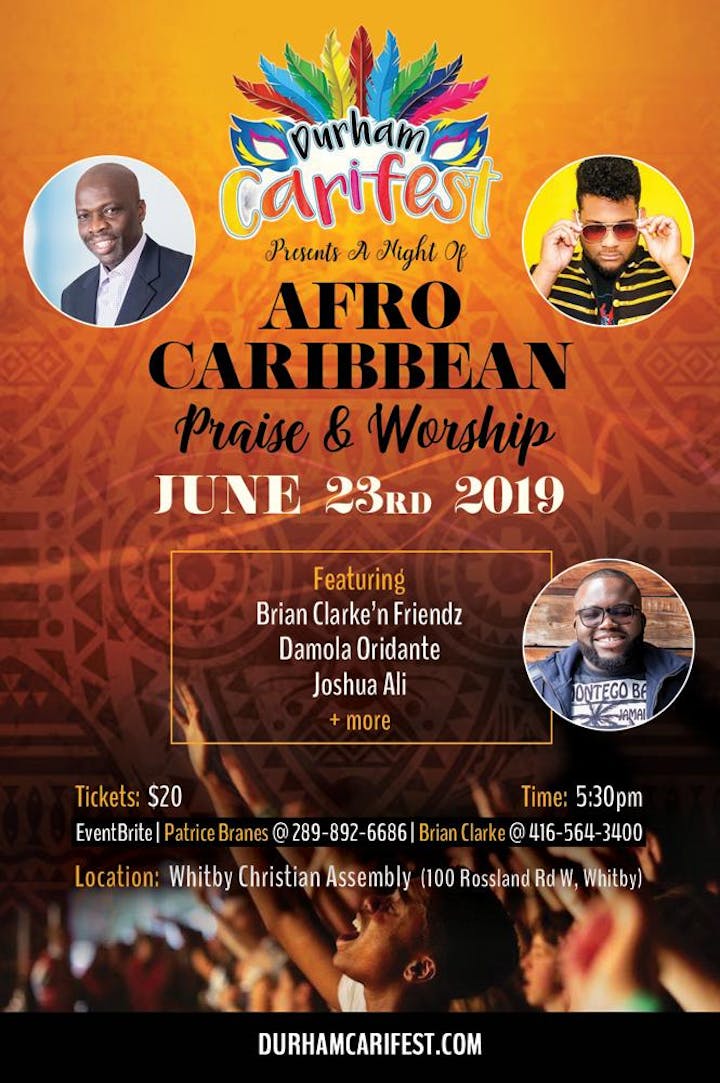 Sunday June 23,2019 5:30 pm Whitby Christian Assembly 100 Rossland Rd West