A Panel Discussion on FINANCIAL QUANTS IN TODAY'S MARKET

Friday, 30 November 2012 from 5:00 PM to 7:00 PM (EST)
Event Details
A Panel Discussion on
Financial Quants in Today's Job MarkeT
The panel discussion is specially designed for students who are interested in employment opportunities for quantitative analysts in financial institutions. It features a 45-minutes keynote speaking by industry experts and executives, followed by one-hour mingling with quants and representatives from financial industry.
Organizer:  
RiskLab, University of Toronto
Host:
The Fields Institute, University of Toronto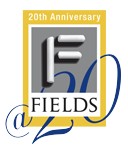 Co-Sponsors:
RBC Capital Markets

BMO Capital Markets

Scotia Bank

TD Securities

Michael Page

Date and Time: Nov. 30, 2012 (Friday), 5-7pm
Place: Fields Institute, University of Toronto, 222 College Street, Toronto
Dress Code: Business Formal
Keynote Speakers:
Dr. Nico Meijer, Executive Vice President and Chief Risk Officer, BMO Capital Markets

Ms. Wei Zhang, Manager, Scotia Bank

Mr. Michael Freeman, Recruitment specialist, Michael Page
Registration: $25 (VIP- Advanced Seating) $20 (Regular)- Meals provided
Join us now for a night of inspiring talk and mingling with the professionals and HRs!
About Keynote Speakers
Dr. Nico Meijer
Executive Vice-President and Chief Risk Officer, BMO Capital Markets
Nico Meijer is Executive Vice-President and Chief Risk Officer, BMO Capital Markets, Enterprise Risk & Portfolio Management. He is accountable for market risk management functions enterprise wide and works closely with BMO's business leaders to drive forward the strategic agenda for the Capital Markets business.  Nico is also accountable for certain enterprise groups including Economic Capital and Stress Testing, Corporate and Commercial Credit Methodologies, and Insurance Risk.
Mr. Meijer joined BMO from another large Canadian bank where he held roles as Senior Vice-President, Head of Global Risk Strategy; Senior Vice-President, Global Head of Trading Risk; and Senior Vice-President, Global Head of Market Risk. Prior to his risk roles, Mr. Meijer ran a range of derivative trading businesses for a major US bank in Toronto, Tokyo, and London.
Nico received his PhD and MASc in Engineering from the University of Toronto, and his BASc from the University of Waterloo.
Ms. Wei Zhang
Wei Zhang is a manager in Global Risk Management Department, Scotiabank. She holds a Bachelor of Mathematics degree in Actuarial Science and Statistics from University of Waterloo, and a Master of Science degree in Actuarial Science from Boston University. Ms. Zhang joined Scotiabank as a manager in Model Validation & Approval in August 2011. In her role, Ms. Zhang conducts validations of new models and model enhancements, and completes model reviews according to review schedule to maintain compliance with ongoing model maintenance requirements according to relevant policies. When not working, Ms. Zhang is an active pianist.
Mr. Michael Freeman
Mr. Freeman specializes in recruitment within Risk Management and Quantitative Analytics for banks and other financial institutions for Michael Page. His clients range from major banks and pension funds to boutique investment firms and asset managers. Prior to joining Michael Page, he worked with CIBC for 3 years in an Investment Advisor capacity, working with high net worth clients.
Michael holds an MBA in Finance from Memorial University as well as a BA in History from the University of Calgary.
Event Poster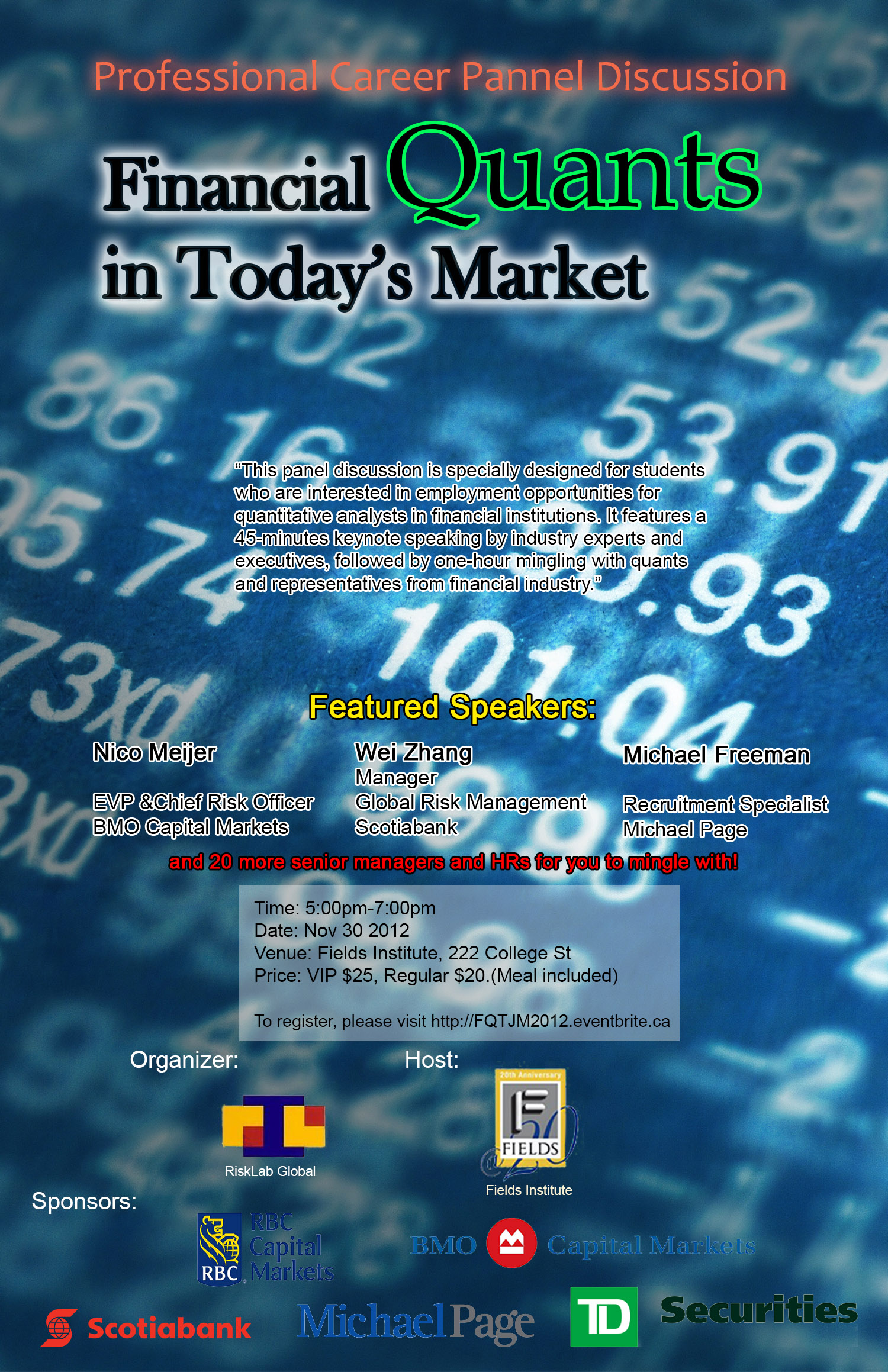 When & Where

The Fields Institute
222 College St
Toronto, ON M5T 1R4
Canada

Friday, 30 November 2012 from 5:00 PM to 7:00 PM (EST)
Add to my calendar
Organizer
The Risklab Toronto is part of the international network of RiskLabs sponsored byAlgorithmics to conduct university-industry research initiatives in the mathematical sciences for risk management. We provide the financial industry with a unique opportunity for addressing the sector's critical need for cutting edge research as well as for highly qualified personnel. Through industry sponsored projects, faculty, postdoctoral fellows and graduate students can now develop interactions with practitioners from financial institutions in a way which may not be possible through more traditional academic programs.
Event Contact: jinjin.kang@mail.utoronto.ca
Website: risklab.utoronto.ca