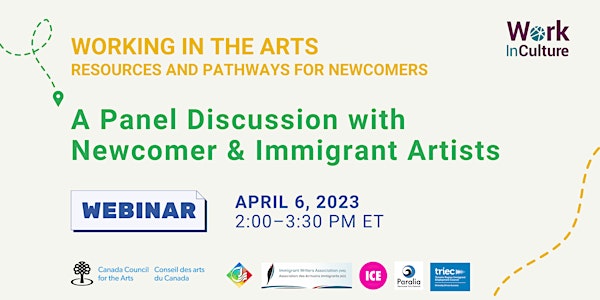 A Panel Discussion with Newcomer & Immigrant Artists
This webinar is part of WorkInCulture's Working in the Arts: Resources and Pathways for Newcomers
When and where
Date and time
Thu, Apr 6, 2023 11:00 AM - 12:30 PM PDT
About this event
1 hour 30 minutes

Mobile eTicket
This webinar is part of a series of training sessions and access to information and resources to help support newcomer and immigrant artists and arts professionals achieve career success in Toronto/GTA and beyond. We aim to streamline the pathway to careers in the arts and culture sector by providing relevant information for:
settlement and employment service providers looking to better equip their clients.
arts organizations seeking to engage newcomer and immigrant artists and arts professionals.
newcomer and immigrant artists and arts professionals looking to build awareness and knowledge about careers and career resources in the arts and culture sector.
Join us for this FREE webinar featuring a panel of newcomer and immigrant artists speaking about their experience pursuing a career and supporting their artistic practice in Toronto/GTA. Whether you are trying to find information and supports for emerging/early career, mid-career or even second-career options, this webinar will introduce you to:
a range of the artistic communities and networks available to connect with other artists.
types of training, education, and skills-building considerations for artists.
potential challenge, barriers and opportunities for newcomer and immigrant artists.
resources and other considerations when building and supporting an artistic practice.
Toronto is home to 93% more artists than any other Canadian city! *
(*to learn more, read Toronto Arts Council's Case for the Arts)
Learn more from our guest speakers about their experience starting or expanding their artistic careers in arts and culture.
Please note, live closed captioning will be available during the session via our Otter app and closed captions through Zoom can also be enabled.
________________________________________________________________
Meet our guest speakers:
Moderator: Stephan Dyer, Comedian, Keynote Speaker, and Corporate Leadership and Communication Trainer: Originally from Costa Rica, Stephan Dyer is an award-winning bilingual comedian, keynote speaker and corporate leadership and communication trainer. Leaving his executive position in the banking world in 2017 to pursue his professional career in stand-up comedy, he successfully co-founded MalPensando, a bilingual comedy school in Canada, and the reTHINK Group, its corporate training company, which has grown to include clients in 16 countries including Canada, Switzerland, England, Singapore, Malaysia, Mexico, and the United States. Stephan has performed in 9 countries and appeared on Comedy Central, The Second City, TEDx, and some of the world's largest comedy festivals. In 2021, Stephan was awarded the Distinguished Toastmaster Award (DTM) and was featured on the cover of Toastmaster Magazine, the largest public speaking magazine in the world, distributed to over 364,000 members across 143 countries. Stephan is currently an instructor at the University of Toronto School of Continuing Studies where he delivers the course "Business Presentations and Public Speaking."
Panelist: Sebastián Oreamuno, Artist and Academic: Born in Santiago, Chile, Sebastián Oreamuno is a queer Toronto-based artist and academic currently pursuing his PhD in Dance Studies at York. His doctoral research explores the relationship between diasporic embodied memory and cueca, the Chilean national dance. Other interests include the participatory body and performing ability; popular culture; men and pointe; and multi-media artistic practices. His work is deeply inspired by Jennifer Dick, Aria Evans, and Sashar Zarif, with whom he's grateful to have worked.
Panelist: Kareen Weir, Artist and Writer: Kareen Weir is an award-winning contemporary artist and writer who endeavours to be a teaching and living example of the positive products that come out of the Jamaican society. She is a graduate of the Edna Manley College with a major in Sculpture, but has been exploring the world of mural painting since immigrating to Canada in 2014. Her work looks at themes of memory, retention, representation and identity through language and the Black experience. Her debut exhibition in Canada was as a participant in The Scratch and Mix Project: Empowering Black Youth through the Arts group exhibition at the Art Gallery of Ontario. Weir has been under the tutelage of Master Artist Raymond Watson as a sculpture apprentice, as well as mentored by d'bi.young anitafrika, under whom she completed the Artist Shaman Exhibit (ASE) and Professional Artist Development Initiative (PADI) residencies at the Watah Theatre. It was there that she wrote the beginnings of her own Patwa novel. Kareen is a member of the Black Wimmin Artist collective which gathered in 2019 for The Feast—a performative dining exchange seating 100 Black women artists and arts workers around an exaggerated table down the centre of the AGO. She is also a graduate of the Mural Routes: Mural Art Career Development (MACD) Program, where she then moved on to do mural work across Ontario. Weir is currently undergoing a scholarship at the Al Green Sculpture Studio & School where she is re-entering her sculpture passion.
Panelist: Betty Xie, Filmmaker, Fundraising Consultant, and Coach for Creatives: Betty Xie is a Chinese-Canadian filmmaker, fundraising consultant, and coach for creatives. In the past decade, she has worked in the arts, cultural, and non-profit sector as a fund development professional. Alongside her arts management career, she is an award-winning filmmaker. Her works have been exhibited in film festivals around the world, and most recently, she directed and wrote the short animated series Uprooted: The Plantemic, distributed by CBC Gem. In 2022, she founded her own independent practice in consulting and coaching. Now, she serves small nonprofits to develop fundraising strategies and support creatives to build the dream career that matters to them, their communities and the future. 
________________________________________________________________
This session is a part of a webinar series scheduled for the first Thursday of each month from February – May 2023. To sign up for other webinars CLICK HERE.
To learn more about this initiative and to access a growing page of relevant resources, visit https://workinculture.ca/working-in-the-arts-newcomers
To learn more about the challenges, barriers, and opportunities available for newcomer and immigrant artists and arts professionals looking to start or grow their creative careers, review our Navigating a Career in the Arts for Newcomers needs assessment.

About the organizer
Our mission is to support the professional lives of artists, creatives and cultural workers, and the organizations that support and engage them, through skills development, research, and career resources.
WorkInCulture thanks our funders for their generous support: