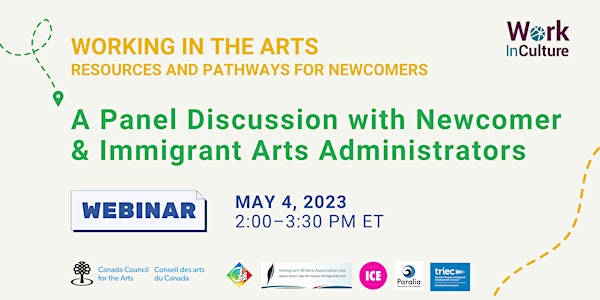 A Panel Discussion with Newcomer & Immigrant Arts Administrators
This webinar is part of WorkInCulture's Working in the Arts: Resources and Pathways for Newcomers series
Date and time
Thu, May 4, 2023 11:00 AM - 12:30 PM PDT
About this event
1 hour 30 minutes

Mobile eTicket
This webinar is part of a series of training sessions and access to information and resources to help support newcomer and immigrant artists and arts professionals achieve career success in Toronto/GTA and beyond. We aim to streamline the pathway to careers in the arts and culture sector by providing relevant information for:
settlement and employment service providers looking to better equip their clients.
arts organizations seeking to engage newcomer and immigrant artists and arts professionals.
newcomer and immigrant artists and arts professionals looking to build awareness and knowledge about careers and career resources in the arts and culture sector.
Join us for this FREE webinar featuring a panel of newcomer and immigrant arts managers/administrators speaking about their experience pursuing a career in Toronto/GTA. Whether you are trying to find information and supports for emerging/early career, mid-career or even leadership options, this webinar will introduce you to:
a range of arts management and arts administration roles that exist across different arts organizations and companies, even opportunities for consulting and freelance work!
types of training, education, and skills-building considerations for arts managers/administrators.
potential challenges, barriers and opportunities for newcomer and immigrant arts managers/administrators.
resources and other considerations to sustain and grow a career as an arts manager/administrator.
Arts management and administration allow those who wish to combine their passion for the arts, culture, and heritage with business acumen and management skills!
Learn more from our guest speakers about their experience pursuing a career in arts management/administration!
Please note, live closed captioning will be available during the session via our Otter app and closed captions through Zoom can also be enabled.
________________________________________________________________
Meet our guest speakers:
Moderator: Parul Pandya, Founder and Community Consultant at Community Impact Consulting Parul Pandya has been skillfully working in non-profit in various roles through the past two decades, including as a community builder, consultant, programmer and producer. After managing community grants for the largest government funder in Canada, she received much interest for continued collective impact by being asked to serve organizations in a variety of capacities. Her attraction to advocacy emerged with her work as a Queer South Asian freelance writer/poet, over two decades ago. She has a deep passion for social justice and its intersectionality with the arts, which she teaches about at both Centennial College and Humber College. Her approach to exchange is high-engagement, encouraging participation through self-reflection, empathy, creativity and common understanding.
Panelist: Yash Chhabria, Digital Asset Coordinator at Stratford Festival: Yash (he/him) is an arts manager with experience working for film festivals and theatre companies, coordinating artists and art communities. Performing arts has played an integral role in his learning process. He is driven to explore the underlying elements of social critique in media and arts. Currently working at the Stratford Festival, Yash is enjoying his time putting his knowledge and learnings to good use. His life goal is to serve the arts community and bring original stories together to the stage or screen.
Panelist: Cecília Garcia, Senior Program Manager at North York Arts: Cecília Garcia is an arts worker, and emerging textile artist based in Tkaronto. Originally from Brazil, Cecília holds a Bachelor of Fine Arts and a Diploma in Arts Management. She has built a diverse portfolio working and volunteering in the arts sector at multiple organizations, including CONOSER, Queen Gallery, Regent Park Film Festival, Airsa, Hot Docs, and others. Currently, Cecília is the Director of Programs at North York Arts. In her spare time, she contributes as an arts facilitator to organizations like Art Ignite, Textile Museum of Canada, and TO Live. Her artistic practice has included film, media, community arts, and textile arts. Throughout her career, Cecília has had the immense privilege of being a part of organizations and projects that have helped build communities through the arts.
________________________________________________________________
This session is a part of a webinar series scheduled for the first Thursday of each month from February – May 2023. To sign up for other webinars CLICK HERE.
To learn more about this initiative and to access a growing page of relevant resources, visit https://workinculture.ca/working-in-the-arts-newcomers
To learn more about the challenges, barriers, and opportunities available for newcomer and immigrant artists and arts professionals looking to start or grow their creative careers, review our Navigating a Career in the Arts for Newcomers needs assessment.
About the organizer
Our mission is to support the professional lives of artists, creatives and cultural workers, and the organizations that support and engage them, through skills development, research, and career resources.
WorkInCulture thanks our funders for their generous support: