'A Paradigm Shift: Moving from Mental Health Awareness to ACTION'
About this Event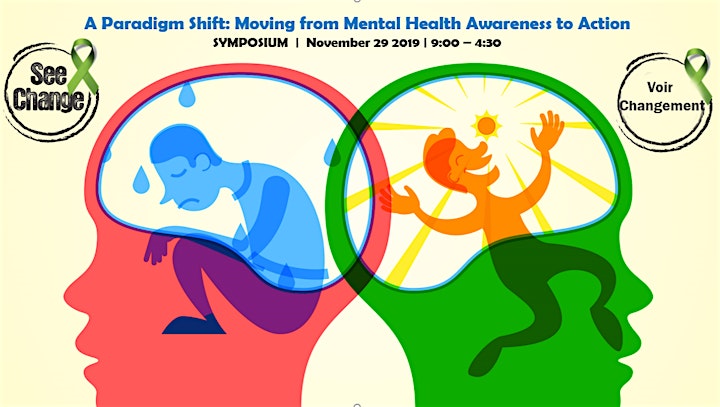 WEBEX PARTICIPANTS
REGISTRATIONS/INSCRIPTION: 8:15 a.m. - 9:00 a.m.
SYMPOSIUM: 9:00 a.m. - 4:00 p.m. / de 9 h à 16 h
Hello,
While at times mental illness can be considered a challenge, understanding the inner-self can also be the key to unleashing personal strengths. Whether it is using your sensitivity to empathize with our clients at Correctional Service Canada (CSC), your commitment to be a more thoughtful leader or your need for space to build new and interesting paths, we all have assets that can contribute to a positive work environment.
The mandate for the Atlantic Employment Equity and Diversity Committee (EEDC) at CSC is to create a more diverse and inclusive workplace. As such, they are offering a 3rd symposium for the 2019-2020 fiscal year, on the topic of mental health.
You are cordially invited to attend this symposium, 'A Paradigm Shift: Moving from Mental Health Awareness to Action' on Friday, November 29, 2019, via Webex. Please find attached documents for more information. If you have any questions, feel free to contact Maria Sauco or EEDCOMMITTEE.GEN-ATL@CSC-SCC.GC.CA.
Thank you,
*********************************************************************************************************
Bonjour,
Quoique les problématiques en santé mentale peuvent parfois constituer un défi dans votre quotidien, avoir une meilleure connaissance de soi peut être la clé qui révèle des forces individuelles. Soit en faisant preuve d'empathie envers nos clients du Service correctionnel du Canada (SCC), vouloir être un leader plus attentionné ou votre besoin d'espace pour élaborer de nouvelles voies intéressantes, nous avons tous des atouts qui peuvent contribuer à un environnement de travail positif.
Le mandat pour le Comité sur l'équité en matière d'emploi et la diversité (CEED) de la région de l'Atlantique au SCC est de créer un milieu de travail plus diversifié et inclusif. Sur ce, ils offrent un 3e symposium pour l'année fiscale 2019-2020, au sujet de la santé mentale.
Vous êtes cordialement invité d'assister au symposium « Un changement de paradigme: passer de la sensibilisation à la santé mentale à l'action », le vendredi 29 novembre 2019, via Webex. Vous trouverez les documents ci-joints pour plus d'information. Si vous avez des questions, n'hésitez pas à communiquer avec Maria Sauco ou EEDCOMMITTEE.GEN-ATL@CSC-SCC.GC.CA
Merci,