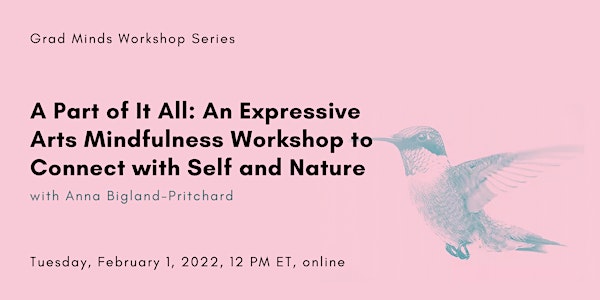 A Part of It All: An Expressive Arts Mindfulness Workshop
A Part of It All: An Expressive Arts Mindfulness Workshop to Connect with Self and Nature with Anna Bigland-Pritchard
About this event
List of things for participants to bring:
2 pieces of paper
Pencil/pencil crayons/pastels/pens/any quick and easy art-making material
Comfy clothes
Curiosity
Kindness to self
Vocalist, Educator, Community-Builder, Arts Admin
Hummingbird Music Studio is an online voice studio and mindfulness workshop business run by singer, songwriter, music director, music educator, and expressive arts therapy student Anna Bigland-Pritchard. Igniting her voice, songwriting, and community leadership with a contagious and inspiring passion for social justice, climate justice and art making for all, Anna is an enthusiastic interdisciplinary artist. Deeply resourced by studies in expressive arts therapy, as well as extensive classical music and community leadership training, Anna uses a mindful practice of art-making to help others to feel supported through the joys and challenges of life. Anna believes art must be activism, true self-care and community-care are an act of bold resistance, and that the expressive arts are a tool for both self-care and social change.
About Grad Minds
Formed through a student initiative at the University of Toronto in September 2013, Grad Minds is now officially recognized as the Mental Health Advisory Committee of the University of Toronto Graduate Students' Union (UTGSU). We promote well-being and provide mental health education through programs, initiatives, and events, with a focus on developing psychological resilience, personal skill development, self-care practices, and de-stigmatizing mental health problems.