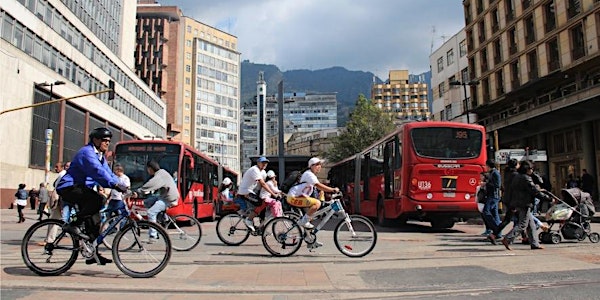 "A posteriori" Comparisons and Urban Policy Mobilities
Sergio Montero on "a posteriori comparisons" as a methodological strategy to compare cities and policy mobilities.
By School of Cities, University of Toronto
Date and time
Wed, Jul 20, 2022 11:30 AM - 1:00 PM EDT
Location
Myhal Centre for Engineering Innovation and Entrepreneurship, School of Cities , Suite 853 55 Saint George Street Toronto, ON M5S 0C9 Canada
About this event
A posteriori comparisons, repeated instances and urban policy mobilities: What 'best practices' leave behind
ABSTRACT
In this talk, Sergio Montero will present a recently published article in Urban Studies on "a posteriori comparisons", co-authored with Gianpaolo Baiocchi.
While traditional comparisons in urban studies have sought to find variation among similar cases by selecting a priori, in this article they propose to compare the findings of different researchers through a posteriori, that is, after the research has been done.
They also argue that urban researchers need to focus on urban processes rather than cities; on repeated instances rather than on controlling for difference; and on mid-level abstraction rather than on grand theory or descriptive empirical cases. They put this strategy to work by comparing empirical research previously carried out by the authors on how two Latin American cities became international urban 'best practices': Bogotá as a sustainable transport model and Porto Alegre as a model of local participatory budgeting.
The comparison highlights the tension between the simplified policy narratives that were mobilized to circulate Bogotá and Porto Alegre as international 'best practices' and the broader multi-scalar institutional reforms that these 'best practice' narratives have left behind in their global circulations. In doing so, they show the potential of a posteriori comparisons to analyze contemporary global urban dynamics and provide some explicit methodological tactics on how to do comparisons in a more systematic way.
____________________________________________________________________
BIO
Sergio Montero, PhD, Associate Professor, CIDER, Universidad de Los Andes and Visiting Professor, School of Cities, University of Toronto
Sergio Montero is Associate Professor of Urban and Regional Planning and Development at the Universidad de Los Andes in Bogotá, Colombia. He holds a Bachelor in Economics from Universidad de Granada (Spain) and a master and PhD in City and Regional Planning from the University of California, Berkeley. He is also associate editor of the journal Regional Studies and director of LabNa (Laboratorio de Narrativas Urbanas).Sergio's research is focused on the politics and governance of urban and regional planning; the global circulation of urban and regional policy models and "best practices;" as well as institutional and territorial approaches to local economic development policy, with an emphasis on Latin American cities and regions.
____________________________________________________________________
*Light lunch and beverages will be provided for in - person and virtual attendance is also available