A Promise to Future Generations

Wednesday, 19 June 2013 at 5:00 PM (EDT)
Event Details
EXTENDED!! Ticket sales have been extended to Wednesday May 15th, 2013 at midnight. Book fast to reserve your ticket and show your committment to protect future generations! Light food and refreshments will be served at the event.

The CSCE Toronto Section is assisting the University of Toronto this year with their annual "Promise to Future Generations" signing ceremony.  The event is open to all professionals and students, along with their families, with a passion for environmental stewardship.
A Promise to Future Generations
The Promise to Future Generations is a student-driven initiative that was started in 2009 by a group of civil engineering students. It was adapted from a document written by Jacques Cousteau in the 1970's entitled "Bill of Rights for Future Generations". A Promise to Future Generations is a voluntary promise – an active choice made by those who believe they have a duty to protect the rights of future generations to enjoy this bountiful earth.
The aim this initiative is to drive a paradigm shift. We need to look beyond "me" and "now" to ensure we are considering the needs of future generations in all of our decisions. The act of signing the Promise is only the first step in this process. Signatories have an opportunity to join a community of like-minded colleagues to share innovative ideas, provide advice and encouragement through difficult decisions.
The Signing Ceremony
Those who choose to commit to this promise will participate in a Signing Ceremony to declare the Promise with like-minded peers and future colleagues.  The inaugural Signing Ceremony was held June 19, 2009 and to date over 170 graduating students, professors, staff, and industry representatives have signed the Promise. This year the Signing Ceremony will be held on June 19 from 5:30-6:30pm at 35 St. George Street, Room GB202.
Included in the price of your event ticket is a framed, personalized copy of the Promise for you to keep!! Following the Promise Signing Ceremony, join us for a Keynote Presentation by Professor Christopher Kennedy.

Keynote Speaker: Christopher Kennedy
Presentation Topic: Engineers Can Build Green Cities
By 2050, global population will reach approximately 9 billion and 75% of us will be living in cities. Many global environmental systems are already under severe stress, with  human impacts on biodiversity loss, climate change, and changes to the nitrogen cycle already exceeding planetary capacity. Engineers face huge challenges in planning and designing infrastructure for our growing cities, working within the carrying capacity of the planet.
Cities are an enigma. They are largely responsible for most of the environmental stresses on the planet, yet have the wealth and creative potential to develop sustainable infrastructure systems. Here I discuss the technical feasibility of constructing green / low carbon cities, pointing to actions that individual engineers can take.
Biography for Christopher Kennedy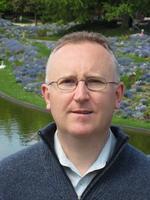 Christopher Kennedy is a Professor in the Department of Civil Engineering at the University of Toronto, where he teaches courses in Infrastructure Economics, Engineering Ecology, and the Design of Infrastructure for Sustainable Cities. His work involves applying principles of Industrial Ecology to the design of urban infrastructure, including buildings, water systems, and urban transportation. Amongst his publications are studies of urban metabolism, greenhouse gas emissions from global cities and processes for developing sustainable urban transportation systems. His wider work includes contributions to probability theory, regional economics and engineering education. His book The Evolution of Great World Cities: Urban Wealth and Economic Growth was published by University of Toronto Press in 2011.
Chris has worked and studied in Europe and North America. He holds qualifications in Civil Engineering (Imperial & Waterloo), Economics (Warwick) and Business (Toronto). In 2004/05, Chris was a visiting professor at Oxford University and ETH Zürich. In 2011/12, he was seconded to the OECD in Paris, to work on Cities, Green Growth and Policies for Encouraging Investment in Low Carbon Infrastructure. He has conducted professional work for the Ontario Ministry of Finance, Infrastructure Canada, Clinton Climate Initiative, California Energy Commission, US National Science Foundation, UN-HABITAT and the World Bank. Chris is Director of the Cities and Engineering Management Program at University of Toronto and is President–elect of the International Society for Industrial Ecology.
When & Where

University of Toronto
35 St. George Street
Galbraith Building - Room GB202
Toronto, Ontario
Canada

Wednesday, 19 June 2013 at 5:00 PM (EDT)
Add to my calendar
Organizer
The CSCE is a learned society created to develop and maintain high standards of civil engineering practice in Canada and to enhance the public image of the civil engineering profession.
http://www.cscetoronto.ca/