Description
***ONLINE SALES ENDED - TICKETS ARE STILL AVAILABLE!

***JUST DROP-IN @ THE LIBRARY


About the Talk
Are you yearning to live a happier and more meaningful life? You don't have to wait. You can learn to be happier by following what Buddhist teachers have shared for centuries: you can learn to be happier (oh yeah, and less stressed too), just as you can learn a new sport, instrument or language.
Join us to discover the Buddhist psychology for training the mind. You will love the way this feels.
About the Teacher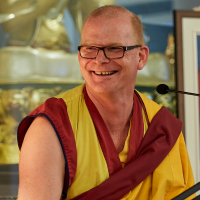 Gen Kelsang Sanden is a Canadian Buddhist monk, and the Resident Teacher of Kadampa Meditation Centre Vancouver. He has been a long time student of Geshe Kelsang Gyatso, the founder of the New Kadampa Tradition. He is well loved for his compassion, sense of humour and the clarity of his teachings.


Ticket Price
$20 Public Talk Ticket
$45 Public Talk Ticket + Follow Up 3 Week Series (details below).


Event Schedule
6:15-7:00pm | Welcome, and explore our book shop
7:00pm-8:30pm | Talk and guided meditation
---
Follow up 3 Week Series (optional)
Continue on your journey with a follow up 3 week series: The Science of Happiness starting the week of October 1st, in one of these locations:
- Kitsilano
Wednesdays 7-8:15pm, Oct 3, 10, 17.
- West End
Tuesdays 7-8:15pm, Oct 2, 9, 16.
- West Vancouver
Mondays, 1-2:30pm, Oct 1, 15, 22.
- Commercial Drive on Thursdays (7-8:30pm on Oct 4, 11, 18), or Sundays (10-11:15am on Sept 30, Oct 14, 21)


Or on October 3rd, join our Learn to Meditate 3 week series on Wednesdays, 7-8:15pm, and establish a daily practice that will bring a sense of balance, peace and clarify into your life and your relationships!
SERIES DETAILS
Class 1 | Understanding your Mind
This is a game changer!
Class 2 | The Obstacles to our Happiness
Avoid them and life gets a whole lot easier!
Class 3 | Creating the Life we Want
And have fun doing so!