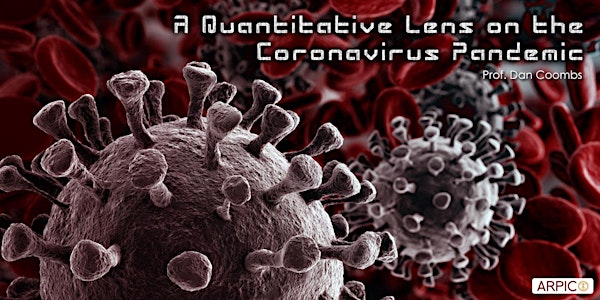 A Quantitative Lens on the Coronavirus Pandemic
Using quantitative models to understand the trends and patterns of COVID case numerical data.
About this event
ARPICO and PROF. DAN COOMBS present...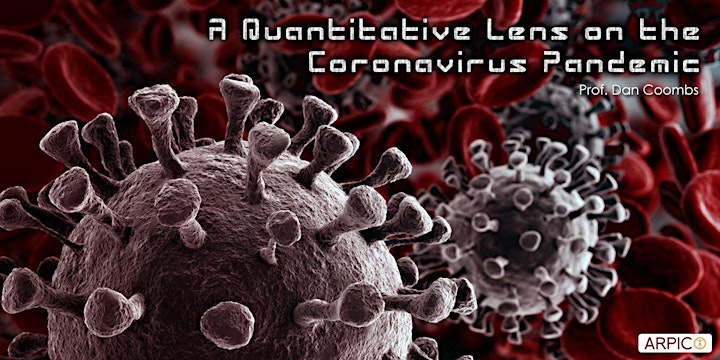 A Quantitative Lens on the Coronavirus Pandemic
Since early 2020, we have found ourselves very focused on "the numbers" of the pandemic: counts of cases, hospitalizations and mortality; estimates of rates of spread and the effects of physical distancing policies. More recently, we have heard about the effectiveness of vaccines and how these might influence strategies for vaccine deployment. In this talk, Prof. Coombs will - in plain language - outline some of the most important quantitative concepts of epidemiology, explain their relevance to understanding the pandemic from last year to the present day, and describe how they can help us project into the future and map out possibilities for the next phase of the pandemic. He will also describe some critical uncertainties. This talk will include data and models from British Columbia, as well as elsewhere.
Professor Daniel Coombs is an expert in mathematical modelling applied to human health, immunity, and disease. Prof. Coombs obtained his MSc and PhD in applied mathematics from the University of Arizona and did postdoctoral work at Los Alamos National Lab, before joining the Department of Mathematics at the University of British Columbia (UBC) as a faculty member in 2003. Prof. Coombs contributes to our understanding of infection and immunity across scales from subcellular processes of immunological recognition to virus dynamics at the single-patient level, to epidemiological modelling across human communities.
He works closely with experimental scientists at UBC and BC Children's Hospital Research Centre and public health experts at the BC Centre for Disease Control. Prof. Coombs is a member of the Canadian Chief Science Advisor's expert panel on COVID19.
Speaking Event Starts Online at 7:00 pm.
Q&A follows the speaker segment.
Tickets are Needed
Tickets are FREE, but all individuals are requested to obtain "free-admission" tickets on Event Brite so that you may receive the online event link via email.
All ARPICO events are 100% staffed by volunteer organizers and helpers and all costs are underwritten by members of ARPICO.  Therefore to be fair, all audience participants are asked to donate to the best of their ability online when signing up with EventBrite to "help" defray costs of operations. Thank you.
Everyone is welcome.  See you there!
Technical Instruction
The event will be managed via the videoconferencing platform BlueJeans Meetings, by clicking on the link that will be emailed to each registered individual (to the email address provided). Please, note that the event will not be active until 6:45 pm on the day of the event.
At that time, clicking on the link will automatically let you join the event via your web browser (Chrome, Firefox, Safari, Opera should all work smoothly). You are NOT required to download or install anything to your computer. The entire video stream will occur inside your web browser window just like any other website you might visit. There is no security risk or risk to your personal information. You can always join the event late, as this will not be interfere with the presentation.
When you open the link you will be prompted to input a guest name. Please use your name that will allow us to identify you, and continue. On the following screen you may be prompted by your browser (depending on your settings) to allow access to use your computer's microphone and camera. You do not need to approve these if you do not plan to talk or be seen at any time during the Q&A segment. Upon joining you should see a screen similar to the sample image seen below where the various icons superimposed on the pictures of participants will show when you hover the mouse pointer over the BlueJeans browser window.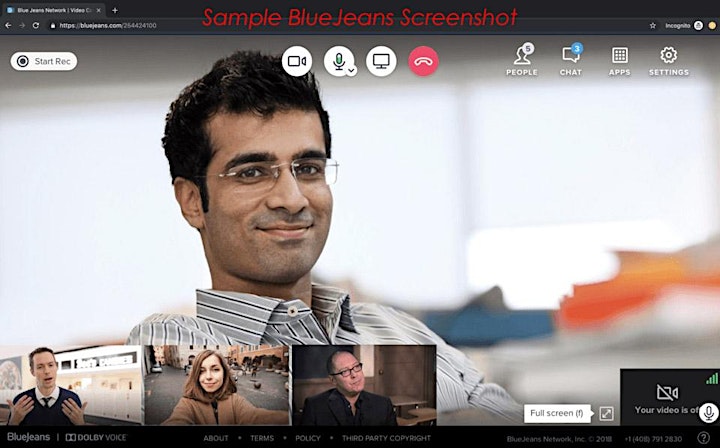 By default, your system's camera will be turned on and your microphone will be turned off. If you do not wish to show your face, you can of course do that by clicking on the camera icon like the one on the bottom right of the sample screenshot provided. We ask that you keep your microphone muted, since any background sounds and noises from your environment will be audible and may interfere with the speaker's voice.
As we have done for the in-person events, we will be recording our virtual ones for future reference.
Q&A
At any time during the lecture, participants will be able to post comments or questions for the speaker via the "chat" button also visible by hovering over the BlueJeans browser window. The moderator will read them for the speaker by way of a Q&A session at the end of the lecture.
Feedback
In the days following the event we will be sending all participants a succinct feedback form, which we encourage you to fill in and send back to us.